What is the point of the entertainment industry? Well firstly it's a repository for creativity, to explore the world and culture in order to entertain, however, the entertainment industry has another purpose too, particularly in regards to television, which is to hold itself up as a mirror to contemporary British society, being an entity which is a true representation of the country in 2013. But is it?
Jacqueline Boatswain thinks not. The Bedford born actress, who has starred in TV shows such as Grange Hill, Red Dwarf, Silk and most recently the cult Channel 4 series Shameless, says there just aren't enough opportunities for black actors in the UK. There is an ever present malaise when it comes to casting black actors in roles.
For Jacqueline her priority has always been securing good roles in which she can explore her talents as an actress, with the issue of her skin colour never warranting much thought. However, in the last few years, it's beginning to become more prevalent.
Speaking to Jacqueline at the National Theatre, where she is currently performing in Rufus Norris' critically acclaimed revival of James Baldwin's The Amen Corner, she explained to me that "British television is still quite a restrictive environment for black actors, directors etc, there is a great lack of scope."
For some time Jacqueline has been exploring the U.S, and for her the way black creative's, whether it be actors, screenwriters, directors etc, operate is markedly different from the UK. "Black Americans have a bigger voice in the entertainment industry, with the likes of Oprah Winfrey who has her own TV network. Black Americans have built up a solid community in the entertainment industry at every level."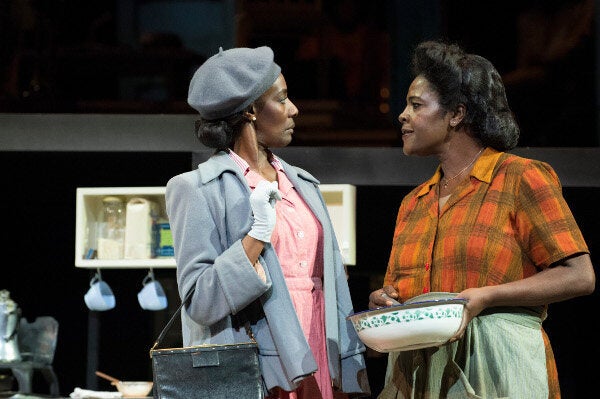 Jacqueline as Sister Boxer in The Amen Corner
In Britain today, the place of black actors is still a disputed area, of course there are prominent black characters in shows like BBC's Luther and the soap opera Eastenders, but it is still very few and far between. If we look at successful shows, particularly period dramas like Downton Abbey or Jane Austin and Thomas Hardy adaptations, the representation of black Britons is very low. "It's a common misconception" says Jacqueline "that we think black people in period dramas is historically inaccurate, if we look at the history of black people in the UK we see that they have been here for centuries, the Victorians had black servants, and there were prominent figures like Mary Seacole etc. There should be no hesitation in casting black actors for period dramas, whether it is Jane Austin or Charles Dickens."
It is certainly by no means a conscious decision that black actors are given limited options in British television. It's a complex matter, as Jacqueline explains "the majority of the entertainment big wigs operate in a world where their exposure to black people and others is limited."
"It's not to say that they all think like that; there are some great exceptions such as Shameless, which had a black family playing a very prominent role, who weren't featured purely because they were black. It was a true representation of modern Britain."
British society as a whole, as has been proven time and again, is one of the most tolerant, inclusive and open societies in the world, a seismic shift has occurred in attitudes towards race relations, along with sexuality and so on since the 1960's. Yes, there are certainly small factions of blatant racism which still exist, on the streets and in certain political movements such as the BNP, but these are societal odd-balls and represent a very tiny portion of the population. Strident efforts have been made throughout the decades to eliminate racism that may have existed in institutions etc, and society has become far more at ease with itself on these subjects. Basically British society has grown up.
The barrier which still exists is one which has been unconsciously created i.e. not because the entertainment industry in Britain wants to discourage black people from entering its kingdom, but because the top echelons need to diversify themselves and look out beyond their own small world into wider society.
Jacqueline Boatswain is a talented and determined individual, who will continue pushing the boundaries of her creativity.