There's a reason why the market for vintage is so buoyant, when you live in a society that is saturated by mass produced fashion, that innate desire to find something unique, something that separates you from the crowd, takes over, because when it comes down to it, we all want to express our individuality and avoid that slide into conformity.
Nordic Poetry, a vintage brand launching their first flagship store in Boxpark this month, takes the concept of vintage and fashions it into an art form. The story of Nordic Poetry began with one simple idea, as its founder Ameli explains "Like many people clothing had always been of interest to me, finding myself exploring the markets of London and further afield looking for that original piece of fashion history. However, I was always aware that not all people enjoyed the experience of having to find that perfect garment amongst an array of badly picked cloths, and somehow the vintage buying experience could be translated into a much simpler one, so I decided I would try it myself."
For Ameli, putting together her first collection for Nordic Poetry proved a challenge "three years ago with just £100 in my pocket I headed out to a South London flea market, and began the process of putting my first collection together. It was tough work, but the thrill of knowing I was finding some great cloths that I hoped other people would be attracted to was my motivation. I contacted East London's Spitalfields Market and rented my first stall. At this stage I would say, I had a little expectation that I would be selling anything at all, but to my surprise, my first day trading was a success. I was rewarded for my effort, which served to galvanise my vision of what would soon become Nordic Poetry."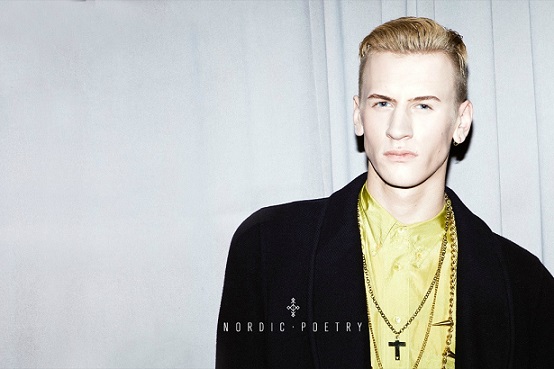 With any good brand there has to be a good philosophy behind it, not to mention hours of hard work. Nordic Poetry has this, from its humble origins at Spitalfields Market; the transition to an e-store began, with the launch of nordicpoetry.com "a year into trading and constant reinvestment of stock, I was growing, but I felt I needed to begin to build a brand to focus the collections. My Swedish heritage seemed a good place to start. The Nordic traditions of storytelling combined with my love of cloths and the journey they take as they are passed from one owner to another inspired nordicpoetry.com, which has now been online for the past year and a half and growing in popularity."
Nordic Poetry sets itself apart by really thinking about the vintage market, seamlessly keeping up with the latest trends by delving into fashions past and at the same time retaining that market stall charm from which it was born. Essentially, what Nordic Poetry does is turn old into gold.
In times of austerity, the fashion buying public still need something individual to spend their money on, and with big name designers catering to the financial elites, and high street stores touting production line fashion, it's stores like Nordic Poetry that are the light at the end of the sartorial tunnel.