How can I possibly introduce you to Vidya Baalan without taking up several paragraphs? Well, I'll just give you a condensed biography. For those of you who don't know, Vidya Baalan is not just one of the Hindi film industry's top actresses, she is the top actress of the Hindi film industry. Vidya has pushed her talents to the limits on numerous occasions, taking up roles that require a lot of intensity, earning herself the title of 'female hero'. She's continually amazed cinema goers in films such as Kismet Konnection (2008) The Dirty Picture (2011) and Kahaani (2012).
Just recently she was given the prestigious opportunity to sit on the panel of the Cannes Film Festival, as a judge. An honour bestowed by a film industry that has clearly recognised her diverse talents. I'm not a person who gives praise just for the sake of giving praise, and where Vidya is concerned I can give nothing but praise.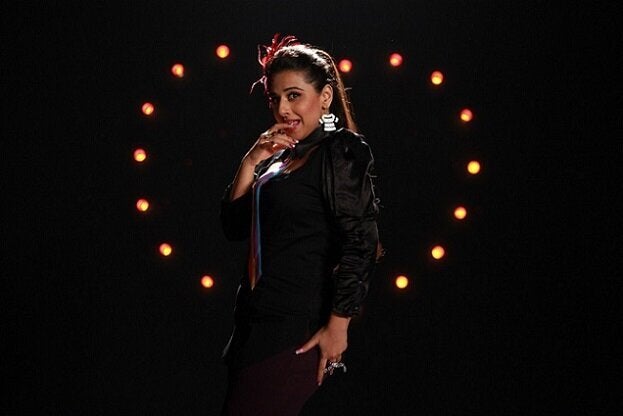 Vidya Balan in Ghanchakkar
Later this month sees the release of Ghanchakkar, directed by Rajkumar Gupta, and written by Gupta and Parvez Sheikh. A comedy-drama, the plot is both hilarious and shocking, with twists and turns that will make you sit glued to the screen throughout. Vidya plays Neetu, the volatile wife of Sanju (Emraan Hashmi) a bank robber.
Speaking to Vidya over the phone, our conversation was brief but it was clear to me that here was a woman at the pinnacle of her career, yet doesn't let success poison her pursuit to perfect her craft as an actress. Vidya was bursting with enthusiasm about her character, which is the complete antithesis to anything she has played before.
"She's an aggressive Punjabi woman" says Vidya "she's middle class but desperately tries to better herself by buying all the latest fashions that she sees in magazines like Vogue etc." I remarked that her character, this woman attempting to nudge herself into the upper-echelons of society, yet failing to carry it off, could easily be found anywhere in the world "Yes exactly!" she said "It's a situation that has always existed for certain women over the years, but I think more so in contemporary India, with high fashion and all that it entails being thrown at us at every opportunity." Vidya further explained "like many woman in her situation, Neetu is trying to be what she is not, to become this perfectly modern well-to-do wife, who understands what fashion is etc."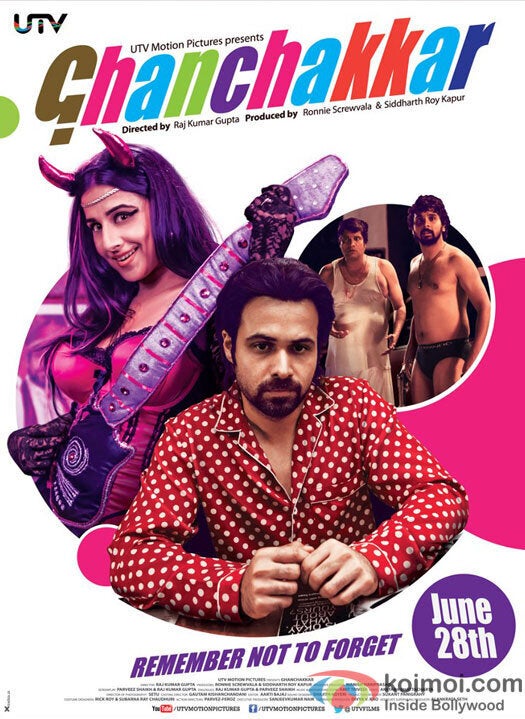 Ghanchakkar is a situation comedy, and Vidya expressed that this is the sort of comedy she prefers "it's in situation comedies that you get the best laughs" she said "rather than making it appear consciously funny, the comedy appears organic to the audience. Because in the end, it is in real life's unpredictability that comedy flourishes."
As was mentioned before, Vidya's character in Ghanchakkar is a world away from any character she has played before, mostly being picked for thrillers; she said "I was surprised that Rajkumar Gupta thought of me playing this character. I was thrilled when I finally read the script, it was such a digression from anything he's done before, and incredibly well put together."
With this being such a fundamentally different role, I was desperate to find out what went into becoming this character, which Vidya replied "it was equally intense and equally fun" she says "as I do with all my characters, I like to sit down with the director first and discuss everything I can, giving my impressions and also what I think could be done differently, and of course listening to the directors thoughts, and working with those thoughts to build a character."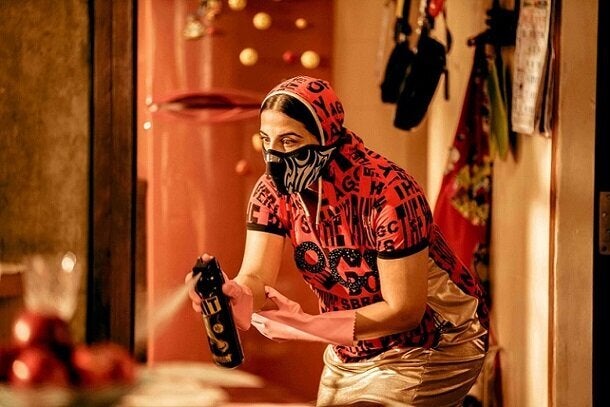 Vidya Balan in Ghanchakkar
"I love to work out a background, understand their social milieu, along with small things like what their favourite colour, food is etc. It's these easy reference points that make a character believable to the audience I think."
Vidya seems to have made a flawless transition from queen of the thriller film to the comedic. With Gupta's direction and the wonderful acting of her co-stars the probability of Ghanchakkar becoming a summer success is assured.
Finally, I asked what she hopes the reaction will be to this film "It's the right time for a film like this" she says "and I hope that people will flock to the cinema to see it, it is a very rare and very real film that will I'm sure speak to and entertain everyone."
Ghanchakkar has its worldwide release on June 28th