There's one week of my exhibition left. Only three stops on the London Underground from where my last two exhibitions were held, I have traded-in Belgravia for Brixton. I may as well be on another planet. I have exchanged premium real estate and glossy gastro pubs for street drinking and steel drums. Passers-by are few and far between and most are staggering with their early morning lager.
'If you build it, they will come', the quote from Field of Dreams became the mantra for showing my art in an off-radar location, light years from the London art world.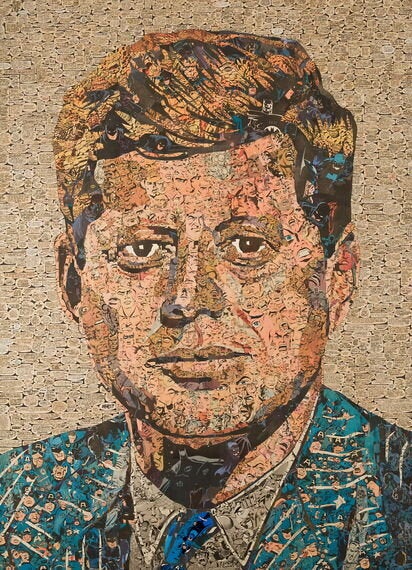 Versus(JFK) comic collage on wood, 2013. Image courtesy of Ben Turnbull
For many, the question might beg: Why would I take my success from the up-market serenity of Belgravia to the raw, urban sprawl of Brixton? The answer is 'American History X, which, for me has stood for learning how to fight to survive again and self-reliance. Its dog eat dog out there so I housed my work on Barrington Road in Brixton, a stones throw from where I had my first workshop job.
I learned my craft in an apprentice style, working on projects with interiors icons such as David Collins and Terence Conran before moving into the world of film working on sets for Danny Boyle's '28 Days' saga and the period dramas of Bleak House and Pride and Prejudice. All the while I worked privately on my own secret stock, barely sleeping on weekends to make pieces from anything I could lay my hands on.
I climbed my way into my own gilded cage where I had solo shows and sold to celebrities. My work was snapped-up by Jude Law, Jared Leto, Harry Styles and even Claudia Schiffer. It had all paid off. Here I was starring in my own private fairy-tale, with a Disneyfied gallery master as fairy godmother. I was asked to do Volta NY, I was invited to do a retrospective of my work at the Lancaster Institute of Contemporary Art. I'd made it. Hadn't I?
No, actually I hadn't because the level of sacrifice one has to go through these days is frankly extraordinary. Don't get me wrong, this is a great job and a luxury and with every day that you manage to do what you want to do, you mark it down as a day WON. Survival as an artist becomes about the volume of work that's left behind after a show that has had the more commercial pieces cherry picked. You're still left paying for transport and storage and the 7ft tall Captain America that you knew wouldn't sell.
Life/work/career for me is about calculation. I knew deep down exactly what I was letting myself in for. I started with nothing and one of the biggest changes in my life was seeing the poverty and excess living side by side in Rio 15 years ago. It made me re-evaluate my whole existence. I see elements of that society in London with the rags and the riches. Living in Rio spurred me on to always do the right thing, work with the right people and if there are none, then in the words of Fleetwood Mac, 'You can go your own way'.
In terms of seeing it from a gallery's perspective, I believe there is a massive difference between showing work for a commercial enterprise and creating work because you feel you have something to say. If I had thought like a gallery or set my aims like a gallery, I never would of even got out of bed in the first place. This project is born from passion not money. This is why I chose to go back to the old fairy tale and begin again, working for what I believe in - honest art with a meaning.
Two years later - piles of cut up comics, assassins, political leaders, conspiracy theory nut-job books, tower blocks of text piling up by my bedside and rising damp (in the humble abode that I moved into to fund the work) - has it all been worth it?
I think it has. It's fair to say you have to believe in a project like this and I stand by all my decisions. You've gotta love it a lot because your gonna have to live with it (literally). As my least commercial project to date, I feel no regrets about my left-field route - or whether I might have leftover work to act as companions for Captain America. I have three volumes more of American History X to show what I feel most strongly about. All related to dark lessons of U.S History. That's worth swapping a database of collectors in Belgravia for Lambeth anyday. Taking the initiative to reject the established route has been a bold experiment. From now on, I'm putting my money where my heART is.
Popular in the Community