At this time of year, commuting to work gets that little bit harder. Decisions about clothing suddenly become more complex. The carefree abandon of those summer mornings spent gallivanting to the car in shirtsleeves suddenly seems a little reckless. It is even worse for those who have to walk to a station or bus stop. They have to wrestle with the notion that a thick coat will leave them warm at the start of their journey but uncomfortably hot by the end.
If this sounds like a familiar scenario, then spare a thought for a man whose latest commute probably makes yours pale into insignificance. His name is Ben Saunders and he is about to walk the equivalent of 69 marathons back to back. That's 9 and a half hours of walking per day over 110 days. And he is doing it in the South Pole.
You probably won't be surprised to find out that Ben has form in this area. In his Twitter bio he describes himself as a man who "Drags heavy things around cold places" but that does not really do his achievements justice. In fact, he is the third person in history to ski solo to the North Pole and also holds the record for the longest solo Arctic journey by a Briton.
This latest expedition though is rather special. Together with fellow Brit Tarka L'Herpiniere, the aim of this mission in Antarctica is to honour the legacy of iconic British explorer, Captain Robert Falcon Scott. They will be trying to complete Scott's ill-fated Terra Nova expedition for the first time, more than 100 years after it was first attempted.
It's called "The Scott Expedition" and will be an unsupported return journey from the edge of Antarctica to the South Pole and at 1,800 miles it will be the longest of its kind in history. Operating in 24-hour daylight, Ben and Tarka will experience temperatures down to -50 and a wind chill of -70. They will consume almost 6,000 calories daily to maintain the strength necessary to haul the 200kg of kit and supplies they will require to complete the journey.
Ben (left) and Tarka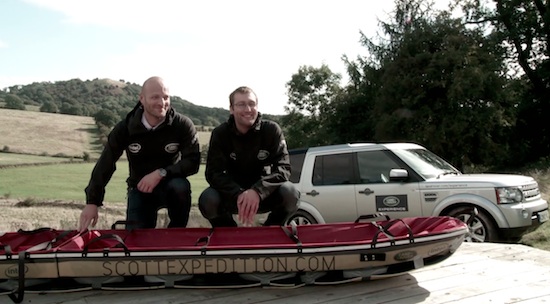 Ben Saunders said:
"The Scott Expedition will be both the greatest and most meaningful challenge I've ever taken on. Physically it sits on the very limits of human potential and will require every inch of resilience and determination we can summon to complete it. Equally, it is an opportunity to recognise the remarkable work of Captain Scott and his men and use the benefits of modern technology to celebrate his story worldwide"
The journey is being undertaken under the patronage of Scott's grandson, Falcon Scott:
'The Scott Expedition will be a truly exceptional and meaningful way to recognise and commemorate my grandfather's expedition to the South Pole. It is extraordinary to think that nobody has since successfully replicated his expedition and I fully support Ben and Tarka in this bold venture. I am very proud to be a Patron.'
Another great British adventurer, Robert Swan, OBE - the first person to walk to the North and South Pole, is also supporting the Scott Expedition
"What Ben and Tarka are attempting is extraordinary. To complete Scott's mission unsupported will add to the history books and be a fitting tribute to Scott and his team. This is a definitive polar journey and a truly British expedition to mark the achievements of one of the greatest British explorers of all time''
In 100 years from now, maybe Ben and Tarka will also be judged as being amongst "the greatest British explorers of all time" - for now though, their minds will only be focused on the completion of the historic task that lies ahead.