I recently had a dream that involved skiing. Maybe it was some kind of warning that my life is sliding downhill at an uncontrollable rate. More likely it was prompted by the signed copy of Eddie Edwards' sadly forgotten Finnish language pop single that I recently found in my loft. (Have a listen - the 80s calling card of synthesised trumpets lend it a certain panache. It also fades out just as Eddie was getting into his stride, which serves as a sad metaphor for his ski-jumping career)
Anyway, I have got rather off piste here, so back to the dream. The ski slopes of my slumbering mind had an unreal quality. The snow was fresh, and deep. The queues for the space age cable cars were almost non-existent. And everywhere I looked, the signs were in English. This was like no European skiing holiday I had ever experienced. I woke up, confused and desperate to make sense of what had just played out in my nocturnal ramblings. I turned to my wife and explained what had just happened. She thought for a while, nodded her head in a knowing fashion and said to me: "You must have been in Canada"
Oh, Canada. I always think of it as a modest neighbour, raising an arch eyebrow to the noisy goings on next-door in the USA, and yet still friendly enough to look after Uncle Sam's pet goldfish if he was taking a sudden vacation. Yet when it comes to skiing, it must be near impossible for the Canadians to be reserved in anyway, as the country is arguably home to some of the best resorts in the world. Here, in no particular order, are 5 of the best.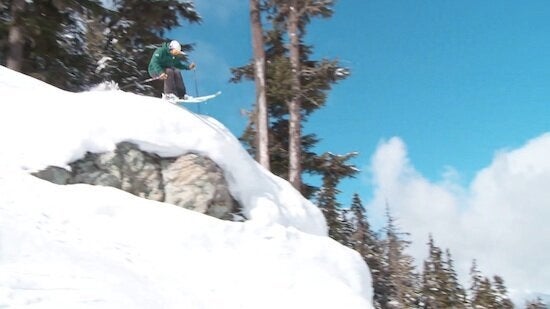 A pilgrimage to Whistler Blackcomb is surely on the bucket list of anyone with a passion for skiing. This will only have been enhanced by its role as one of the main venues of the 2010 Winter Olympics. You can ski down some of the same runs used in the games, and the resort even offers the chance to ski with Olympians.
It is the biggest ski resort in North America with over 8000 acres of skiable terrain and it also has one of the longest ski seasons, running from November to May. So why is it called Whistler Blackcomb? Well, they are the names of the two mountains that you can ski down - and to make it easier to take them both on in a day, the majestic Peak 2 Peak Gondola joins them.
Revelstoke is in British Columbia's Kootenay Rockies and it is here where both cat-skiing and heli-skiing were pioneered.
One of the local heli-ski operators claims that Revelstoke offers the best skiing on the planet, and that may not be an exaggeration. The powder here is sublime, and of course if you are arriving by chopper you can expect much of it to be untouched. It gives you that enviable sensation of feeling like you are the first person to have ever thought of skiing here.
Even the journey to Revelstoke is one of the most spectacular in Canada. From the east you go through two National Parks in the Selkirk Mountains, or if you approach from the other direction your gob is smacked by the scenic Okanagan Valley.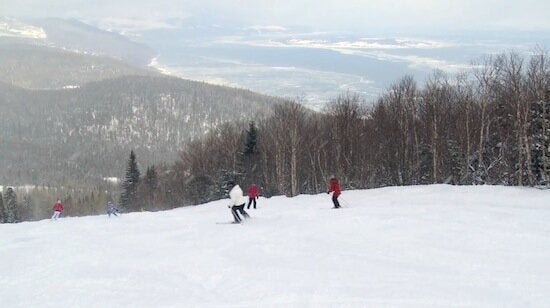 A 6-hour flight over the Atlantic and you are in Quebec. French is the primary language here, but they will slip into English at the drop of a chapeau. One hour from Quebec City you will find Le Massif De Charlevoix, a resort conceived by one of the people behind the Cirque De Soleil. It is renowned for the quality of its snow and also the 770 metres of vertical drop, the biggest east of the Canadian Rockies. Part of the experience is in the journey - you can take a glorious train ride from the City to the slopes, and the carriages are all set up for skiers with special places to store your kit.
If Le Massif is the place for those from Quebec City, Mont Tremblant is the Montreal equivalent. The mountain receives on average 380 cm (12.47 feet) of snow each year and its 95 trails and 3 snow parks offer spectacular views and thrilling runs.
It is also a great place for families, offering peace of mind for mums and dads through the use of the 'Flaik' GPS system. Children under 12 who enroll in the snow school are given the apparatus free of charge. They give you real-time tracking of the wearer and let you know precisely where your kid is on the mountain
I'm playing a little fast and loose with '5 of the best' concept here, because this is actually a collection of 3 resorts in and around Banff National Park - but hey, you could argue that you are getting 7 for the price of 5, so everyone's a winner.
Mt. Norquay, The Lake Louise Ski Resort and Sunshine Village are collectively known as Ski Big 3.
You can get free transport between Banff-Lake Louise and the resorts with a tri-area lift ticket, meaning that when you're here, the choice of mountains and ski experience is unrivalled.
As you would expect, the mountains give a stunning backdrop, but you won't have to spend an age admiring the scenery whilst stuck in a lift line, as queues are virtually non-existent. Snow wise, the inland location means that it is dry, light and glorious.