Historically care homes have been secretive places, generally entered only by people who have to go to them, often resulting in myths and fear proliferating in the wider community. We knew nothing about life in care homes before we needed to find one for my dad, and even during my dad's nine years in three different care homes I wouldn't exactly describe them as hubs of community interest.
Which is why initiatives like Care Home Open Day are so important. Now in its third year, Care Home Open Day attempts to change the perception of care homes by making them more accessible and forging links with local communities. I supported last year's Care Home Open Day by visiting the care home that gave my dad outstanding end-of-life care, and this year I accepted an invitation to visit Nightingale House in South London.
Nightingale House is one of the biggest care homes I've been to. Run by charity Nightingale Hammerson, it provides residential and nursing care for people from the Jewish community, including dementia care. With a staff team of over 300 and numerous volunteers, the care home was a hive of activity when I arrived for the afternoon of Care Home Open Day on 19 June.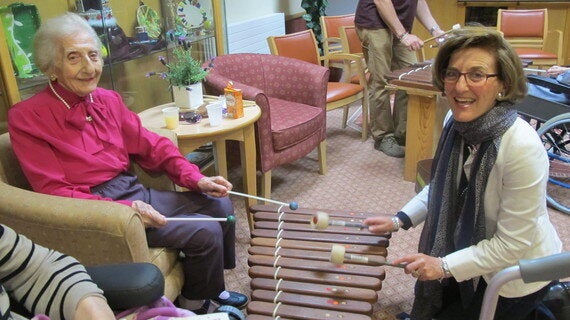 Phyllis, who lives at Nightingale House, and her daughter Joy participating in the Glastonbury tribute
I'd missed the session on learning to use an iPad and the Glastonbury-style entertainment, but I still had the opportunity to drop into pottery and singing sessions, buy from the biscuit stall and see many of the people who live at the care home enjoying a cream tea. The sun shone, the gardens were extensive and beautiful, and around every corner there seemed to be a person with a smile on their face.
Cynics might suggest it was all a façade for Care Home Open Day, but not only had my invitation to Nightingale House been a long-standing one and not linked to any particular event, a little investigation into what the home offers the people living there made it clear that this was just another day at Nightingale. The home prides itself on putting as much care and attention into activity work as it does healthcare, and the facilities certainly back that up.
Everything from a Namaste spa-type room where lots of lovely pampering, sensory therapy and reminiscence work happens, to the activity room, which was like something out of an upmarket private school. This room had it all, from books crammed onto shelves to craft areas with paints and fabrics. The real centrepiece, though, was a fully fitted kitchen area, where residents regularly cook up a range of treats including soups and cakes.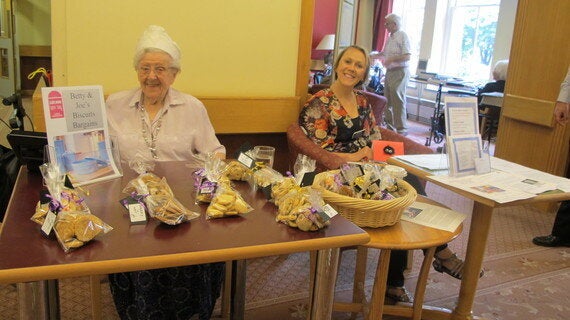 Betty, who lives at Nightingale House, selling biscuits alongside Linda, Nightingale House Volunteer Manager
Things I loved? There were too many, but a whistle stop tour of favourite aspects would include meeting Esther, a lady living at Nightingale who recited Shakespeare to me with complete perfection. Other observations I made were staff not wearing uniforms, the way the garden is as much for pleasure as it is for activity (not just gardening, but supplying food for the kitchen and flowers for the activity team), the pets (guinea pigs and rabbits), and the huge range of things for residents to do - from French classes to poetry recitals, bridge to Jewish cultural activities, all backed up with strong links into various community organisations.
During my visit I was fortunate to speak to many residents, relatives and staff, but two people really stuck in my mind. I met Michael and Natalie out on the terrace by Nightingale's coffee shop. Michael was diagnosed with dementia in 2009, and came to live at Nightingale in 2013. While Michael enjoyed his ice-cream, Natalie told me some of the things she loves about Nightingale:
"They are absolutely open and communicate with the family. They listen and try to reduce or eliminate medication (Michael has come off of antipsychotic medication since moving to Nightingale), and the staff are continually trained."

Natalie concluded, "It gives me peace of mind knowing that my husband is so well cared for."
To an outsider Nightingale may sound like a privileged and rarefied environment, but they still struggle with the common problems besetting social care, namely difficulty in recruiting nurses, a constant need to recruit care workers and some use of agency staff. 40% of their residents are local authority funded, but the 60% who are self-funders are still subsidised in order to live at Nightingale. As a charity, Nightingale also fully-fund 10 places.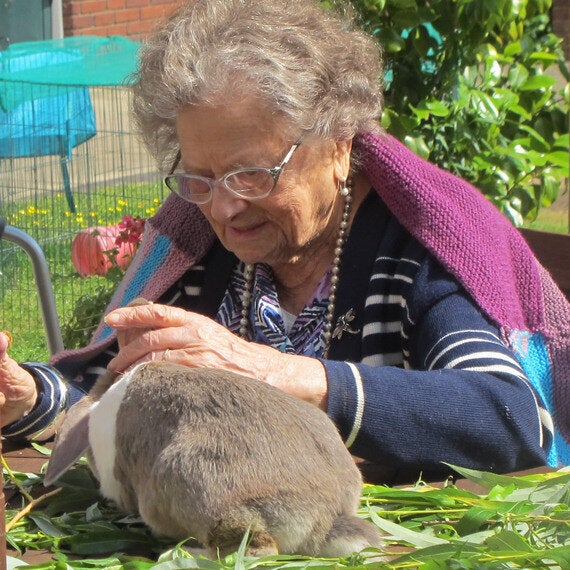 Rosalie, a 103 year-old lady who lives at Nightingale House, enjoying time with one of the pet rabbits
To help pay for everything they offer, Nightingale House have to raise £4m a year from events, legacies, patrons, trusts and foundations. A challenging task by anyone's standards, but as I left Nightingale I felt certain that with their residents, relatives and staff all working together, this is one care home that will be as proud to open its doors for next year's Care Home Open Day as they were this year.