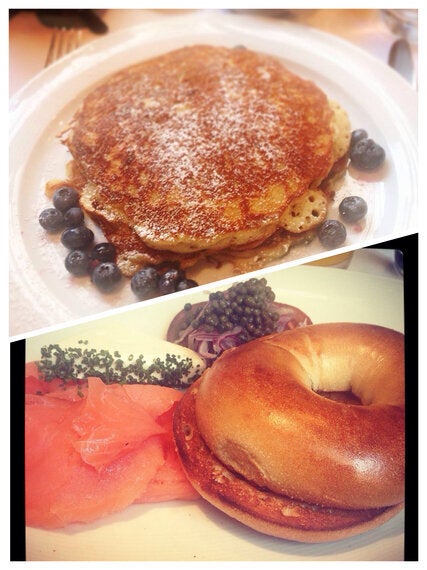 During our visit to New York, we were invited to sample breakfast at Loews Regency hotel, home to the famous 'power breakfast'.
True to its reputation, myself and my husband Steve were pretty much the only diners not having a breakfast meeting and it was interesting to be sat surrounded by men and women in suits discussing everything from finance to politics, some greeting one another as they departed. The restaurant definitely had an air of importance.
We were seated at a table in the window in the main restaurant area and it was a nice start to the day sat at a well laid table with white table cloths and shiny cutlery and very friendly service.
After being brought fresh coffee and one of the freshest orange juices I've tasted, we ordered our breakfast. Steve opted for Blueberry Pancakes with Maple Syrup and I chose a Smoked Salmon and Cream Cheese Bagel.
The pancakes arrived smelling deliciously and they were soft and fluffy filled to the brim with blueberries, with some fresh blueberries on the side and a jug of maple syrup to dress the pancakes yourself. The smoked salmon was a good sized portion and was wonderfully fresh with chopped red onion, capers and lemon to dress it along with a serving of cream cheese topped with chives. The bagel was lightly toasted and the dish really was a perfect version of smoked salmon and cream cheese bagel.
Since we'd gone along to experience the power breakfast in full force, we ate breakfast quite early and were out and about in New York for 10am after a perfect start to the day.
Loews Regency, 540 Park Avenue, Manhattan, New York, NY 10065.