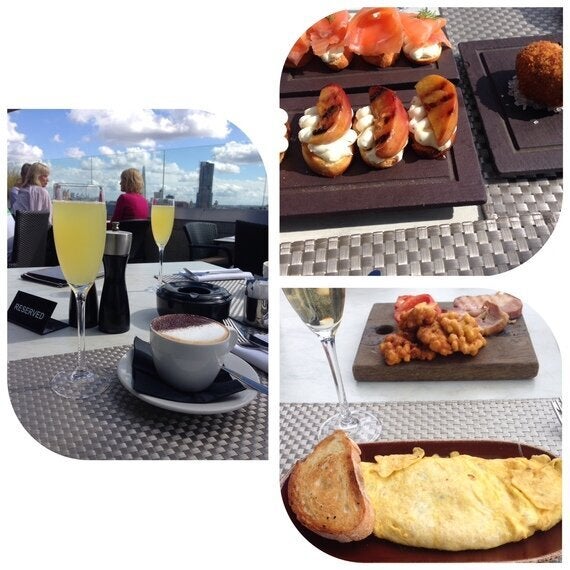 Sat here writing this review whilst it's raining outside feels appropriate since I enjoyed one of the last days of summer in London just last month, sat on the roof of the ME London hotel at their Radio Rooftop bar and restaurant.
After a morning of bridesmaid outfit shopping with my bride-to-be cousin, we couldn't wait to sit down and enjoy some food and drink in the sunshine. Escorted up to the rooftop via a private express lift, Radio Rooftop is situated on the 10th floor of the ME London hotel and features a stylish indoor lounge and outside terrace filled with comfy sofas and tables and chairs with fantastic views of London. We were given a table outside looking right across at The Shard and at 1pm, the terrace was already busy with groups of friends enjoying brunch in the sunshine.
Thirsty and hungry, we ordered some canapés, a buck's fizz (sadly they had run out of the refreshing sounding blood orange buck's fizz) and a cappuccino each whilst we properly perused the menu. All of the canapés were delicious and both the Goats Cheese & Roast Peach and Smoked Salmon & Dill were very generous portions and the Quail Scotch Egg was perfectly runny inside.
For our brunch, despite having lots of choice, we both fancied the Crab Omelette with Chilli & Coriander but so we could try out another dish, we ordered the Sweetcorn Fritters with Roast Tomatoes & Bacon to share on the side. The omelette was filled with lots of crab and had a good kick of chilli but I found the filling to be a little watery from the crab, and the thick slice of toast on the side needed a little pot of butter to accompany it. The sweetcorn fritters however were really tasty and the sweet salty bacon, which was more like small slices of gammon, and juicy tomatoes worked perfectly.
After leisurely enjoying a couple of glasses of champagne each and during the two and a half hours we were there, we hadn't been rushed at all and could see how you could easily forget the time and while away the afternoon. It definitely has a glamorous and wealthy feel about it and for me, unless you were just visiting for a cocktail or two, felt like somewhere you would largely visit as a treat - our brunch came to £150 including drinks.
On the sunny afternoon we were there, visiting Radio Rooftop almost felt like being on holiday, sitting on the rooftop looking out at views across London, and it was the perfect hidden away escape from a morning of shopping on Oxford Street.