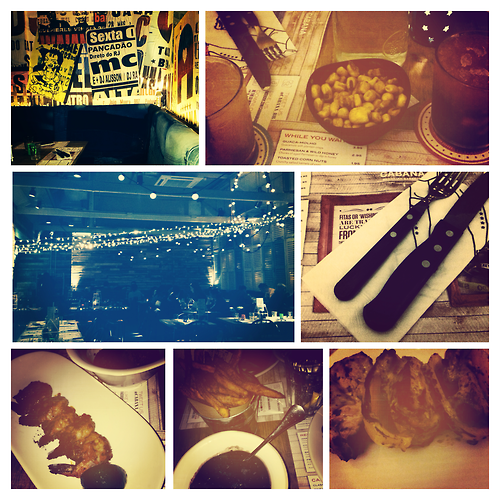 Like many people, I decided to make January the start of a health kick and after eating really healthily for two weeks, I decided to go out for a bit of a Friday night treat and let my hair down with my fiancé Steve. I'd been asked if I'd like to review the new branch of Brazilian chain Cabana in Islington and thought it would be a fun place to visit on a Friday evening.
On arrival, with the restaurant already quite busy at 7pm with people drinking cocktails lit by cute fairy lights throughout the large and airy space, it seemed a good choice of venue to start the weekend.
We were given a corner table at the back of the restaurant with comfy sofa seats made out of old denim and a mixture of bright artwork on the wall behind. We quickly perused the drinks menu and decided, being in a Brazilian restaurant, that we had to try the Brazilian cocktail of choice; the Caipirinha. I ordered a Strawberry Caipirinha and Steve chose a Passionfruit one (both £6.75) and we also got some Toasted Corn Nuts (£1.95) to share. The cocktails arrived in a short glass over lots of crushed ice and were really delicious and almost Margarita like in taste, and the saltiness of the nuts worked perfectly with the sweet and refreshing cocktails.
During our cocktails, the restaurant started to fill up even more with groups looking ready to party and friends and couples enjoying a Friday night meal, and there was a really fun atmosphere to the place.
We knew we wanted to try some of Cabana's signature skewers for main course but to start I chose the Spicy Malagueta Prawns (£5.95) and Steve ordered the Chicken Coxinhas (£4.95). The prawns came plump and juicy and the lightly spiced sauce which coated them was really flavoursome. The Coxinhas were almost like posh versions of the Potato Croquettes I used to have as a child but with added spice and flakes of chicken and were really tasty.
For main course, I decided to try the Zingy Lime & Garlic Chicken (£7.95) and Steve chose the Hanger Steak which was marinated in Chilli & Cumin Sauce (£13.95). We also ordered a large glass of Sauvignon Blanc (£5.50) and a bottle of Sagres (£3.45).
Both of our mains arrived on long metal skewers which the waiter brought over to our plates and slid the meat off them. The chicken was alternated by peppers and there was a good amount of meat but I was unfortunately not keen on the Lime & Garlic sauce which was more creamy than I was expecting and there was too much of it coating the meat and peppers.
The steak however was divine - perfectly cooked with a melt-in-the-mouth juiciness and the spices really added to the flavour of the meat. In fact, I can taste it just now writing about it! We also ordered some Sweet Potato Fries (£3.95), Cassava Chips (£3.95) and Black Beans (32.95).
The Sweet Potato fries were some of the best I've ever had and were the perfect combination of crispy coating and fluffy potato sprinkled in Paprika. We thought we should try the Cassava Chips since they are 'the Brasilian French Frie' but they were a little bland for both our tastes and we didn't really enjoy them. The beans were also a little disappointing as even though they were tasty with good flavours of cumin and garlic, the sauce was far too runny.
We were nicely content after our two courses so decided to give pudding a miss, however the Peanut Butter Passion Fro-Yo Sundae would have been my choice had I had room for pudding.
We enjoyed our visit to Cabana - it's a great and quite different place to go with friends and the service is quick yet there is a relaxed atmosphere and you don't feel as if you need to rush to give your table back. The steak skewers really are a must try and I will definitely be back for more of those.
Cabana Islington, 56 Upper Street, London, N1 0NY.