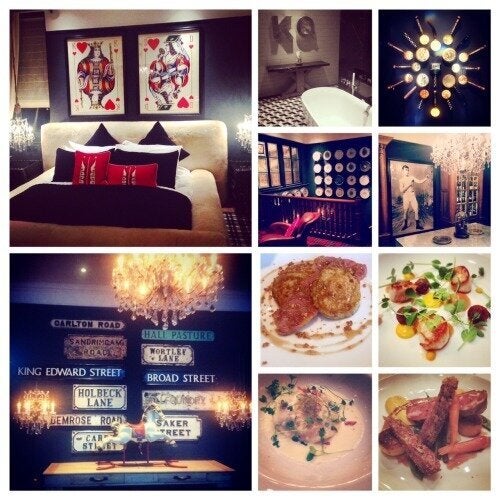 It's fair to say I was rather excited about a weekend away in Devon at Alice in Wonderland themed hotel, Glazebrook House, and it did not disappoint.
Arriving with my husband Steve late on a Friday night into Totnes, which is about a fifteen minute drive from the hotel, we were warmly greeted by hotel owner Pieter and his staff and shown to our room.
We had decided to stay in two different rooms during our weekend stay and for the first night chose the 'White Rabbit' room. And were so glad we did! With a huge white sheepskin bed in the middle of the room, large king and queen playing cards framed on the wall above, chandelier lights hanging either side of the bed and a grand bathroom featuring a freestanding bath and rain shower, it was probably one of the most impressive hotel rooms I've ever seen. The attention to detail in just this one room was very impressive and as I came to learn over the course of the weekend, is something that cleverly and thoughtfully runs throughout the hotel.
We decided to have a nightcap in the bar after our arrival and were joined by Pieter who was very kind in looking after us with glasses of wine whilst he told us all about the refurbishment of the hotel. Only re-opening in September 2014, Glazebrook House was completely re-designed inside with bedrooms made bigger, ensuite bathrooms fitted, a wine tasting room designed and all new furnishings fitted thanks to designer Timothy Oulton. Guests can look through a picture book which has lovingly been put together showing the whole restoration and transformation, which really is astounding.
We awoke the next morning having had one of the best nights sleep of our lives. Timothy Oulton's Scruffy BaaBaa bed really is the best bed I've ever slept in and if I could afford it, would have it in my home in a heartbeat! There was something so cosy and comforting about being able to push your hands and feet out of the duvet and stroke the soft sheepskin all around you! After a bath in the huge freestanding bath looking out at the hotel's gardens, we went downstairs for breakfast.
The dining room is off the main reception area of the hotel and like the rooms, has intricate detail throughout. A variety of old fashioned plates encompass one wall whilst vintage trays occupy another and the hotel's token chandeliers are dotted around the remaining walls. We were sat at a chunky wooden table for two with comfortable leather armchair style seats and ordered some coffee whilst looking at the menu. I decided to order an Omelette with Ham, Cheese and Tomato and Steve ordered the Pancakes with Bacon and Maple Syrup. Both dishes arrived nicely presented with just the right size portion for breakfast and were equally tasty.
We were given a tour of the hotel and its eight rooms after breakfast, whilst our new room was being cleaned, and there really isn't one room that I wouldn't be happy to stay in. In keeping with the Alice in Wonderland theme (which came from Pieter's wife remarking that the hotel's garden was magical and reminded her of Alice in Wonderland on their first visit) rooms include 'White Rabbit' (where we stayed), 'Mad Hatter', 'Caterpillar', 'Bread and Butterflies', 'Gryphon', 'Tweedle Deez', 'Jabberwocky' and lastly 'Cheshire Cat', which was our room for the Saturday night. All the rooms featured huge beds, a variety of chandeliers, unique artwork, tartan carpets (which run throughout the hotel) and quirky features such as hats or suitcases hung on the walls.
The hotel's gardens definitely have a magical feel to them such as hidden greenery beneath low hung branches that would be perfect for a Mad Hatters tea party and open forest areas that are just waiting for something special to be placed there (such as a vintage carousel, which is one of Pieter's ideas).
After a lovely day of relaxing drinking tea in the hotel and visiting nearby Turtley Mill for lunch, we retired to our room to get ready for dinner. The 'Cheshire Cat' has a very different feel to the fun of 'White Rabbit' and it is a sophisticated and relaxing room with dark purple walls, a grand wooden bed and a sleek chaise longue positioned in front of the flat screen TV. Thanks to the rooms mini bar, in which everything is free to guests, we enjoyed a glass of wine and a beer whilst getting ready.
After a pre-dinner drink in the bar, we were seated at a nice table for two by the window in the restaurant and given the menu to peruse. The restaurant is run by Ben Palmer and his team, whose name you may recognise from Masterchef The Professionals, where he was a Quarter Finalist. The menu at Glazebrook House features a lot of local produce such as Ticklemore cheese, West Country Crab and Creedy Carver duck and with so many delicious sounding dishes, it was difficult to choose what to order.
After much deliberation we decided on Seared Scallops, Black Pudding Fritters, Apple and Watercress (£10) and West Country Crab Ravioli, Lemongrass, Ginger and Lime (£9) to start. The scallops arrived beautifully presented and were perfectly cooked with the flavours of black pudding and apple complimenting one another and not overpowering the delicate scallops. The crab ravioli was packed with thai flavours which also came through in the accompanying light creamy broth but my only complaint was that with just one large ravioli, there wasn't enough of it!
For main we decided on the Aged West Country Sirloin Steak, Mustard Pomme Puree, Confit Portobello, Crisp Onion and Tomato (£26) and Creedy Carver Duck Breast, Confit Leg, Fondant Potato, Carrots and Port Wine Jus (£23). The steak was extremely tender and came with a rich and meaty sauce which was delicious over the creamy potatoes. The duck had just the right amount of pinkness to the meat and the confit leg which came alongside it was equally good, as were the fondant potatoes and rich, red wine jus. For me, it was a perfect main course dish.
Despite being rather full, we decided we had to try dessert and I chose the Glazebrook House Cheeseboard (£8) and Steve ordered the Warm Orange, Semolina and Coconut Cake with Clotted Cream (£7). The orange cake was really light with a wonderful zesty citrus flavour that wasn't overpowering and worked well with the rich clotted cream. The cheeseboard was displayed imaginatively with delicate garden leaves, fruits and chutney dotted amongst the different cheeses and biscuits and the mixture of cheese and quantity served was perfect.
After another great night's sleep, we left Glazebrook House around lunchtime and were genuinely sad to leave. Pieter is one of most attentive hosts I've ever met and we had a truly enchanting stay in a hotel that is filled with uniqueness, thought, care and attention and cannot wait to return for another visit. And a second night in that sheepskin bed!
Glazebrook House Hotel, South Brent, Devon, TQ10 9JE.