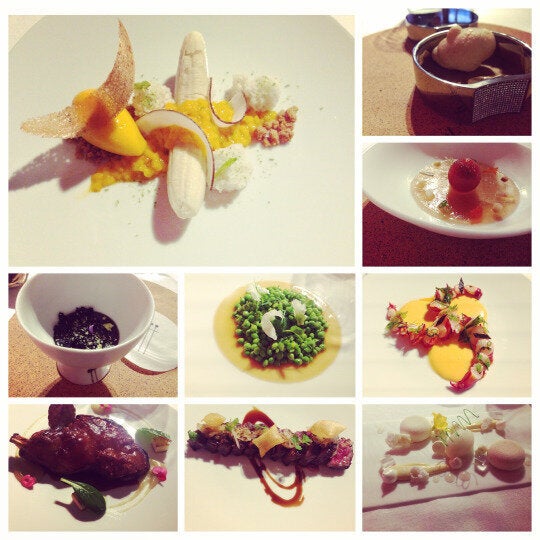 Dos Cielos is situated on the 24th floor of the Melia Barcelona Sky hotel (which was reviewed yesterday) and is a restaurant run by The Torres brothers, Javier and Sergio. It holds one Michelin Star and a Catalan Academy of Gastronomy Best Restaurant of the Year award to its name.
As we were shown to our table, we walked through the open plan kitchen and saw the chefs at work before being seated at a table at the end of the room with great views of the city and the mountains. Dos Cielos is surprisingly small and intimate and with every table occupied, we definitely felt very lucky to be dining there.
After being welcomed with a glass of champagne each, we were given the option of a tasting menu or choosing from the a la carte menu. Since we were eating quite late and the tasting menu had a lot of courses, we decided to choose from the a la carte menu. To start I ordered First Blossom of Green Peas with Iberian Ham (39E) and my husband Steve chose Scarlet Shrimp from 'Huelva' (65E).
Before our starters arrived, we were brought a number of tasting dishes to sample including 'Bizcocho De Polvillo', which was like a light puffed bread filled with a delicate cream, 'Tomato, Chaplains and Salazones', which was different textures of tomato in the form of ice and a gel and was very refreshing and finally, 'The Chalice', which was a black garlic cream that was rich and powerfully flavoured and was served with a wafer thin white crisp featuring the Dos Cielos logo. The latter was our favourite and the black garlic had an incredible taste.
The Prawn starter came with three large prawns which were just cooked through and came with a creamy and fruity sauce which worked well with the meaty prawns. The Green Peas and Ham was absolutely delicious and the ham came in the form of a thick and sticky meaty broth amidst some of the freshest and tastiest peas I've ever eaten. It was a simple but inventive and well executed dish.
We decided to order a bottle of red Sancerre, made from pinot noir, for with our main courses, which was something we'd never heard of before and as fans of Sancerre, were excited to try it. For main I chose the Crispy Iberian Suckling-Pig, Apples and Flowers (43E) and Steve ordered the Cellar Cured Beef (52E).
I can still taste the suckling pig when writing this review as it was the nicest pork I have ever eaten. The whole of the meat was covered in the crispiest crackling and the meat was juicy and tender and the sticky and sweet sauce and sweetness of the cubed apples and apple sauce complimented it perfectly. The beef was a generous portion of medium-rare sliced fillet with sweet onions, puffed potato and a meaty jus and it literally melted in the mouth. The Sancerre worked well with both dishes and was light and fruity.
We were both excited about what dessert had to bring after ordering a 'Gin Tonic' and 'Banana, Mango and Nutmeg' (both 15E). And we were not disappointed!
The Gin Tonic arrived beautifully with a host of textures and flavours on the plate including Gin Jelly, Yuzu mousse, White and Orange Chocolate Sauce, Lime twists and meringue with a glass of Tonic to taste with each bite. It was absolutely divine and a very clever dish.
The Banana, Mango and Nutmeg was also exceptional and arrived with an actual banana on the plate that after further inspection, turned out to be white chocolate filled with the best banana ice cream we'd ever eaten! It still intrigues me how a banana could look so real! With this came a mango sauce, nutmeg crumb and mango sorbet. It was a very tropical tasting dessert and the two dishes were definitely the best desserts we've ever eaten.
A lot of people would think that visiting a Michelin Star restaurant means the dishes are small and you're left hungry. This is not the case with Dos Cielos and we were both extremely full when we left to head back to our suite one floor down in the hotel and couldn't wait for our bed!
We had an incredible meal and it was truly a very special evening of great food with the most exceptional service I've ever encountered. It is hard to be attentive without being intrusive and Dos Cielos got this just right and we felt very looked after throughout the whole evening.
Melia Barcelona Sky has a gem in Dos Cielos and it is definitely worth a visit for an evening of fine dining when in Barcelona.