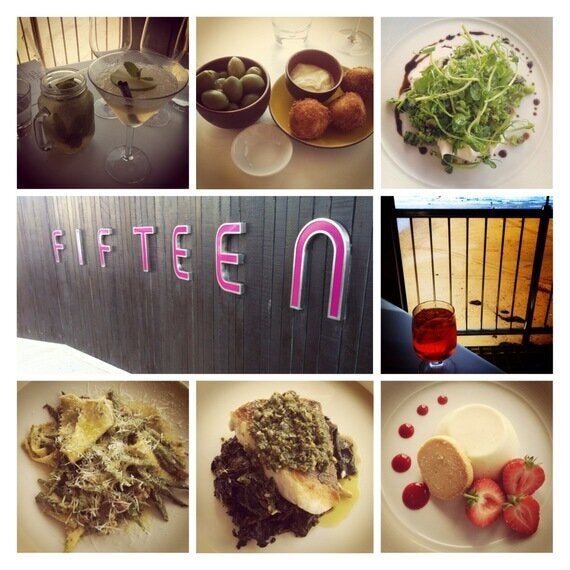 During a weekend break in Cornwall with my sister in September, I visited Jamie Oliver's Fifteen restaurant for lunch, which is somewhere I have dined a few times in the past. On previous visits, it had either been wonderful or mediocre but I was looking forward to trying the seasonal menu out after not visiting for a couple of years.
Fifteen Cornwall, owned by the Cornwall Food Foundation to give disadvantaged young people in Cornwall a platform for them to realise their true potential, is situated right overlooking the beach at the picturesque Watergate Bay; a tranquil spot just a 10-minute drive from busy Newquay.
It is one of the most perfect spots for a restaurant and you can see the beautiful beach and expanse of sea through large glass windows and patio doors all around the restaurant. We were luckily given one of the window seats and had one of the best views of the beach. I could have just sat there staring out in my own little world for the afternoon but of course, I was there to review the food!
After being given the menu, which features an A La Carte and set menu, we decided to opt for the set menu of three courses for £28. This was partly because it had a good amount of choice and featured dishes we wanted to try for each course, but also because I knew if I was visiting as a paying customer, I would never pick the A La Carte as it is priced very expensively with some main courses at £28 alone! I understand that the Foundation that Fifteen is owned by is largely funded by the restaurants profits, but this seemed an extortionate price for some quite simple mains to me.
While we waited for our drinks to arrive - an Apple & Elderflower Martini (£7.50) and a non-alcoholic Mojito (£5) - we ordered some Puglian Olives and some Arancini with Aioli (both £4) to nibble on. The olives were plump and delicious and the Arancini were filled with melted taleggio and the gooey filling with the crispy outside was just scrumptious.
To start, both my sister and I chose the Burrata with Smashed Peas, Broad Beans and Mint with Pea Shoots, which are personally some of my favourite flavours. The dish came presented beautifully but something we both noticed was that it was rather small and we felt it would have worked better with a piece of toasted sourdough underneath the salad. If you'd ordered this dish from the A La Carte it would have been £14 and I know I would have been disappointed had I paid that for the amount I got to eat.
For main course, my sister chose one of our all time favourite pasta dishes - Pasta a la Genovese - and I decided on the Cod with Italian Greens and Salsa Verde, rather than the Aioli it was meant to come with, and a Rocket and Parmesan salad to share. The pasta was cooked wonderfully and you could tell it had been freshly made. The pesto was nutty and full of basil but the potato was far too finely diced and the beans were a little too big, making the proportions unbalanced and the dish a little disappointing. The rocket and Parmesan salad was also a little underwhelming with grated Parmesan rather than long thin strips as it's usually served.
The fish was a good sized portion and it was perfectly cooked and just melted in the mouth. Unfortunately the greens that accompanied it were bitter, overpowering and too salty and there were far too many of them. The aioli probably would have balanced the flavours out more but I am not a fan of it and the salsa verde worked well with the fish anyway. It was quite a disappointing dish and I was left with an unpleasant after taste from the salty greens.
Pudding however saved the day for both of us. We both ordered the Vanilla Panna Cotta with Strawberries and Shortbread and it was the perfect blend of sweetness, creaminess and fruitiness and the panna cotta was the perfect texture. We ended our meal with an Aperol Spritz (£6.50) and a non-alcoholic Iced Tea (£4) and sat enjoying the last of our wonderful view across Watergate Bay.
Fifteen has a fantastic location and the food is good on the whole but I came away, and not for the first time, feeling like it's far from being what it should be. With Jamie Oliver's name to it, a great a Foundation behind it and with such a perfect location, it's always going to draw crowds but the food, despite all the local ingredients and fresh produce on their doorstep, could be so much better and much less pricey. You shouldn't leave feeling that you could make the meals better at home (and probably using a recipe out of one of Jamie Oliver's cookbooks) but that was the lasting impression Fifteen had on me. Oh and that amazing view.
Dotty Dishes was a guest of Fifteen Cornwall.
Fifteen Cornwall, On The Beach, Watergate Bay, Cornwall, TR8 4AA.