With Spring fast approaching, it's that time of year when you start to think about getting away for a break. For me, that thought it always centred around the seaside and thoughts of the sea take me back to September last year, when I was lucky enough to visit the beautiful village of St Mawes. You may have seen my review of St Mawes Retreats (http://bit.ly/1iZlZ20) and during my visit I was also fortunate enough to visit Hotel Tresanton for dinner.
Occupying an enviable spot high up overlooking the coast and the village lighthouse, Hotel Tresanton is a lovely building that was lovingly renovated and redesigned by Olga Polizzi 8 years ago, making it the picture perfect seaside property it is today. With a light colour scheme of creams and blues, floral and seaside patterns, ornaments of shells and driftwood, the decor of Hotel Tresanton really is relaxing.
We arrived for dinner in the evening and were taken through to the cosy dining room which was lit with candles and had a relaxed air of elegance to it. Situated on the middle level of the hotel with french doors all along one side with a balcony facing the coast, it must be wonderfully picturesque during the day. It was a view I decided I must come back to see one day.
We ordered a couple of non-alcoholic cocktails (I was poorly with a chest infection and my sister was pregnant!) and were given a small but very appetising menu to peruse, which featured 6 starters and 5 main courses along with another 5 choices of the hotel's regular dishes such as Smoked Salmon, Trelawny Sausage and Mash and Fish & Chips.
Since we were so close to the sea and the fish and seafood was so fresh, we knew we had to order fish for main course but for starter I chose the Spinach and Avocado Salad with Bacon Mustard and Crostini (£10) and my sister chose the John Dory with Peas, Asparagus, Bacon and Maxin Potato (£12).
My sister definitely chose the best starter as the John Dory melted in the mouth and worked perfectly with the fresh flavours of peas and asparagus. My salad was nice and the Bacon Mustard was an interesting dressing but I felt I chose badly and should have ordered something a bit more exciting such as the Pressed Pork Cheeks.
For main course however, I definitely made the right choice with the Place on the bone, Crab Cake, Shrimps, Mussels and Agretti (£22). My sister ordered the Black Bream, Pork Belly, Girolles, Pearl Onions, Green Beans and Red Wine Jus (also £22). We also ordered some Buttered New Potatoes to share (£4).
My plaice arrived on a huge plate surrounded by shrimps and mussels and came presented very simply, as it should be, with just a wedge of lemon to squeeze over. The plaice was cooked to perfection and the little crab cakes, crispy and filled with smooth mash potato and delicious crab meat, were a particular highlight.
The black bream was also fantastic; the pork belly cooked really well, the pearl onions deliciously sweet and the red wine jus gave the dish a welcome earthiness and worked perfectly with the pork.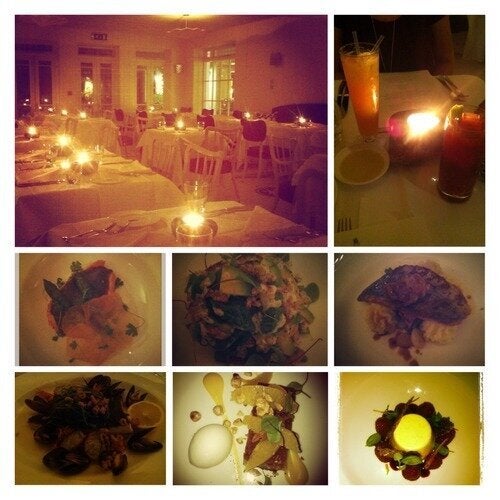 Both dishes were really enjoyable, but quite filling, and we had to give ourselves a bit of a breather before we ordered pudding. After recommendations from the very attentive and helpful maitre d', we decided to order the Tunisian Orange Cake with Yogurt Sorbet (£8) and the Vanilla Pannacotta with Raspberries and Poppy Seed Tuile (£7).
The maitre d' was completely right about his 'melt in the mouth' description of the Tunisian orange cake as it did exactly that and was the nicest orange cake I've ever eaten. It was lovely and light also so wasn't stodgy or too filling like pudding sometimes can be and the orange slices and yogurt sorbet made the dish really refreshing. The pannacotta was the right texture with a good amount of wobble and the flavours of raspberry and vanilla were a perfect concoction together.
We finished, as the last people in the restaurant (although we still didn't feel rushed at all) with a Cappuccino and a pot of Tea and sat letting our dinner go down before the short walk to St Mawes Retreats.
Hotel Tresanton really is a delight and we had a wonderful meal there which brings back great memories just writing this. I would definitely love to visit the picturesque village of St Mawes again and if I do, a visit to Hotel Tresanton will definitely be on the cards.
Hotel Tresanton, St Mawes, Cornwall, TR2 5DR.