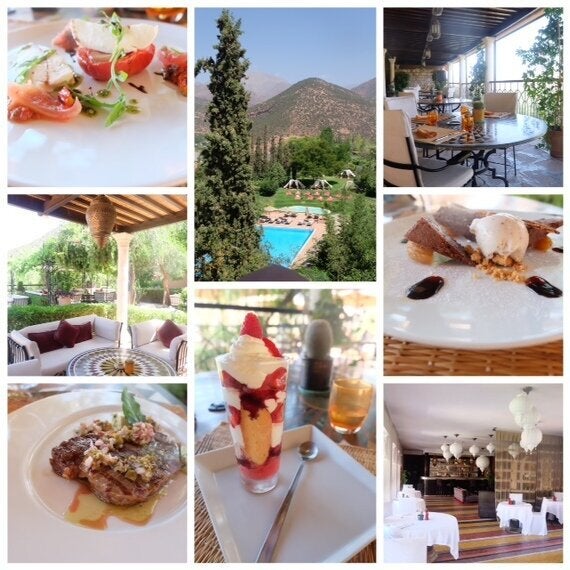 Whilst staying in the Atlas Mountains, my husband Steve and I made time to visit Richard Branson's hotel and restaurant, Kasbah Tamadot. Situated high up in the mountains, our taxi climbed the steep and winding trail and dropped us at the door to Kasbah Tamadot, where we were greeted warmly and taken through to the outdoor bar area. Making ourselves comfortable on one of the sofas, I ordered a cocktail and Steve ordered a beer and we sat taking in the picturesque view as we waited for our drinks to arrive.
Kasbah Tamadot is luxuriously designed and feels authentically Moroccan in its style. With lots of colourful patterned tiles, dark woods, ornate lanterns, gold detailing and a bright colour palette throughout, the whole location is a feast for the eyes. I was immediately drawn to the outdoor area which featured a big pool surrounded by sun loungers and umbrellas and a garden area off it with day beds on the grass and private tents dotted around. It felt like something that could have nicely fit into a 1970's commune and I was sad I didn't have the whole afternoon there to spend in one of the relaxing tents gazing at the serene mountain backdrop.
We were escorted through to our table, which was under a wooden and bamboo canopy, and was set up so that we were able to gaze at the picturesque mountain view during our lunch. The menu at Kasbah Tamadot is a mixture of Moroccan and European dishes and as much as we'd been enjoying Moroccan food during our trip so far, it was nice to have a different choice of cuisine to choose from. For starter I ordered one of my favourites; Tomato, Mozzarella and Basil Salad, and Steve chose Calamari.
The Tomato and Mozzarella salad was lovely and fresh and the creamy mozzarella was accompanied by various types of tomato including; beef tomato, sunblushed tomato and a tomato salsa. Steve's Calamari was crisp and flavoursome and the herby mayonnaise worked well with it.
Despite aiming to try something different, I decided to go back to Moroccan for my main course and ordered the Fish and Vegetable Tagine whilst Steve opted for the Steak with a Shallot Vinaigrette and Fries. The fish was well cooked and melted in the mouth and the vegetables and gentle spicing complimented it perfectly. Steve's steak was cooked medium as ordered and it was seasoned well and extremely tasty and the Vinaigrette, which was rich with olive oil, only added to the flavour of the dish.
After allowing us a breather to sit and take in the view whilst we enjoyed our Moroccan Rose Wine, we decided to order pudding, and I chose the Eton Mess whilst Steve ordered the Chocolate Brownie with Ras el hanout Ice Cream. We were both excited by the sound of Ras el hanout Ice Cream and it didn't disappoint - the spicing really worked in an ice cream and it accompanied the chocolate in the soft and sticky brownie well. My Eton Mess arrived in a tall sundae glass and I really enjoyed the mixture of cold and fruity berry sorbet within the rich cream but I did struggle to finish it as it was so large!
We had a great time at Kasbah Tamadot and the food and service both really stood out. We were sad to have to leave such a relaxing and blissful place that afternoon and could easily have lay on a lounger in the sunshine sipping cocktails for the rest of the day. Well, that's given us an excuse to go back for a second visit...
*This blog was originally published on Dotty Dishes, for which they dined as a guest of the Kasbah Tamadot*