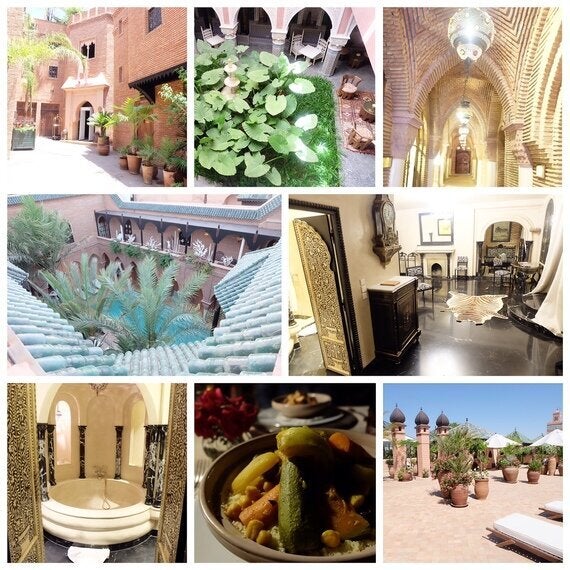 Last month my husband Steve and I travelled to Morocco for the first time to spend 10 days in and around Marrakech.
After collecting our bags and changing over UK currency for Moroccan Dirham (you can't bring local currency into Morocco and have to change your travel money on arrival) we headed outside to catch a cab. There was no queue and we were able to get a taxi quite quickly and even though we probably paid too much for the journey (make sure you haggle on the price BEFORE you get into the taxi!) our friendly driver made our first journey into Marrakech a pleasant one.
For our first two nights, we were booked into the 5* hotel La Sultana, which is based right in the centre of Marrakech and was only a short taxi ride from the airport. Our driver pulled up on a bustling road filled with people and fruit and veg stalls and we were directed down a quiet wide alley where at the bottom, we saw La Sultana.
As soon as we entered the hotel we got an immediate wave of calm and we quickly learnt that La Sultana is the yin and yang to the hustle and bustle of Marrakech. We were warmly welcomed and our bags were taken care of before being escorted through corridors of beautiful lanterns and courtyards filled with greenery straight to the hotel's roof terrace, where we were given a comfy chair and brought the first Moroccan mint tea and pastries of our trip. It was exactly the welcome we were looking for after travelling and it was lovely to look around the city from the rooftop, hear early evening activity down below and just relax and watch the sun start to set.
Just when we thought our evening couldn't get any better, we were shown to our room and were given the room in the hotel I had been most excited by when researching it prior to our stay: The Zebra Suite! All of the rooms in the hotel are completely different and each room is on a different themed floor, ours being the African themed level. I am not ashamed to admit I have a soft spot for animal prints so the zebra suite was pretty much my perfect suite adorned with A LOT of zebra print patterns, a black marble floor, gold ornate doors and a huge round marble bath that was just beckoning me to slide right into it! It was rather grand and we both felt like we were starring in a James Bond film.
The natural thing to do was of course try the bath out and it didn't disappoint. La Sultana definitely want to look after their guests, with complimentary Clarins toiletries and soft drinks in a mini fridge, and there were also straw hats and a beach bag waiting in our wardrobe, which were free for us to use during our stay.
We had dinner booked at the hotel's roof terrace restaurant that evening and we enjoyed a pre-dinner drink looking out at the Marrakech skyline before being seated at our table. The restaurant was busy on the Friday night we were there and we were seated at a table for two in the corner and given the menu to peruse. There was a choice between an a la carte menu and a tasting menu and since it was 9pm, we knew we wouldn't be able to eat our way through the tasting menu so decided on some dishes from the a la carte menu. To start we chose two popular Moroccan dishes, Moroccan Salads and Pigeon Pastilla, and we also ordered a bottle of Gris wine, which I'd heard lots about and was excited to try.
The Gris wine did not disappoint and with a very light pink blush colour, it was dry, fruity and wonderfully refreshing. It quickly became our wine of choice during our stay in Morocco after tasting it this first night!
The Moroccan Salads were a feast for the eyes as they arrived on a big tray and our table quickly became covered with colourful little dishes of vegetables. Each dish was cold and was fresh and full of flavour, making it hard to pick a favourite! The Pastilla arrived as a big circular pastry finished off with a dusting of cinnamon and icing sugar and it looked unusual on first sight but tasted incredible! The pigeon was succulent and in a rich and meaty sauce and the sweetness of the cinnamon and icing sugar worked really well. Pastilla is a signature dish in Morocco, as are their selection of salads, and we were glad we'd tried both on the first night.
For main course, I chose another Moroccan specialty and ordered the Couscous with Seven Vegetables with Lamb. It arrived in a tagine with the vegetables chunkily but neatly sliced on top and they just melted in the mouth. The lamb was tender and fell easily off the bone and the couscous was some of the most flavoursome I've eaten. Steve ordered the Braised Beef with Toasted Almonds for his main course and like the lamb, the meat was soft and succulent but he couldn't finish his dish as after the sweetness of the Pastilla, he did find the dish a little too sweet in flavour. We were too full for pudding so instead retired to our suite for a good night's sleep.
The next morning we enjoyed a light breakfast on the roof terrace, consisting of pastries, fruit and cereal, although guests could also order eggs if they were more hungry. The fresh orange juice was mouthwateringly good and we found it hard to say no to refills it was that delicious.
We both then changed into the robes and slippers in our room and headed downstairs to the spa to enjoy a couple's massage. The spa has an indoor pool in a sumptuous ornate room and we lay on comfy loungers and sipped a glass of watermelon juice, before choosing the oil we wanted for our massage and being led to the massage rooms. An hour later we were back in the same loungers feeling completely relaxed after a wonderful full body massage. Our masseurs applied just the right amount of pressure and we both thought it was one of the best massages we'd experienced in a while.
Feeling rejuvenated, we decided to get changed and head into the souks to explore. The Spice Markets are a short walk from La Sultana and we enjoyed a wander, taking in all of the delicious scents and chatted to lots of friendly shopkeepers, who kindly gave us mint tea as we chatted. From there we decided to visit the Bahia Palace, which is close to the Spice Markets, and it is definitely worth a visit with all the stunning gardens, architecture and picturesque tiles to take in. That afternoon, we decided to relax and lay by the hotel's outdoor pool reading our books and were kindly brought some Red Berry Sorbet to cool us down from the afternoon heat.
We enjoyed our first two nights in Marrakech at Sultana and it is in a great location that is right in the centre but hidden away enough to feel peaceful and relaxed. The attention to detail throughout is wonderful, the interior is stunning and when you arrive at the hotel, you really do feel as if you are entering somewhere out of a film set. La Sultana is a hidden paradise amidst the hustle and bustle of Marrakech.