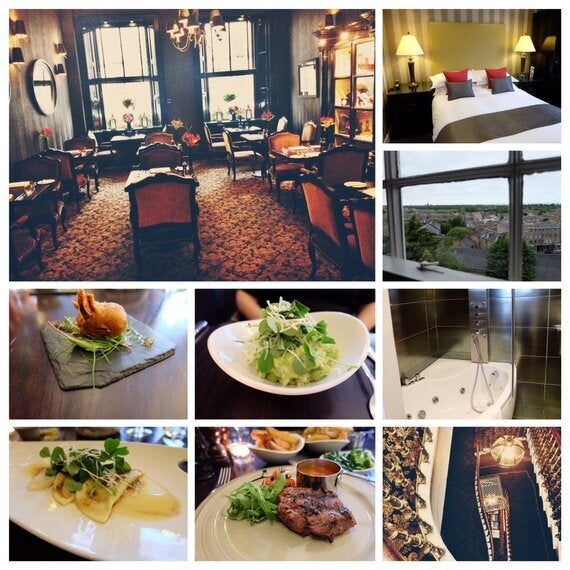 Situated on a quiet and picturesque street, the Nira Caledonia hotel is housed inside a listed townhouse building and looked very charming from the outside.
We were greeted warmly at reception and our luggage was carried up to our room by one of the staff. Situated next to reception was the bar and restaurant, which were decorated in warm, dark colours and an ornate staircase, with decorative lighting hanging all the way up, led from the reception up to the bedrooms.
The hotel was completely full whilst we were there so we were only able to review a petite double room, which is one of the hotels smallest rooms. Our room was situated on the top floor of the hotel up a lot of steep stairs (due to the building being listed, there is no lift) and it was quite a tiring walk to our room, especially for my 65 year old Mother!
Our room was very small and we could see why it was called 'petite'. It was unfortunately not the décor I was expecting either, after looking at the website with modern and tastefully decorated rooms, and was quite old fashioned in style, which was a little disappointing. Fortunately as bedrooms were being cleaned during our stay, we were able to glimpse the decor of other rooms and they all looked really nice and modern, so I think we were just unlucky with our allocated room due to the hotel being full. However, from our room there were gorgeous views across Stockbridge, the bathroom was quite spacious and up to date with a lovely Jacuzzi bath and powerful shower, and there was also a Nespresso machine in the bedroom to make your own hot drinks.
We decided to have a wander into Stockbridge that afternoon and the hotel kindly offered us one of their golf umbrellas incase it rained, which was a nice touch. We had an enjoyable couple of hours in Stockbridge looking around the many charity shops and modern and vintage boutiques. Stockbridge has an almost village-like feel to it and it was definitely one of our favourite areas we'd visited in Edinburgh.
For dinner we had a table booked in the hotel's restaurant, Blackwood's Bar & Grill, which was fully booked that evening and had a nice atmosphere throughout the room. We decided to order a bottle of Prosecco (£26) and were brought an amuse bouche of homemade Onion Bhaji to enjoy with it, which was absolutely delicious.
For starter I decided to order Ravioli filled with Asparagus and Ricotta and Brown Sage Butter Sauce and my Mum chose Broad Bean Risotto with Mint and Lemon, Pea Shoots and Parmesan (both £8). Our dishes were presently beautifully and the fresh pasta was just the right thickness with a good amount of filling whilst the risotto was a healthy sized portion, the perfect consistency and was very summery and fresh flavoured.
For main course, we both ordered Fillet Steak (£28) with Onion Rings and Chunky hand cut Chips (£3 each) to share and I chose a Provencal White Wine, Tomato & Herb Sauce whilst my Mum picked Green Peppercorn and Highland Park Whisky (both £2). The steak was cooked perfectly and was a really tender and flavoursome piece of beef. I'd never had a tomato-based sauce with a steak before but it worked really well and I'd definitely choose it again. The peppercorn sauce was however quite different to a standard peppercorn sauce and was a little too creamy and didn't have enough heat from the peppercorns.
We were both quite full but thought we should try the Cheese and Biscuits, since it had come from the nearby I.J. Mellis cheese shop. It was an unusual cheeseboard selection as there were two blue cheeses and one crumbly white and no cheddar, brie or goat's cheese. It was quite disappointing and we'd expected a better selection as the cheese shop had so many delicious looking cheeses. We finished the evening with a Cappuccino each, which was made perfectly and was an enjoyable end to the meal.
Breakfast the next morning was also served in the restaurant and it was again nicely busy with guests. Hot items were chosen from the menu and there was a great selection of continental items to enjoy beforehand including cheese, meats, smoked salmon, pastries, fresh breads, fruits and a fantastic selection of jams from the local farmer's market. I ordered a full English for breakfast and my Mum chose Smoked Salmon and Scambled Eggs and both were of a really high standard and one of the nicest breakfast we'd both enjoyed in a while.
We really enjoyed staying in the area of Stockbridge and despite not being able to enjoy one of their more modern rooms, Nira Caledonia is a cosy and hidden away boutique hotel with lots of personality and has a great restaurant in Blackwood's Bar & Grill.