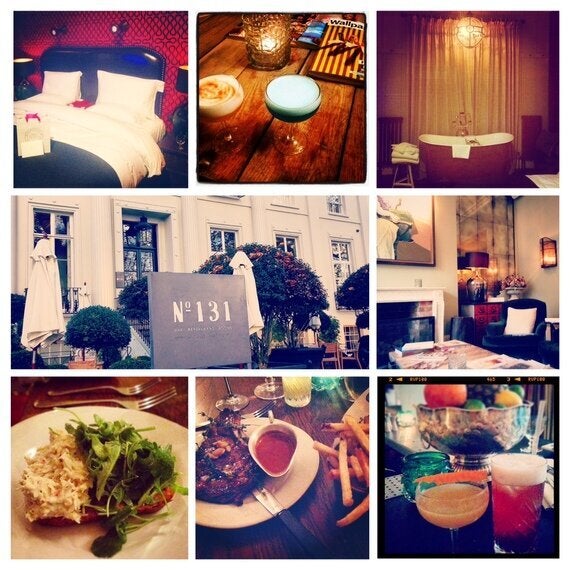 I first heard about No 131 in Cheltenham this summer whilst visiting The Wheatsheaf in The Cotswolds, which is part of the same group, The Lucky Onion. Based in the centre of Cheltenham on the promenade and only recently opened, it sounded lovely and I knew after having such a comfortable and enjoyable stay at The Wheatsheaf, that No 131 was somewhere I had to visit.
So at the end of October with a free weekend on our hands, myself and my husband Steve caught the train on a Friday night from London to Cheltenham. Taking just over two hours, we were at No 131 just after 9.30pm and it is a very short taxi ride from Cheltenham station.
With a big white front to the building surrounded by trees and opposite the picturesque promenade, the hotel is in an ideal spot for exploring pretty Cheltenham. You can access the boutique shops and local wine bars in about five minutes and the town centre is about a 10 minute walk away.
There was a buzzy atmosphere on arrival with people finishing dinner and drinking in the bar and we were shown straight up to our room, which was a lovely double classed as 'Very Good' (there are also 'Excellent' and 'Cosy' rooms) with a plump bed right in the middle and a huge tin bath in front of the window. There was a small but adequate bathroom up some small steps with a walk in shower and toilet. The room was tastefully furnished with opulent reds and chocolate browns and it felt very cosy.
Since we arrived late on in the evening, the room had already been given a turndown service which was one of the most thoughtful turndowns I'd ever experienced. Along with the hot water bottles, whose covers were knitted in red wool to match the room, there was a flask of hot milk, chocolate stirring spoons and homemade cookies. It was a very homely welcome!
Even though we were a little tired, we decided to pop down to the hotel bar for a cocktail before retiring to bed. We opted for a 'Pisco Sour' and the hotel's signature, a '131', and they were served in champagne saucers and were both sweet and fruity with a good hit of alcohol! We drank them whilst relaxing on one of the sofas in the comfortable lounge area.
After a great night's sleep, we went downstairs to the restaurant for breakfast. Included in the room cost is a continental breakfast but hot items can be ordered for a small extra cost. We decided to stick with the continental as we wanted to go out for lunch and we were also having dinner in the hotel that evening. There was an adequate selection of breads, pastries, cereals and boiled eggs along with cheeses and a big ham ready to be carved. And aswell as the usual teas and coffees, there was a selection of juices, homemade smoothies and even ingredients to create your own bloody or virgin mary!
We were lucky with the weather, which was cold but sunny and spent most of the day wandering around Cheltenham and indulging in a spot of lunch at the hotel's sister restaurant, The Tavern. We retired back to the hotel late afternoon and sat in the lounge drinking hot chocolate whilst reading books and magazines. The hotel has a lovely calm feel to it during the day and a vibrant and fun atmosphere at night and it was the perfect spot for an afternoon of relaxation.
Before dinner I knew I had to test out the huge iron bath in our bedroom and it did not disappoint. It was one of the best baths I've ever tried and was very deep with a great slope at the ends for leaning back, trying out the 100 Acres toiletries and enjoying a glass of prosecco watching the well positioned TV! The only disappointing error in our room whilst getting ready was the lack of mirrors in the room as there was a full length mirror on the back of the door and a small table mirror but no wall mirror in the room or the bathroom, and it was difficult to do my hair and make-up whilst getting ready.
We decided to try out another couple of cocktails before dinner - a 'Breakfast Martini' and a 'Beer & Smoke' and they were both delicious with a really helpful barman who helped us choose cocktails based on our favourite alcohol since there were so many to choose from!
We were given a great table for dinner which was at the end of the dining room and stretched around the corner with a high sofa style seat rather than chairs to sit at. Aswell as the main dining room upstairs, guests can eat downstairs in the conservatory style area next to their bar Crazy Eights, which has more of a party atmosphere and would be great for a big group of friends.
After a struggle to decide what to order, as there were so many delicious sounding dishes, I chose the Pappardelle with Butternut, Sage and Pine Nuts and Steve decided on the Devilled Crab on Toast. The pasta had clearly been homemade and it was the perfect winter starter that was rich, warming and incredibly tasty. The crab was fresh and creamy and worked well with the peppery rocket and crunchy sourdough toast.
For main, Steve chose a 28 Day Aged Aberdeen Angus Ribeye Steak on the bone which was cooked with Confit Garlic and Thyme and was very succulent and had the perfect accompaniments of Duck Fat Fries and Peppercorn Sauce. I decided on one of my favourites, Braised Lamb Shank with White Beans, Onions and Anchovy Crumb, which was packed with flavour with the juices from the lamb coming out in the bean cassoulet and the meat cooked so well it literally fell off the bone.
Unusually, we were both too full for pudding so just finished off our red and white wines which had been carefully selected by the restaurants sommelier and matched both dishes extremely well. My white wine was a glass of 'Ortega' from Devon which I'd never tried before and was very good.
After another great nights sleep, we caught a late morning train back to London and very thoughtfully, were given a goodie bag of water and chocolate by the hotel for our journey. As with the turndown service, another lovely touch.
We had a wonderful time at No 131. The hotel is relaxing and comfortable and a home away from home with the thoughtful detailing, cosy rooms and lounges and attentive service. We were sad to leave what is another fantastic hotel from The Lucky Onion group and it really was the perfect place for a relaxing weekend away.
No 131, 131 The Promenade, Cheltenham, Glos, GL50 1NW.
Related