At the beginning of the month I was lucky enough to spend a few days in a townhouse by the sea in the Dorset seaside town of Weymouth.
My friend Alice and I arrived by train and the townhouse was just a short 5-minute car journey, tucked away from the main hub of Weymouth but still only a short stroll to harbour and its shops, pubs and restaurants.
Situated next to a small collection of other properties, Nothe View is 3-storey modern townhouse with four bedrooms, an open-plan dining and lounge area and a decked raised garden. From the kitchen there are glimpses of the sea and the master bedroom has views over Nothe Gardens, with the property just a short walk to Nothe Fort and harbour.
Since the house sleeps 8 and there were only the two of us staying, we found it very spacious but didn't think it would be cramped even with the house at full capacity. The property was very clean and tidy and there was everything you could need in the kitchen (apart from picnicware, which we were thinking of having one day but there were no tupperware boxes, plastic plates etc), which came in handy as we stayed in and cooked dinner a couple of times during the few days we were there.
We expected to find a small welcome hamper on arrival, as I have often received in the past when staying in holiday properties, and this would have been a nice touch especially as it meant we had to wait for our Sainsbury's delivery to arrive before we could have a cup of tea!
The beds were very comfortable, and the corner sofa and dining chairs were perfect for sitting and chatting on for hours over a glass of wine. The only downside for us was that we found the house lacked a bit of character as there were no personal touches from the Weymouth seaside area and it felt a little flat and sterile for us. Even some tasteful artwork or local photographs on the walls would have made the property feel a little warmer.
During our visit, we found the location of the house perfect for us. We went running on a couple of days and the Nothe Fort was a great area for this with it's hills and steps making the run a bit more challenging! The harbour was only a short stroll away and you could get a little ferry across or wander around over the bridge, which we did, and it was a pleasant walk.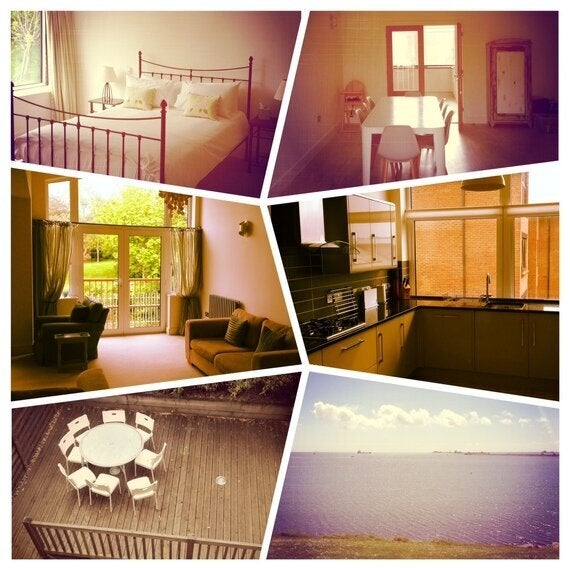 On one sunny day we spent some time on the beach, which has a really picturesque view and is a really cute beach with deckchairs and lovely soft sand. One rainy and cold day we relived some childhood memories on the 2p machines in one of the arcades on the seafront and then did a spot of shopping. Weymouth town centre is not huge but there are some good high street shops to visit such as Debenhams, TK Maxx and Marks and Spencers, to name a few, plus the local gift shops and boutiques.
We found some nice places to eat and drink during our stay and particular favourites were the fish and chips at Fish 'N' Fritz, which had photographs of the celebrities that had visited over the years adorned on the walls, and The Red Lion pub, which was just a short stroll from the property, and was cosy, friendly and a pub you could definitely get lost in for hours.
We had a lovely few days in Weymouth and we really did miss waking up with the gorgeous sea air every morning and being able to stroll to the sea in just a few minutes. Nothe View was a great base for our trip and is the perfect spot for a holiday in Weymouth.
* Nothe View is available to book from £480 for three nights and from £671 for a week. Bookings can be made by calling 0844 7044987 or visiting www.bluechipholidays.co.uk. *