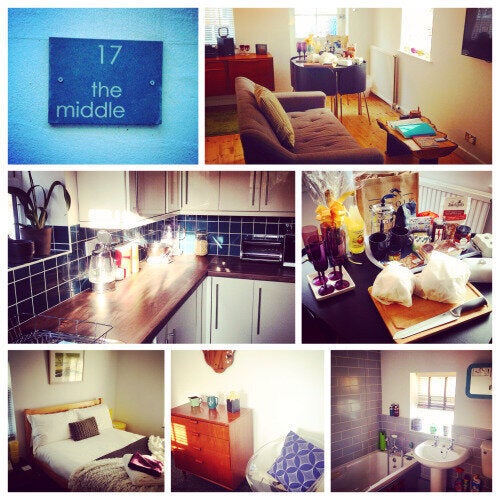 Last month I had luckily picked a lovely sunny weekend to travel to the seaside town of Southwold in Suffolk with my husband Steve and two friends, Alice and Alex, for a long weekend staying at a cottage with holiday letting agents Suffolk Secrets.
Leaving Liverpool Street station on a Friday afternoon, we caught the train to Darsham and were met by a very friendly local cab driver who drove us the short 20-minute journey to Southwold. After collecting our keys from the Suffolk Secrets office, which is situated in an amazing old water tower, we were dropped outside our cottage, The Middle.
Hidden away in the middle (hence the name 'The Middle') of a small courtyard of cottages, The Middle is a light blue painted cottage with white windows and looked charming from the outside.
We entered through the side door which led straight into the kitchen, which was small and neat and decorated well with dark blue tiles, wooden worktops and cream cupboards. There are only two downstairs rooms so off the kitchen was the lounge, which is a room that I thought was both old fashioned and modern with a beamed ceiling and old wooden doors and a mixture of retro and modern furniture. I loved the long teak sideboard and the cool grey sofa with retro wooden legs and the artwork really lifted the colour of the room, with a brilliant bright yellow poster with the slogan 'The Sun Shines Here Every Day'.
Up the wooden staircase, there were two bedrooms and a bathroom. The first bedroom featured two twin beds and was a small but cosy room with a cool retro wall mounted wardrobe and more bright and fun framed prints. The master bedroom, decorated in soft greys, was another combination of modern and retro with a modern wooden bed and yellow beside table along with a retro chest of drawers, coffee table and decorative mirror. The bathroom was again quite small but done well with lovely grey tiles and a good shower over the bath.
Once we settled in and unpacked our bags, we had a proper look around the cottage and noticed there was pretty much everything you needed for a relaxing weekend supplied including CDs for the stereo, board games and blankets if it got too chilly in the evenings. In the kitchen there was also a good selection of kitchenware including various pans, a blender and different styles of glasses.
On arrival we were also greeted with one of the best welcome hampers I've ever seen! Presently beautifully on the dining table, we were given a cellophane wrapped bottle of bubbly, two local loaves of bread, local chutneys, popcorn, coffee, apple juice, butter, eggs and two different locally made cakes. All of the items were delicious and we very much enjoyed them over our three days, with the locally made Chilli Jam being the biggest hit as we bought more to take home!
The Middle is situated in a perfect area for exploring Southwold and is just a short stroll to the high street which has a mixture of cafes, pubs, bakeries, delis and local shops. Our personal favourite spot was The Lord Nelson, where we enjoyed both food and drinks a couple of times over the weekend. The seafront and pier is a walkable distance and we hired bikes over two days of our stay from Southwold Cycle Hire (£8 each for two day hire) so we could cycle around at leisure and it was great fun apart from some strong winds!
We had a great long weekend at The Middle. It is a cosy and well decorated cottage, with both modern and retro touches, that is the perfect base for enjoying a break by the seaside in Southwold.
http://www.suffolk-secrets.co.uk/cottage/southwold-surrounding-villages/southwold/mdl-the-middle
http://www.suffolk-secrets.co.uk