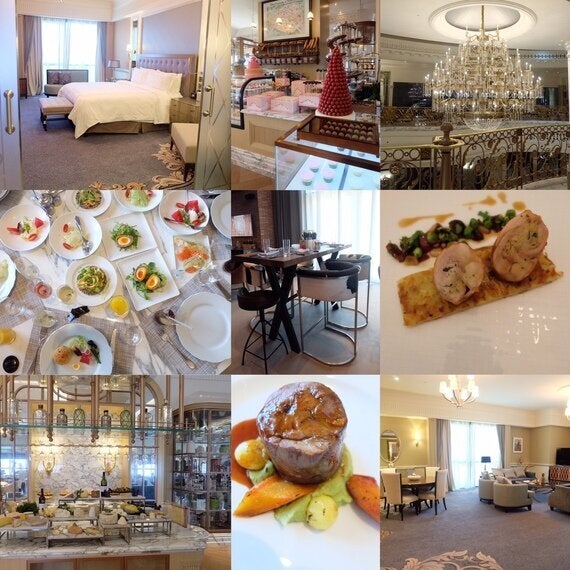 The St. Regis Dubai is situated in a new area of Dubai, Al Habtoor City, where on my visit they were in the process of building a water canal that would flow all the way to central Dubai. We were told it would be finished a few weeks after our visit and I couldn't believe it, as it was more or less a building site when we were there, but true to their word after researching online, it is done and looks very impressive.
Straight from my Manchester flight, on arrival at the St. Regis I knew I was about to enter somewhere grand. I was visiting Dubai with Visit Dubai to experience lots of what Dubai has to offer in a few days and I was excited to begin my trip!
Passing the fountains and gardens, the front of the hotel is opulent with impressive pillars either side of the large entrance and perfectly adorned staff waiting with smiles to greet you. It really was a wow factor entrance with marbled floor, lots of gold and a spectacular spiral staircase and I was made to feel welcome instantly. The hotel has a New York feel to it in its architecture, which stems from the original St. Regis Hotel in New York City.
I was checked in and told I had a suite and one of the best rooms in the hotel which made me excited but I was in no way ready for the size of room that was about to be shown to me. I have stayed in a lot of hotels but it was by far the biggest hotel room I have ever experienced! I had my own double doors, my own entrance, my own kitchen, my own study, my own dressing room, an enormous lounge with dining table and huge sofas, a massive bedroom, 3 TV's and two bathrooms! I could have easily moved in and already knew I wouldn't want to leave in two days time!
As I was wandering around room by room open-mouthed whilst Facetiming my husband (the size of the room just had to be shared instantly), my doorbell went and my bags were brought into the room. A few minutes later the doorbell went again and it was my butler (yes, my butler!) introducing himself and bringing me cakes and coffee. A few minutes later the doorbell went again and I was brought fresh flowers for various rooms in my suite. If this was my first taste of Dubai then I was going to like this trip.
After check in, myself and the other media on the trip were introduced and we were taken to the hotel next door, The Westin, which is part of the same group as the St. Regis, for lunch. When I say we were taken to the hotel next door, we were driven to it in chauffeured Bentley's. I couldn't believe it as it was only a few minutes walk but it was hot outside and I was already glimpsing that service in Dubai really was on another level.
After getting over my SATC moment travelling by Bentley, we were seated at a long table in the hotel's modern gastro-style brasserie, Cook Hall, and brought a selection of dishes and cocktails from the menu to taste. The menu at Cook Hall is international but also quite British pub-style and some highlights of dishes we sampled were Popcorn Shrimp, Beef and Mushroom Pie, Chicken Tacos and Apple Pie. The non-alcoholic cocktails were deliciously refreshing and we were also informed of a unique cocktail offering where diners are given their own cocktail kit of spirits, syrups, shrubs and herbs to come up with their own drinks, with the best of the week featured as a special on the cocktail board. I thought this was a really cool idea and something I'd like to find at a cocktail bar in the UK.
After a very comfortable nights sleep in my own mini mansion, I arose the next morning rested and ready for breakfast. My lovely butler arrived with a cappuccino whilst I was getting ready and that set me up for the busy day ahead.
Arriving back at the hotel that evening, I showered in the big walk-in shower and got ready for an evening at the hotel to enjoy dinner at J&G Steakhouse with Champagne Sabering and tasting the hotel's signature Bloody Mary beforehand. The champagne sabering was very impressive and the Bloody Mary, which is the St. Regis group's signature cocktail and different in each one of its hotel's, was one of the best I've tasted with the addition of Rose-infused Vodka, Date Paste, Yellow Tomato Juice and edible gold leaf in their creation.
For dinner we were seated at a long table in the centre of the restaurant and after being informed about the evening's special sharing steak, the Tomahawk, we decided to opt to try that. The starters included Truffle Comte Cheese Fritters, Steak Tartare and Chicken Ballantine and were delicious. The steak arrived as two huge steaks, which were impressively carved in front of us, and the meat was incredibly tender and tasty. The sides of Mash, Truffle Macaroni Cheese and various vegetables all worked well with it as did the restaurant's homemade steak sauce. Full up, we still managed to work our way through a selection of puddings and my favourite was the Salted Caramel Sundae with Candied Peanuts and Popcorn.
After another great night's sleep, we had the next morning at leisure so I snuck in some relaxation on the hotel roof by the pool. With the intense Dubai heat, I only lasted 30 minutes, so retired back to my room to get ready for my first Dubai brunch.
Friday's and the start of the weekend in Dubai are brunch day across all the big hotel's and we were to sample St. Regis' offering. Their brunch is themed on Marie Antoinette and the waiting staff were all dressed in a fitting style, as they presented a champagne cocktail to us on arrival. The St. Regis brunch is pretty high level with a buffet offering of cheeses, pate, seafood, cold meats, breads and salads along with served dishes of canapés and starters, a seafood platter and a main course. The pièce de résistancefor many is the dessert room which is filled with cakes, macarons, a chocolate fountain, sweets and popcorn. All of this is topped off with unlimited Bollinger champagne, cocktails, wine and beer! It is a relaxed and leisurely affair and a few hours later we were all suitably, and rather happily, stuffed full of food and drink!
The brunch was a brilliant end to our time at the St. Regis Dubai. The hotel exudes opulence and the service really is some of the best I've ever experienced - it is friendly without being over-bearing and the hotel staff cannot do enough for you. The surroundings are grand, and whilst on paper wouldn't be my normal sort of style, I loved it. It was quite different to places I've stayed before and I just enjoyed every moment and really felt at home. I imagine with the canal now complete in front of the hotel that it looks even more stunning and I'd love to go back another day to see it. Thank you the St. Regis Dubai for a truly wonderful stay.
*This blog was originally published on Dotty Dishes, for which they stayed as a guest of St. Regis Dubai.*