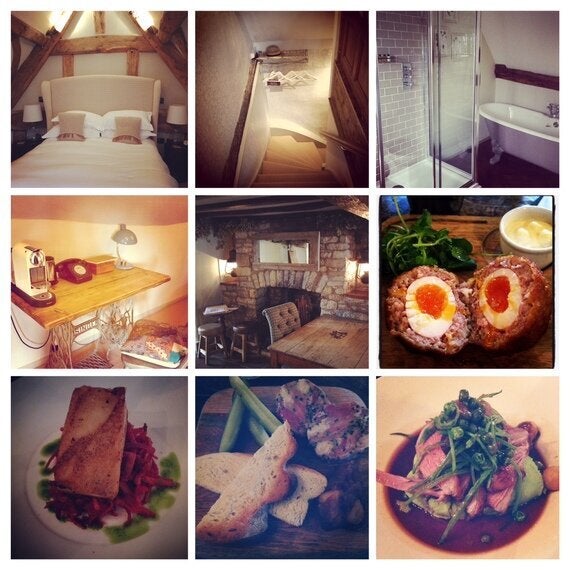 Back in May, for the final night of our visit to The Cotswolds, my other half Steve and I visited the picturesque market town of Stow-on-the-Wold.
With a long main street lined with shops, restaurants, pubs and boutiques, we were excited to arrive in Stow-on-the-Wold and were looking forward to a wander around before the rain arrived and dampened our plans. Fortunately we were checking into England's Oldest Inn, The Porch House, for the night and despite being early, they had our room ready for us to check in to.
We were given one of the Feature Rooms which was situated at the top of some winding private stairs with gorgeous beamed ceilings. There was a very comfy looking bed in the middle of the room and lots of interesting details throughout including old fashioned light switches, a sewing machine table as a desk, an old phone and a modern en suite with a lovely free standing bath.
After a cup of tea and a relax in our room, we decided to venture downstairs for a stronger drink and a bite to eat. We sat on a comfy sofa in the bar area and ordered homemade sausage rolls and scotch eggs to accompany our wine and beer. The sausage roll (£4.50) came with a tomato chutney and was incredibly tasty with rich, buttery pastry. The scotch egg (£4.50) had a perfect runny middle and came with a pot of mustard mayo to dip it into.
Re-fueled, we decided to pop our raincoats on and head out in the rain for a walk. It was such a shame as it would have been a lovely day for a hike or a bike ride but it was so wet that even some of the local gift shops had closed! Which left us with only one choice; to explore the pubs!
After a drink or two, we retired back to our room at The Porch House to freshen up before dinner. The freestanding bath was as delightful as it looked and it really was one of the nicest baths I've had - the perfect size and shape for a nice long soak! Even Steve decided to try it - and he hates baths!
We decided to have a pre-dinner drink in the bar before dinner and I chose a Bloody Mary which was definitely not for the faint hearted and had a very spicy kick of black pepper and tabasco! We were taken through to the grand part of the restaurant for dinner which has a grand country style with exposed old bricks, wooden floors, candles, books and warm furnishings, and were given a good table in the middle of the room.
After perusing the menu, we chose to order the Chicken and Ham Hock Ballotine, Gherkin, Apple Chutney and Toasted Bread and the Crispy Pork Belly with Beetroot and Apple Slaw. The ballotine was smooth yet had great meaty texture and was complimented by the fruity chutney. The pork belly was cooked well and the sweetness of the apple and beetroot balanced out the saltiness of the pork. Both were presented well and were good sized portions for a starter.
For main I ordered the Cotswold Farm Park Lamb Rump with Pea Mash, Runner Beans, Pearl Onions and Lamb Sauce and Steve decided on the Sirloin Steak with with Chips, Roast Tomato, Flat Mushroom and Peppercorn Sauce (£19.50). The lamb was medium rare and cooked well with a flavoursome meaty jus but the pea mash let it down a little for me as it wasn't as sweet and buttery as I'd hoped. The steak was unfortunately not cooked very well, over done on the outside and undercooked in the middle, and left Steve a little dissatisfied, despite the tasty peppercorn sauce.
We were both too full for dessert so decided to finish the meal with just a Cappuccino each, which we retired to bed with.
We had opted for the complimentary wake-up with toast and tea and a paper when we arrived and it was a lovely thing to wake up to the next day, having some hot slabs of toast with proper butter brought to you in a comfy bed! However, with the meal the night before and the toast in bed, we were rather full when we ventured down for breakfast!
Breakfast was served in the relaxed area of the restaurant, behind the bar, and consisted of a help yourself buffet of toast, crumpets, bagels, pastries, fruit, yogurt and cereals along with ham and cheese and a menu of hot items such as Eggs Benedict, Omelette and cooked English breakfast. We could only manage fruit and toast with coffee but breakfast felt very leisurely and was nice and relaxed despite most tables being full.
We had a pleasant time at The Porch House. It is an interesting old building that has kept many of its original features whilst also introducing other eras with both retro and modern furnishings. There is a cosy and relaxing feel to the place and despite the rain outside during our visit, it was the perfect place to be holed up in.
The Porch House, Digbeth Street, Stow-on-the-Wold, GL54 1BN.