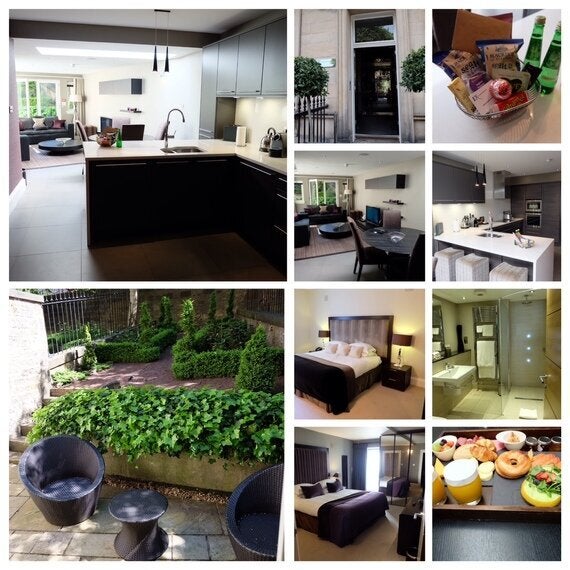 Last month, my Mum and I caught the train from Manchester to Edinburgh for a girls break to celebrate her 65th birthday. After a comfortable journey in first class, taking just over three hours, we arrived in Edinburgh at lunchtime and took a short five minute cab ride to The Chester Residence, where we were staying for two nights.
The Chester Residence is a 5* residence spanning over four Georgian townhouses featuring 23 apartments, including both penthouse and mews residencies, situated on a picturesque quiet and leafy residential street. We were greeted from our taxi by one of the hotel staff, who looked very smart and Scottish in his kilt, and took our bags inside for us whilst we checked in. After a short and friendly check-in, we were shown to our two bedroom mews apartment, which was a couple of doors down from the main reception and situated at the bottom of a winding staircase.
The apartment was accessed through two doors using a swipe card and we were impressed as soon as we entered since it was huge! There was an en suite bedroom at the front looking onto the courtyard and just down the hallway was another bedroom, again with an en suite bathroom. There was also a separate bathroom featuring a bath with a TV at the bottom and a large communal kitchen, dining room and lounge leading onto a lovely well-maintained sloped garden, with two comfortable chairs, a coffee table and a barbecue.
With a simply decorated interior and modern furnishings throughout, the apartment was very tasteful inside and had everything a guest could need including Molten Brown toiletries and a welcome hamper including Scottish treats, such as Tunnock's Teacakes and Caramel Wafers, along with crisps, popcorn and chocolate. There was also a coffee machine with Nespresso capsules and a selection of tea bags and biscuits, which were all replenished daily.
After unpacking and settling in with a cup of tea, we decided to have a little wander around the area before dinner that evening. The Chester Residence is situated in a fantastic location that is just a short 10-minute walk into the main shopping district of Edinburgh and a 20-minute walk to the popular tourist spot of The Royal Mile. We decided not to go too far on our first day and enjoyed a look around the shops before enjoying an afternoon glass of wine sat in the sunshine on George Street.
After both enjoying a great nights sleep in the apartments comfortable beds, we awoke for our breakfast delivery. The hotel can be used simply as a self-catering property, and the kitchen has all you need to cook a meal, or you can choose to have breakfast delivered to your apartment.
We chose two different breakfast choices of continental meats and cheeses, sliced melon and orange juice and smoked salmon and cream cheese bagel with fruit salad and juice. Breakfast arrived promptly and was delivered by our friend who greeted us on arrival, in his kilt again - a very Scottish start to the day! The breakfast was presented nicely and both options were of an ample size and we actually struggled to finish it all so saved some of the meat and cheese in the fridge to nibble on that evening.
We were genuinely sad to leave The Chester Residence the following day after such a relaxing stay. The property is extremely clean, comfortable and tidy and the staff were very friendly and helpful. It really is a home from home and two nights was not nearly long enough - my Mum and I would definitely like to return for a second visit!