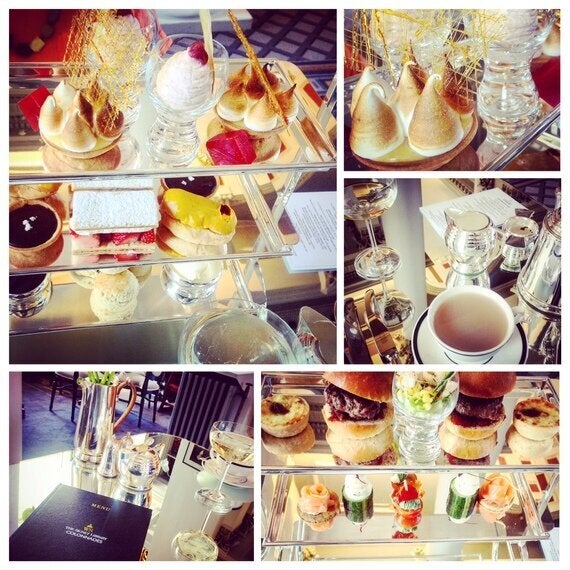 I really enjoy having afternoon tea and most of my experiences have been spent with my Mum, who also loves the experience. We were both excited to have afternoon tea booked at The Colonnades at The Signet Library, situated in Edinburgh's Parliament Square on The Royal Mile, which has only recently started serving afternoon tea.
The Colonnades is definitely a room with the wow factor with its ornate high ceilings, decadent mirrored glass tables and of course, shelves of books all around the ground floor and balcony walls and there was a feeling of opulence throughout. We were seated at a table for two at the end of the room, which was surprisingly quiet with only a couple of other tables occupied, but I could see how busy it could get of a weekend and as the word gets out.
Our waiter was very attentive and friendly from the start and despite telling us it was his first day after previously working at The Balmoral Hotel, you wouldn't have known as he was very knowledgeable. We were given a tea and drinks menu to peruse along with the afternoon tea menu for that day, which seemed endless listed in three stages and we didn't know how we'd eat it all! We were also poured a glass of prosecco each in elegant champagne saucers and we both agreed it was the best we'd ever tasted - so much so, we enjoyed two glasses during the afternoon tea! With our prosecco we were served an amuse bouche of a cheese filled profiterole each, which was incredibly light and just melted in the mouth.
For our pots of tea, I chose the Ginger Chai with milk and my Mum chose the Russian Caravan with lemon, with both served in silver teapots with art nouveau style china cups and saucers. For the first part of our afternoon tea, we were served the savoury items and sandwiches on a silver rectangular cake stand. The savoury items included Mini Aberdeen Angus Burgers, a warmed Smoked Applewood Cheese and Celery Tart, a Signet Prawn Cocktail with Coriander & Mango Salsa, Scottish Shetland Salmon infused with Edinburgh gin with Lemon Cream Cheese, Goat's Cheese Mousse in a Cucumber Cup and Mozzarella Bocconcini & Sunblush Tomato. Along with these we were served Ramsay's of Carluke honey Roast Ham and Mustard, Cucumber and Smoked Salmon and Cream Cheese sandwiches. It was a real delight to have some additional savoury items instead of just sandwiches and there was real thought into the dishes, which all worked wonderfully as part of afternoon tea. The sandwiches were also nice with just the right amount of filling and with the crusts cut off, as they should be for afternoon tea!
For the second part of the tea, we were brought another silver cake stand filled with a Strawberry Mille Feuille, a Lemon Meringue Tart, a Passion Fruit & Mango Eclair, a Rhubarb Fool, a Blood Orange Jelly, a Belgian Chocolate and Sea Salted Caramel Tart and a miniature Plain and Fruit Scone with Strawberry and Champagne Jam and Clotted Cream. All of the desserts were delicious with the standouts definitely being the Chocolate and Salted Caramel Tart, which had a very light pastry and a caramel filling in the middle that was mouthwateringly good, the lemon meringue which was sharp and creamy topped with impressive sugar work detail and lastly, the rhubarb fool which was topped with what looked like a wafer but was actually dried out rhubarb and it had the most intense rhubarb taste.
Once we'd worked our way through the cakes, we were actually too full to finish the scones so our waiter boxed them up for us and gave us them to take away in a lovely Colonnades tote bag. We finished the afternoon tea with another pot of tea, this time Rooibos for me, and a macchiato for my Mum. We didn't feel rushed at all during our time there and the whole experience was very relaxing.
As mentioned at the start of this piece, both my Mum and I have enjoyed many an afternoon tea together but this was by far the best afternoon tea either of us have ever experienced and for a reasonable cost of £25 (the prosecco is extra), afternoon tea at The Signet Library at The Colonnades is worth every penny. If you're in Edinburgh, this should be a dining experience at the top of your list.