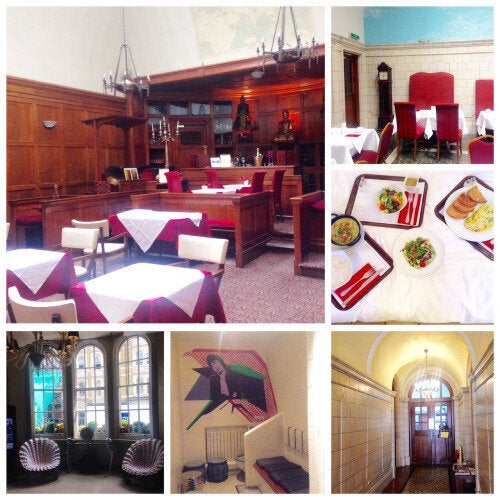 Back in June, after four days of sleeping on a campsite and trudging about in wellies at Glastonbury Festival, I was completely ready for a hotel room and a big, comfortable bed. Fortunately for me then, I was checking into London's 5* Courthouse Hotel for the night.
In an ideal world, I would have arrived early afternoon and enjoyed a nice soak in the bath before catching up on the weekend's TV lying on the bed in my pyjamas. In reality, I arrived hungry and tired at 11pm at night after driving for over 10 hours in awful traffic getting out of the Glastonbury site. Despite my late arrival, the hotel were very welcoming and accommodating, informing me happily that room service were ready for me and my Glastonbury pal Alice to order dinner to our room.
The Courthouse Hotel, as the name suggests, has a legal association and it used to be a Magistrates Court before it was converted into a hotel 11 years ago. It is a Grade II Listed building that is steeped in history and parts of the original court are still in existence. The restaurant still looks very much like a court room with it's dark wood and red colour scheme and the breakfast room has old fashioned tiles throughout. The original jails have also been retained and are now quirky private booths in the bar area with famous faces who attended the original court, such as Mick Jagger and John Lennon, illustrated on the jail walls.
Unfortunately we were too exhausted to enjoy cocktails in one of the jail booths so headed straight up to our room for a shower. Our room was really spacious with a large bed in the middle, a sofa at one end and dressing table at the other, next to the good-sized bathroom. The décor was quite fitting to the history of the hotel, but I did feel it was perhaps a little plain and dated, and I was interestingly informed the following day that the hotel rooms are currently undergoing an extensive process of renovation.
After a much-needed shower, Alice and I ordered room service. I decided on a Three Egg Cheese, Tomato, Spinach and Ham Omelette with Wholemeal Toast and Alice opted for a Vegetarian Thai Green Curry with rice with a side of the Carnaby Salad. Our dinner arrived quickly but my omelette unfortunately arrived minus the ham and the cheese had sadly mostly melted out of it so it was a bit disappointing. The curry however was full of vegetables with a good kick and it was an enjoyable dish.
After a good night's sleep, we awoke the next morning feeling much more rested and were excited to be enjoying breakfast in bed in the room's robes. Alongside our orange juice and tea, we enjoyed a healthy continental mix of bagels, toast and muffins with fruit and muesli and also ordered some hash browns on the side for a treat!
Due to the central location of The Courthouse Hotel, which is literally opposite Carnaby Street and the Liberty store, I had chance to do a little bit of shopping before checking out that morning and it was nice being so central and being able to leave my luggage at the hotel.
We had some much needed R&R at The Courthouse Hotel and it will be interesting to say how the hotel renovates the bedrooms in the coming months. I am definitely planning a return to the bar to try a cocktail in the Mick Jagger jail booth!
*This blog was originally published on Dotty Dishes, for which they stayed as a guest of The Courthouse Hotel.*
Related