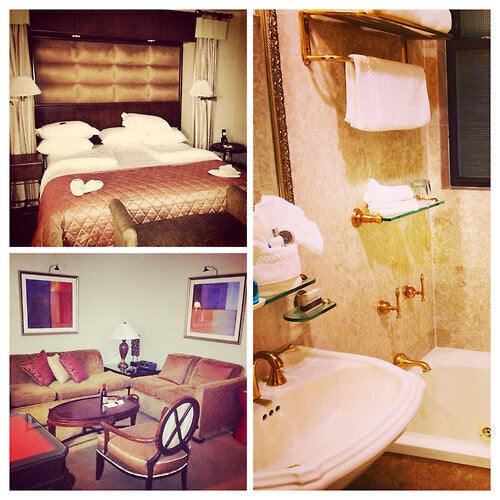 On our first day in New York, we arrived into JFK airport at about 8pm, extremely excited for our weeks holiday. It was my second visit to NYC but my partner Steve's first and I knew I had to get a yellow taxi ride into Manhattan so he could see the Manhattan skyline all lit up. And it didn't disappoint - it's one of the most breathtaking views seeing New York all lit up in front of you, and I've always remembered that view since the first time I saw it years ago.
We were spending our first night at The Iroquois Hotel, which is part of the Small Luxury Hotels of the World group and is situated in central Manhattan on 49 W 44th Street, just a short walk away from Times Square. On arrival, we were checked in straight away by a friendly receptionist and I enjoyed a complimentary fresh cucumber water from the reception area before being given our room on one of the highest floors.
We were very kindly given a suite and our room was huge with a lounge as you walked in with two sofas, a coffee table and desk and chair along with a mini bar and TV along the wall. There was also a bottle of red wine and chocolates waiting for us which was a lovely treat to be welcomed with. The bedroom was in the next room and had a huge kingsize bed with a grand warm gold headboard and drapes either side and a bathroom with a shower and jacuzzi bath with marble and gold detailing, along with complimentary Molton Brown toiletries.
The room felt very traditional New York with its grand, old fashioned furnishings and even though the decor wasn't what I would normally choose, it was very cosy with the golds, browns and reds and after sitting down on the big bed, we were immediately relaxed. We received a call not long after we'd got to our room to check everything was okay for us, and I thought that was a really nice touch.
Unfortunately since we'd arrived so late (it was nearing 11pm when we got to the hotel), the bar, Lantern's Keep, and the restaurant, Triomphe, were both closed. Even though we were tired, we didn't want to just go straight to bed (we had just arrived in NYC!) so we asked the receptionist to recommend a local bar for a drink. We weren't aware it was Labor Day that day, and so most places had shut early, but we were told The Royalton Hotel was across the street and there were a couple of bars that would be open just a block away.
We wandered across the road to The Royalton and it was very cool with dark lighting and Mad Men-esque 1950s furnishings with a big cocktail bar in the middle of the room. Unfortunately we'd just missed last orders so instead wandered down the block to a little Irish pub we'd been recommended, where we sat at the bar and enjoyed a G&T and a Brooklyn Beer, before heading to Times Square for a bit of late night sightseeing!
We had a great night's sleep at The Iroquois and the beds were extremely comfortable with soft white bedding, plump pillows and a mattress that you just sank into. I didn't have time to try out the jacuzzi bath but it looked very relaxing and the shower we had to wake us up that morning was perfectly adequate.
The Iroquois is situated in a great spot for sightseeing and walking around Manhattan and is very traditional in style with an old fashioned grandeur that is quite timeless.
The Iroquois, 48 W 44th Street, New York, NY 10036.