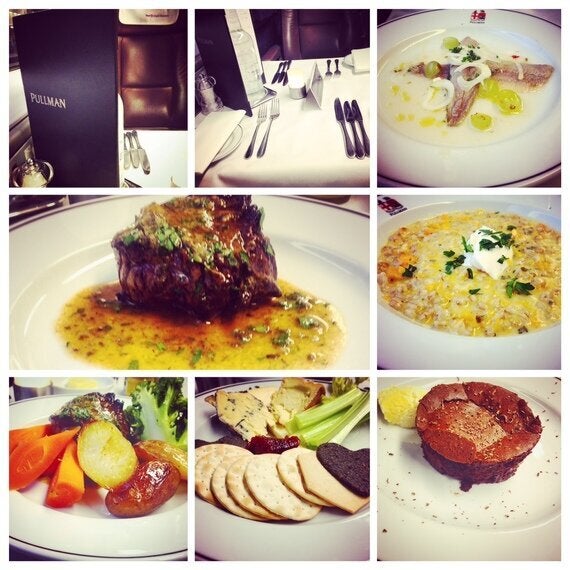 Living in London, I don't have a car and haven't driven in years and so seem to spend a lot of my time on trains visiting friends and family. I would say I get a train to visit someone once or twice a month at least!
So when I was approached by First Great Western and asked if I'd like to review their Pullman Dining carriage - the UK's only on-train fine dining restaurant - I very excitedly agreed.
With family based in Devon, my husband Steve and I caught the 7pm train from London Paddington to Plymouth one Friday April evening and were welcomed by a friendly lady outside the first class Pullman carriage. We were seated at a table for two that featured a white tablecloth, silver cutlery and china plates with a leather embossed menu for the food and drinks.
The Pullman's menu has recently been redesigned by celebrity chef Mitch Tonk using local produce and South West seafood, with wines chosen from his Dartmouth based restaurant to match the food.
As we perused the menu, we were offered a pre-dinner drink and I chose a Cornish 6 O'Clock Gin & Tonic, which felt much more fancy than a G&T in a can, whilst Steve opted for a bottle of Tribute Ale. As the train departed Paddington, it felt very relaxing sat in comfy seats at a well laid table sipping our early evening drinks.
The menu featured three starters, four main courses and two desserts, with options of meat, fish and vegetarian dishes. To begin I decided to order Roasted Squash and Sharpham Spelt Risotto with Goat's Curd (£9) and Steve chose Cured Mount Bay's Sardines with Grapes, Tarragon and West Country Cider Vinegar (£10). The risotto was creamy from the goat's curd with flavoursome stock and perfectly textured spelt and it was a really warming dish. The sardines were extremely fresh and packed with flavour and worked well with the sharp vinegar and sweet fruit. Both were presented well on white dishes and we were served fresh bread rolls with our starters.
We ordered a bottle of Knightor Trevannion white wine from Cornwall (£27) for with our main courses, which was crisp, dry and very tasty and one that we will definitely be trying again. Both of us decided on Prime West Country Reared Fillet Steak with Cafe de Paris Butter, Carrots, Broccoli and New Potatoes for main (£29) which was absolutely delicious. The steaks were a good size, very flavoursome and cooked as ordered, with the butter complimenting both the steak and potatoes. As steaks go, they were very good and for a steak cooked on a train, they were exceptional!
We were quite full but had enough room to try dessert and I ordered the West Country Cheese Selection and Steve decided on the Chocolate Nemesis (both £9). The cheese came with Quince Jelly and Fudge's Biscuits from Dorset and the Chocolate Nemesis came with Rodda's Clotted Cream. The cheese plate had a choice of three different cheeses and a huge array of biscuits which I thought was great as one of my pet hates is cheese boards that don't come with enough crackers for the cheese! The chocolate pudding looked like a fondant but was actually mousse-like and the rich chocolate was balanced well with the soft and gooey cream.
We finished the meal with a cup of tea and chocolates and were then left to enjoy the rest of our wine and the remaining part of the journey to Plymouth.
The Pullman Dining Carriage really is a wonderful way to spend a long train journey and with the meal taking up a couple of hours of travelling, it made the trip seem so much quicker and much more enjoyable. It felt like a very glamorous way to travel and the serving staff were both friendly and helpful, with good knowledge about the dishes and the wines.
I shall definitely be booking into the Pullman carriage next time I travel to Devon - well done First Great Western, a brilliant idea!
For more information visit https://www.firstgreatwestern.co.uk/your-journey/on-board/pullman.