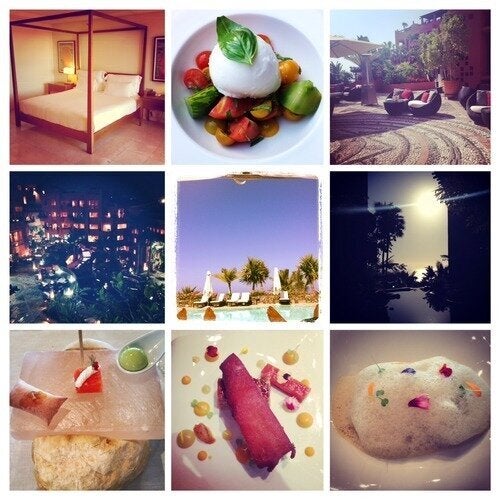 Last month, after not having a sun holiday for three years, my partner Steve and I were lucky enough to spend three nights in the luxurious Ritz-Carlton, Abama resort in Tenerife.
We decided to take our trip over a long weekend and arrived there early afternoon on a Friday, departing on a Monday late afternoon. We thought it was a nice amount of time for a short break in the sun but we didn't realise we'd come away loving the hotel so much that we didn't want to leave!
On our arrival at the hotel, which is around a 20 minute drive from Tenerife South airport, we checked in and were given a cold glass of Cava each, which was very welcome in the early afternoon heat. Our room wasn't quite ready so we sat out in the outdoor terrace bar area on comfy padded seats and took in the view of the main swimming pool and the sea.
Our room was ready shortly after and we were given a suite which was huge with sitting room area, big double 4-poster bed, walk-in wardrobe, balcony overlooking the terrace bar and bathroom with double sink, bath and shower. It was a great room that was tastefully decorated and very clean and we were given a platter or cheeses, parma ham, bread and tomatoes with bottles of still and sparkling water to welcome us to our room, which was a very thoughtful touch after quite a long journey to Tenerife.
After having a short sunbathe and swim in the main and family pool area, we were given a tour of the hotel grounds. We were picked up in a golf buggy and driven down to the beach which is exclusive to the hotel and despite being small, was lovely and clean with a good amount of sun beds and a little bar off it to get refreshments. Aswell as being able to be dropped at the beach on golf buggies, you could also get a little train or a funicular down to the beach, which we thought were both great ideas and something kids would definitely love.
We were shown the hotel villa area, which have their own pool and golf buggy and are more exclusive and bigger than the general hotel rooms. A short walk down from these, is the hotel's fish restaurant 'El Mirador' and the adult only pool, which featured a gorgeous infinity ledge looking out to sea, and is the place we spent most of our days during our visit.
The main hotel area featuring the outdoor terrace bar and the other restaurants - two michelin starred 'M.B' (there is also michelin starred restaurant 'Kabuki'), Italian restaurant 'Verona', Argentinian restaurant 'Pampa' and the Tapas and Wine Bar, are all set within the beautiful open and airy Moroccan influenced terracotta exterior and surrounding the water pools with tropical fish swimming freely and beautiful green vegetation. The hotel was designed by Chilean/Bolivian architect Melvin Villarroel with feng shui in mind and there is definitely a care-free, calming atmosphere to Abama which made our stay very relaxing.
For our first evening in Abama, we ate at Pampa, the Argentinian restaurant. We were given a table outside and it was lovely looking out at the sea across the water pools, watching the fish swim about happily.
To start, I had a mixed salad and Steve tried the Pumpkin soup, which were both tasty and good appetisers before our huge main course of the mixed meat platter! The platter contained various Spanish sausages, Steak, Pork, Chicken and Ribs and came with Vegetables and Potatoes on the side. The chorizo sausage was my highlight as it was sweet and smoky, with an extra smokiness from being chargrilled on the griddle. The steak was also cooked well and melted in the mouth. We were too full for pudding but we shared a nice bottle of Spanish red wine and took the rest to the terrace bar to finish before retiring to bed.
After a great night's sleep, we went downstairs to breakfast which is nicely served until 11am, meaning you don't have to get up early as you do in some hotels. I have to say, it was one of the most varied and extravagant breakfasts I've ever seen in a hotel, with Cava and Bloody Mary's offered as soon as you entered the breakfast room.
There really was everything you could wish to eat for breakfast including individual fish, meat, cheese, vegetable, fruit and bread stations, an egg, omelette and toasted sandwich area, cooked breakfast items, cereals, milkshakes and juices, with tea and various coffees ordered from the table and served to you. We ate so much at breakfast that we didn't eat properly again each day until dinner time.
After a gorgeous day in the sun by the aduly only pool, drinking amazing frozen Banana Margaritas and swimming in the picturesque pool, we had an early evening drink sat in the shade in the terrace bar on the most comfortable corner sofa we've ever sat on. With a Spanish beer, a Cava, some snacks of Olives, nuts and crisps and the peacefulness of only hearing the sea and the water running from the pools, it was such a heavenly moment that it became our regular routine for the next couple of days before heading up to get changed for dinner.
That evening we were lucky enough to be dining in Martin Berasategui's two Michelin starred restaurant 'M.B'. Situated on a quieter level of the hotel, the restaurant is very minimalist inside and we were given a nice table for two looking out to sea.
To start with we had a glass of Moet champagne and were then brought out what looked like huge prawn crackers served on a long, thin wire basket. These were Paella Cracker, Crispy Cod with Sweet Pepper and Prawn Biscuit. All three were extremely light and the flavouring of each one really came out well.
Next we were brought a big piece of stone with a coloured glass slab on top which featured Home marinated Salmon with Dill, Spanish Potato Omelet Snack and Pickled Chilli Pepper and Anchovies Bonbon. The omelet snack was runny egg in a crisp pastry shell which Steve loved but I didn't like the texture of it in my mouth, along with the pickled chilli pepper and anchovy bonbon, which was slimy at first then burst in your mouth. The texture was odd but the technique of getting a hit of chilli right at the end was very clever. The salmon was my favourite and was very fresh tasting.
Next came a Passionfruit and Whisky Sour in different textures and temperatures, Cheese and dried tomato cone stuffed with Steak Tartar and Herring Caviar and Strawberry in Caipirinha. The Sour was exactly that but with a delicious sweetness from the passionfruit, the softness of the tartar worked very well in the crisp cone and the strawberry, after getting over how cold it was in your mouth, was wonderfully refreshing and you could see why it was given as the final appetiser, to cleanse your palette before the meal began.
We were offered both a tasting and a la carte menu but we didn't fancy trying everything listed on the tasting menu, even though other diners ordered this and it looked very unique and exciting, so opted for the a la carte.
I chose the Lobster Ravioli special to start and Steve ordered the Caramelized Millefeuille with Smoked Eel, Foie-Gras, Spring Onion and Green Apple. The ravioli arrived with a curried foam and edible petals on top and there was a healthy amount of squid ink ravioli filled with well cooked and seasoned lobster. It was absolutely delicious. The smoked eel didn't go down quite as well with Steve however as even though it was cooked well there was far too much foie-gras and was overly sweet so became a bit sickly after a while and he couldn't finish it.
The thoughts on the mains however were the other way around with Steve absolutely loving his and mine not being quite as popular. I ordered Roasted Lamb Chop served with Crushed Potato and Lemon, "Majorero" Cheese Balls and Rocket and Mushroom Broth and Steve chose Suckling Pig two ways, as portion of terrine and as crunchy rib, served with papaya tatin and citric puree. The lamb was perfectly cooked and really melted in the mouth and the lemon potatoes complimented the dish well despite being slightly lumpy. The Majorero cheese balls and the mushroom and rocket broth didn't work for me and it felt like there was nothing bringing the dish together. The pork was served with a big rib across the top which was crunchy and slightly salty and the opposite to the sweet and succulent pork terrine. The papaya was very sweet and juicy and what was too sugary for me, was delicious to Steve and he loved his dish.
We were given a lemon and melon palette cleanser before dessert which was like a chilled lemon soup and was creamy yet very refreshing. For dessert I decided on Emulating a Mojito, brown sugar and rum cake, lime soup, mint ice-cream and and foamy mojito juice and Steve chose Chocolate Souffle with frozen caramel cream, cinnamon and cacao juice.
The mojito looked very impressive on arrival with the foamy mojito juice poured over the top of the cake but the whole thing, apart from the very delicious mint ice cream, was far to acidic and citrusy for me. Steve and I decided to swap and I ate his chocolate soufflé, which was like a chocolate fondant and was perfectly oozing with chocolate sauce inside, but it felt like something I could make myself at home and too simple for what I would expect in a two star michelin restaurant.
We ended the meal with a Cappucino each which came with a tower of very impressive Petit Fours, which were all a delight to eat. The meal at M.B had definitely been something unique that we hadn't experienced before but we were left feeling a bit deflated by it, having had better non-michelin starred meals in London, and both decided we wouldn't rush to return.
On our final day at Abama, we had another lovely lazy day by the pool and the beach before dining at the Italian restaurant 'Verona' that evening. I loved the meal here and we ate very well cooked Italian food such as Caprese salad with a range of wonderfully fresh tomatoes, perfect Pasta alla Genovese and creamy, slightly boozy Tiramisu, which was all hugely enjoyable. Of all the restaurants experienced during our trip, this was definitely our favourite.
We had a wonderful time at Abama and were genuinely sad to leave on our last day. The resort feels very luxurious and exclusive (we spied a few celebrities during our stay) with helpful service, well designed, picturesque and clean surroundings and is wonderfully remote from the party areas of Tenerife. It really is the perfect place to relax and pamper yourself and we are already planning our return.
The Ritz-Carlton, Abama, Guia de Isora, Tenerife, Spain.
Related