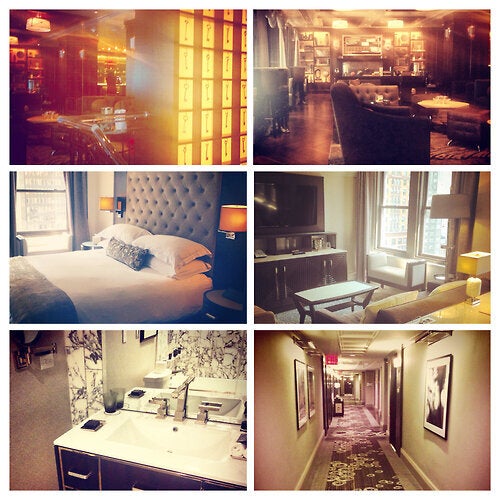 On our second night in New York, we were excited to be staying at The Westhouse. Another hotel part of the Small Luxury Hotels of the World, it is situated on West 55th Street, close to Central Park.
On arrival, we were greeted by smart doormen who took our bags into the hotel while we checked in. The lobby has a modern style that also has elements of the 1920's in its furnishings and the very cool air conditioning was a welcome distraction from the heatwave outside! Behind the check-in desk there was a display of orange boxes each filled with an antique key and beyond that, a cosy seated area with armchairs, sofas and grand draped windows and a small bar.
Our room was fortunately ready early, despite checking in three hours before our scheduled arrival time, and we were shown up to the 22nd floor to an amazing room with a huge lounge and dining room area and a big bedroom which looked out with the most fantastic views of Manhattan towards Time Square. We'd been upgraded to a Prestige Suite which was a lovely surprise! The decor in the room was smart and stylish with greys and creams and the furnishings echoed the 1920s and deco influence from downstairs.
Despite the influence of an older era, the room had all the mod cons and more with a huge TV in both the lounge and bedroom, a compact safe, GHD hair straighteners (which I'd never been given in a hotel before!) and an iPad with a clock and radio stations programmed in by genre.
After settling in, we decided to go and have a look at the floor above, where a guest lounge was located. For a fee of an extra $30 per person a night, guests can use the lounge on the 23rd floor and enjoy comfortable seating, an outdoor terrace and complimentary refreshments including cheeses, breads, meats and wines, beers, soft drinks, coffees and teas and a continental breakfast. I thought it was something that was really reasonable and it was nice to have a place to relax in the hotel other than the main bar or your room.
We enjoyed a soft drink each outside in the sunshine lounging on a comfortable sofa before heading out for a look around Central Park. After walking around and visiting Strawberry Fields, the John Lennon memorial, and a spot of sightseeing and shopping, we decided to head back to The Westhouse for an early evening drink.
We managed to get a spot on the outdoor terrace at a table under an umbrella and tuck into some tasty cheese, meat and bread over a glass of prosecco or two before retiring to our room to get ready for dinner. I was also impressed they served the bubbly in large old fashioned champagne saucers - another nod to the decadence of the 1920's.
After an evening out in the Lower East Side (which became one of our favourite spots in New York), we got chatting to one of the front of house staff who was impressed with where we'd been for dinner (Beauty & Essex - more on that in another post coming soon!) and told us lots more spots to visit for dinner and drinks during our stay.
All of the staff at The Westhouse were extremely friendly and helpful during our stay and always had a smile on their face, happy to help. It made our stay even more delightful and whenever we come back to New York, we'll definitely be visiting The Westhouse again.
The Westhouse, 201 W 55th Street, New York, NY 10019.
Related