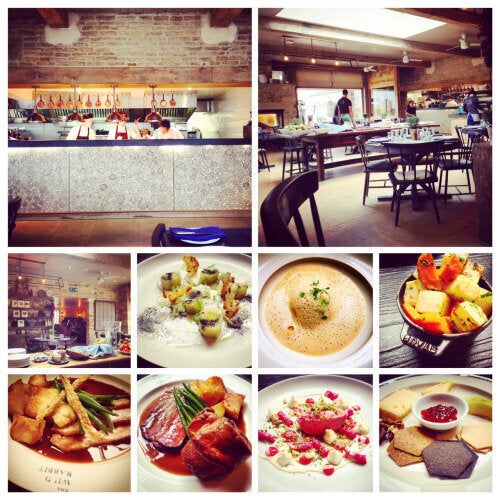 Last month during a trip to The Cotswolds, my husband Steve and I were fortunate enough to be able to visit The Wild Rabbit for Sunday lunch before embarking on our journey back to London from nearby Kingham.
I'd heard great things about The Wild Rabbit and was looking forward to experiencing what they call a 're-invention of the traditional English Inn'. Serving locally sourced and seasonal food in comfortable and cosy surroundings, I knew I was going to be in for a treat over lunch.
Arriving around midday on a Sunday, I was already taken with the Wild Rabbit from the outside; a charming Cotswold stone style building with forest green hedges, neat potted plants and big outdoor tables with umbrellas. A long bar with comfy chairs and wooden tables dotted around greeted us once inside and roaring fires were already lit, giving the place a warm and welcoming atmosphere.
The dining room, although echoing the styling of the bar area, had a very bright and airy feel with big glass windows, an open-plan kitchen and a big long wooden table in the middle filled with delicacies. The Wild Rabbit is modern in parts but hasn't lost the old fashioned feel of an inn.
We were seated in the middle of the room with a great view of the kitchen and were given the Sunday menu to peruse. With a relatively small menu of just 5 starters, mains and desserts, it was by no means limited and all of the dishes sounded really appetising.
For starter, I decided on the Leeks, Verjus Vinaigrette, Goat's Curd and Onion Ash (£8.50) and Steve chose Ravioli of Crab and Scallop with Crab Bisque (£14.40).
The Leeks arrived as pretty as a picture, beautifully designed on the plate and tasted just as good. I'd never had cold leeks before but they were delicate and soft and with the creamy goat's cheese, the whole dish just tasted very fresh. The onion ash was exactly that, a powder that tasted of onions, and it was extremely tasty. The ravioli was absolutely divine with wonderful homemade pasta that was filled with a healthy portion of both crab and scallop and the crab bisque, with its rich, creamy and almost meaty flavour, set the dish off perfectly.
Since it was a Sunday, we had to choose a roast for main and I opted for the Roast Rump of Beef, Horseradish and Yorkshire Pudding (£22) and Steve chose Roast Loin of Gloucester Old Spot Pork, Apple Sauce and Crackling (£21), each served with Roast Potatoes and Seasonal Vegetables.
Both of the roasts were presented really well - it's quite easy to just dollop all the food on the plate any old way for a roast but the kitchen had actually made a real effort with presentation. And it was definitely not a case of style over substance as it's fair to say they were two of the best roasts we've ever eaten. The beef and the pork both literally melted in the mouth and were cooked to perfection, the potatoes were fluffy yet wonderfully crispy, the gravy was incredibly meaty and flavoursome and the perfect strip of crackling which came with the pork was a work of art! They even served fresh grated horseradish over the beef, which I thought was a nice touch.
We had to have a breather after our roasts, before we could contemplate the dessert menu, but I knew the puddings would be of the same standard so had to try one! And it was one of the best desserts I've eaten in a long time - Poached Rhubarb, White Chocolate and Rhubarb Sorbet (£8.50). Again, the presentation was rather spectacular and the taste of the dish as a whole was wonderful with thick and creamy white chocolate, delicately poached rhubarb and a zesty and refreshing rhubarb sorbet, which was one of the nicest sorbets I've tasted. All the flavours came together perfectly and it just tasted of summer.
Steve decided to order some cheese from the long table in the middle and chose a local Daylesford Cheddar and a Mrs Kirkham's Lancashire (£7). The cheeses came on a plate with a selection of crackers, sliced apple, walnuts and a sweet and spicy chilli jam and it was a great cheese plate.
We had a lovely time at The Wild Rabbit and were genuinely sad to head back to London after a great weekend in The Cotswolds (see my reviews of Yarrow Cottage and The Chequers also). The Wild Rabbit really is a great experience of fantastic food, using local produce in a way that is traditional yet inventive, in relaxing and comfortable surroundings.
The Wild Rabbit, Church Street, Chipping Norton, Oxfordshire, OX7 6YA.