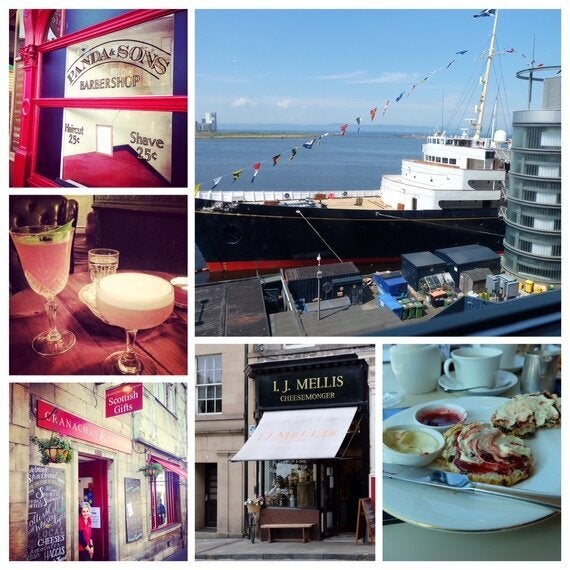 Here are some highlights of foodie tips and places to visit which I came across during my recent visit to Edinburgh:
This is the biggest tourist attraction in Edinburgh and one of the biggest in the UK. You can spend a good couple of hours exploring the yacht and getting a glimpse of how the Royals lived on the Queen's floating royal residence and if you are a fan of Royal history, this is a good attraction for you. You are given a personal speaking guide and headphones when you arrive so can find out the history of each room as you go along. There is also a fudge shop on board the yacht and a gift shop if you want to take any souvenirs home. We visited one afternoon and also enjoyed sandwiches, tea, cakes and champagne in the Royal Tea Room which has a nice view out to sea.
http://www.royalyachtbritannia.co.uk
This is a brilliant deli and foodie gift shop situated on The Royal Mile. If you want unique locally made Scottish shortbread, gin, chutneys, pickles or a number of other delicious delicacies then this is the place to buy them. The staff are extremely friendly and helpful and this is like a foodie's treasure trove!
https://www.cranachanandcrowdie.com
I am a huge fan of secret bars that are hidden beneath or above places where you'd never expect there to be a bar and is one of those. Based underneath an old barbour's shop (the front and entrance is exactly that), this is a basement bar that has a lot of character, a fun atmosphere and fantastic cocktails to match. They even give you complimentary homemade Tabasco popcorn with your drinks which is addictively edible.
I.J. MELLIS CHEESE SHOP -
This has a great front with old-fashioned sign and vintage bicycle outside that just makes you want to go in and have a look! There are a huge variety of cheeses in here aswell as breads and different condiments and it would be the perfect place to visit for supplies for a good old cheese night.
http://www.mellischeese.net
This is a small but great food market brimming with fresh produce and local delights such as jams, chutney's, popcorn, marshmallows, chocolate and pies which takes place in Stockbridge every Sunday from 10am-5pm. There are loads of delights to take with you and also lots of tasters to be eaten whilst wandering around!
http://www.stockbridgemarket.com
We didn't get chance to visit their headquarters whilst we were there so we sampled some of their range of craft ales instead which were very flavoursome and refreshing. Beer lovers can take part in beer tasting, beer and cheese tasting or beer and chocolate tasting (ranging from £18-25 pp including exclusive access to their private HQ bar and Beer Kitchen) and you can of course buy the Innis & Gun range whilst in Edinburgh and in lots of supermarkets in the UK if you have a taste for it when you get home! They are also launching their new bar later this month where people will be able to sample beer unavailable anywhere else and taste beer inspired bar snacks.
This is a lovely and cosy pub in the Stockbridge area which is run by Tom Kitchin and Dominic Jack. We only had time to pop in for a drink but they have a great selection of wines, which you can enjoy in comfortable and relaxing surroundings. The pub was really busy on the Saturday we were there and the food coming out of the kitchen looked delicious with a home-cooked, comfort food feel to the dishes.
http://scranandscallie.com