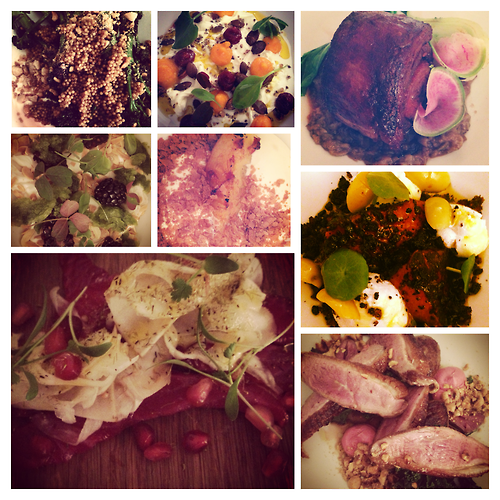 Last month I had the pleasure of visiting a restaurant I've wanted to try for quite a while - White Rabbit in London's Dalston.
Situated off the high street down a quiet street with a plain grey front and small sign, you could easily miss White Rabbit. But their simplicity is part of their style and is extended inside with white walls, old wooden chairs and bar stools and exposed metal beams.
We were seated at a nice table for two in the window and the restaurant was quite busy for a Tuesday evening and had an easy and relaxed vibe. We were given the menu to look through and a quick glance had us both salivating.
White Rabbit's food is based around the idea of sharing and has a selection of Small and Large Plates along with a few nibbles or 'Straight Ups' as they like to call them. I love trying different dishes and indulging in a bit of everything so the menu was right up my street.
Whilst we chose what plates to get, we ordered some of White Rabbit's bread and butter with Maldon Salt and some Sicilian Olives (both £3.50). The olives were plump and creamy and the homemade bread was warm and pillowy soft with the butter with Maldon Salt making it taste absolutely divine. Our 'Straight Ups' coupled with a fine bottle of Italian Luccarelli (£21) and the fantastic Northern Soul playing in the background, got our evening off to a very good start.
After much deliberation and checking with our waitress if we'd over-ordered, we finally settled on our chosen plates. From the Small Plates, we selected Roasted Watermelon, Black Olive Candy and Salted Ricotta (£7), Gin & Beetroot Cured Salmon, Pickled Fennel, Dill Pollen and Pomegranate (£7.50), Stracciatella, Sorbe, Squash Puree, Pumpkin Seed Crumbs (£7) and Purple Sprouting Broccoli, Meade Puree, Mustard Seeds and Almonds @£7.50). From the Large Plates we picked Duck, Beetroot Yoghurt, Roasted Beetroots, Kale and Hazelnut Crumbs (£17.50) and Lamb Belly, Miso Baba Ganoush, Pak Choi and Meat Radishes (£13.50).
Our mouths were watering at this point and fortunately, as the dishes come out as they're ready, we didn't have to wait long to dig into a couple of plates and the Roasted Watermelon and the Stracciatella came first. The watermelon was warm and the salty ricotta brought out the juiciness of it with the Black Olive candy almost having a popping candy like texture. The Stracciatella was creamy and smooth much like burrata and the sweetness of the squash worked perfectly with it.
Next up was the Cured Salmon and the Purple Sprouting Broccoli. The salmon was definitely one of my favourite dishes of the night and it had an unbelievable clean, fresh taste and the earthiness and sweetness of the beetroot really brought out the fish flavour. The fennel and dill matched the salmon perfectly as did the pomegranate to the beetroot and it really was a pretty much perfect dish. The broccoli on the other hand, whilst working well with the almonds, was slightly too bitter for my tastes and the mead and mustard seeds were a little overpowering.
Lastly came our large plates which were both presented beautifully. I had never tried Lamb Belly before so I was intrigued to taste it and it was much like pork belly but a bit less fatty and the lamb meat was unbelievably tender and similar to roast lamb. The baba ganoush and pak choi were the perfect accompaniments to the dish and their lightness balanced the whole dish out.
The duck was perfectly cooked nicely pink and the flavours of the dish all complimented each other. The beetroot yoghurt was really refreshing and the nuttiness of the kale worked hand in hand with the hazelnut crumbs.
We were pretty satisfied after this but something told us we must try pudding. I was very intrigued by the Goats Cheese Caramel, Blueberries, Toasted Almonds and Sorrel Granita and my guest opted for the Roasted Pineapple, Kaffir Lime Cream and Feuilletine.
The pineapple was warm, chargrilled and juicy and the caramelised flavour of the feuilletine next to the citrus ice cream brought the dish together well. The goats cheese however was a bit of a let down and I found it far too rich and quite an odd flavour for a pudding, which was a shame.
However, goats cheese pudding aside, White Rabbit was a real joy to visit. It's exciting and unique, intelligent and detailed and pushes boundaries with food. They also offer a 7 course tasting menu for £35 per head which I think is an absolute steal for a restaurant of this quality and I am definitely going to book in to try it very soon.
White Rabbit, 15-16 Bradbury Street, London, N16 8JN.