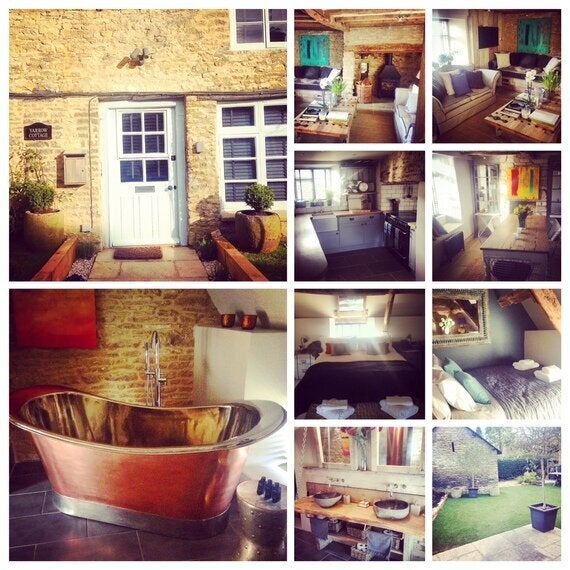 Earlier this month, I was lucky enough to have a weekend in the countryside booked in with my husband Steve. We took half a day off work on a Friday and caught the train to Kingham in The Cotswolds, which is less than an hour and a half outside London. It was a lovely sunny afternoon and on arrival into Kingham, it was a quick five minute taxi ride to the village of Churchill and our accommodation for the weekend, Yarrow Cottage.
With typical light brown Cotswold stone houses, leafy gardens, a central church and a great pub (The Chequers - see my review here http://dottydishes.tumblr.com/post/113955834312/the-chequers-review-6th-march-2015-i-was-very), Churchill is a small but extremely picturesque little village. Yarrow Cottage is situated just a short stroll from the pub and church and we instantly knew we were going to have a lovely time from the outside, with a little wooden gate for access to the perfectly kept front garden and a typical Cotswold stone building with pristine white windows and front door.
As soon as we stepped inside we both decided that the pictures on the website, even though giving a great impression of the cottage, didn't do it justice and it was far prettier in real life. The large living room area looked so cosy I knew I'd want to spend as much time in it as possible throughout the weekend. With a real fire, two sofas, piles of squidgy cushions, candles and great coffee table books and a 'TV seat' right in front of the flat screen television, it was the perfect setting to chill out and hide away from the world for a couple of days.
Next to the lounge there is an open dining room with wooden dining table and retro style basket chairs, window seats and colourful artwork dotted around the walls, with the kitchen situated just off it. The kitchen is relatively small but decorated and furnished really thoughtfully with a lovely old fashioned sink, big range cooker and shelves adorned with pretty much every bowl, plate, glass or pan you could need. There was also a Nespresso machine and even three dainty vintage glass bottles filled with gin, vodka and whisky for guests to help themselves to, which I thought was a lovely touch. We had also been left a bottle of champagne in the fridge which we cracked open as we finished exploring the cottage!
The garden can be accessed from the kitchen and is largely grass so great for sunbathing and perfect for firing up a BBQ and enjoying some alfresco dining in the Summer.
Upstairs is accessed by a steep and winding wooden staircase, featuring two double bedrooms and a large bathroom. The latter being one of the nicest bathrooms I've seen in a long time with a freestanding deep copper bathtub, his and hers sinks and mirrors and a huge separate rain shower. The White Company toiletries were very welcome when having a long soak in the bath and the heated flooring also proved to be delightful when getting out of bed first thing in the morning!
We decided to stay in the main bedroom, which was slightly bigger and featured its own TV, but both bedrooms are large and furnished really cosily. After our first nights sleep we couldn't believe how comfortable the bed was, which was aided by the crisp, smooth white sheets and pillows. The bathrobes that were provided were remarkably soft and fluffy - so much so that I need to find out where they are from so I can buy myself one!
Despite wanting to stay in the cottage all weekend, the weather was too sunny and warm so we decided to have a little walk through the nearby fields on the Saturday. There are two footpaths sign posted and we starting following one of those but with no map and no phone reception, we got a bit lost! After walking uphill towards the nearest road, we realised we weren't that far out of Churchill so it wasn't too long of a walk back. That afternoon we revisited The Chequers and sat enjoying the Saturday papers in front of the fire with a glass of wine before retiring to our cottage for the evening.
Yarrow cottage provides free Netflix on their TVs so we began watching House of Cards, which we'd heard lots of favourable reviews about. Snuggled up on the cosy TV seat, we managed to get through about eight episodes that night and the next morning before heading home!
I am a big fan of a couple of nights of relaxation in the countryside away from busy daily life and Yarrow Cottage is definitely the place to visit if you want a little break. It is beautifully decorated and furnished with a modernity that isn't overpowering for an old cottage and everywhere just feels cosy and like home. Steve and I were genuinely really sad to leave and have decided it might become our little bolthole for weekends away and we are already planning our next visit.