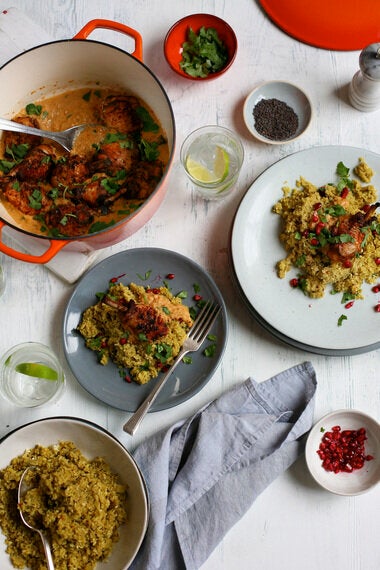 A healthy and comforting mid-week meal that's easy to rustle up on a cold winter evening. Chicken drumsticks are far cheaper than breasts but in my opinion have a much better flavour as the meat is cooked on the bone. When marinaded in warm, smokey spices then oven baked, chicken becomes beautifully soft and is perfect in the rich coconut sauce. This is one of my quick weeknight favourites, and I'm sure it'll become one of yours too.
1 tin reduced fat coconut milk
1 small bunch of coriander, roughly chopped
Mix together all the marinate ingredients in a large oven proof dish. Add the chicken legs and rub with your hands to coat the meat in the spices. Leave to marinade for at least 20 minutes, or overnight if you can.
Preheat the oven to 200C/180C Fan/Gas 6. Bake the chicken uncovered for 20-30 minutes until the outside is charred and the meat is cooked through (insert a knife into the thickest part of the a drumstick and the juices should run clear.)
Whilst the chicken is in the oven, blend the shallots, ginger, garlic and chillies in a food processor to make a rough paste (alternatively bash all the ingredients in a pestle and mortar or finely chop with a knife.) Add 1 tsp coconut oil to a pan on a medium heat and add the paste. Fry for 4-5 minutes, stirring constantly until the paste is thicker and a light golden brown. Next add the turmeric, red chilli powder and garam masala and cook for a further 2 minutes.
Pour the tin of coconut milk into the pan and stir well. Bring the sauce to the boil then turn the heat down and simmer for 10 minutes until the sauce thickens. Remove the chicken from the oven and pour the juice from the oven dish into the sauce. Give this a stir and cook for a further few minutes and sprinkle over the chopped coriander.
Serve the smokey chicken legs on top of the coconut sauce. This dish is great with fluffy basmati rice, aromatic pilau or warm naan breads.
Photo shot by Faye Wears and Lauren Miller
Related