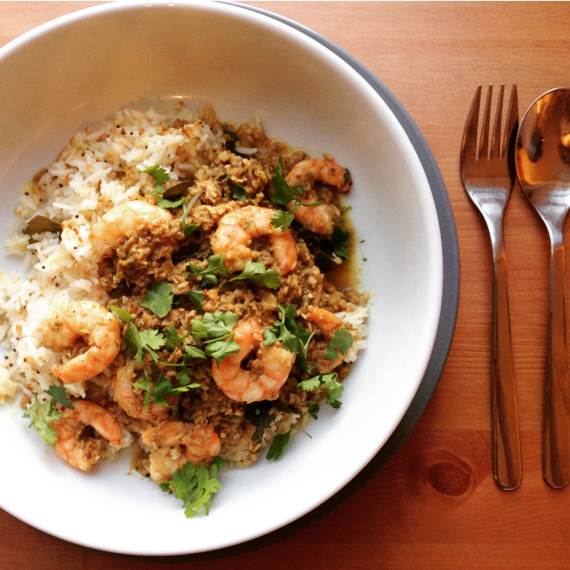 As soon as I hear the crackle of the curry leaves in the pan, this recipe takes me straight back to the sunny beaches of Kerala. It celebrates all of the incredible fresh ingredients on offer on the Indian coast - fresh fish, coconut, curry leaves and ginger. Let the creamy coconut gravy simmer away for as long as possible for the best flavour. This curry also works fabulously with white fish, such as sea bass or cod.
Kerala king prawn curry and the perfect coconut rice
400g raw king prawns, shells removed
1 tbsp dried curry leaves
A bunch of fresh coriander
Finely dice the green chilli and add to a bowl (keeping in the seeds if you like spice.) Peel the onion, ginger and garlic cloves, then grate everything into the bowl with the chilli (if you have a pestle and mortar, bash everything up into a rough paste.) Keep to one side.
Heat a glug of oil in a deep frying pan on a medium heat for about 30 seconds then throw in half of the desiccated coconut and curry leaves. Keep stirring for a further 30 seconds, or until the coconut turns light golden. Next pour in the ginger and garlic paste, turmeric, red chilli powder and garam masala. Cook on a medium heat for around 4-5 minutes, stirring constantly to make sure nothing sticks and burns. Once your curry base is a lovely deep golden colour, add in one of the tins of coconut milk. Fill the empty tin with cold water and add to the pan. Season the curry then let it simmer for at least 30 minutes. If the curry starts to look too thick, add a bit more water.
Rinse the basmati rice well under cold water then drain. Add to a wide saucepan with the other tin of coconut milk and 280ml of cold water. Crumble in the stock cube and bring the pan to the boil on a high heat. Once the water starts to bubble, give the rice a stir then cover with a lid and turn the head down to the lowest setting. Leave the rice to simmer for 10 minutes then remove from the heat.
While the rice is simmering, fry the rest of the desiccated coconut in a frying pan with a little oil until lightly toasted. Add a pinch of sugar and season. When the rice is cooked, mix through the toasted coconut with a fork, saving a little of the coconut for garnish. Add the prawns to the curry and simmer for another three minutes until the prawns turn pink. Chop up the coriander leaves and stir through the prawns, saving a handful. Serve your prawn curry on a bed of coconut rice and scatter over the rest of the coriander and toasted coconut.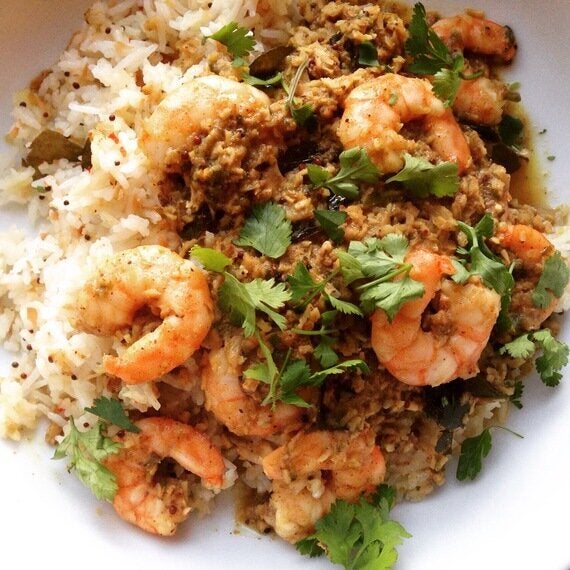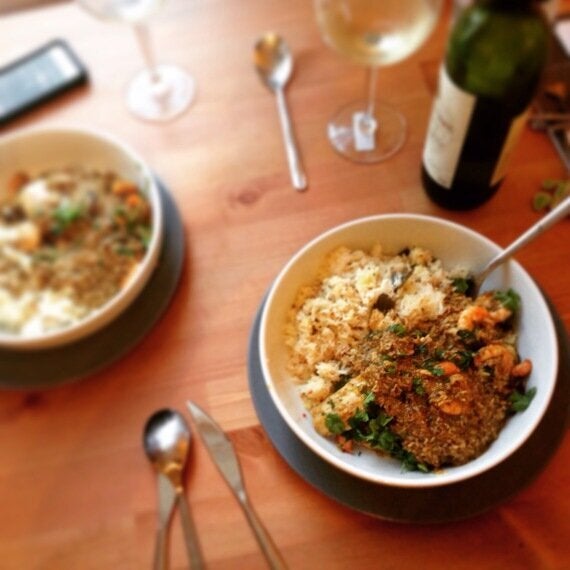 Perfect drink accompaniment: a freezing cold cobra or a bottle of dry white.