Korean fried chicken is all the rage and has become one of my favourite street food snacks. Hot, juicy, tender chicken, with a crunchy American-style batter, and a rich sauce that's spiked with chilli, soy and garlic and sticks to everything it gets in contact with (making it the worst first date food in history).
I just had to bring this flavour into my own kitchen. The sauce is the result of all my favourite Korean ingredients shaken about in a pan, and it's magic. You can used it as a dipping sauce for prawn crackers or spring rolls, spread over BBQ'd prawns and pork, or tossed in noodles and stir fry.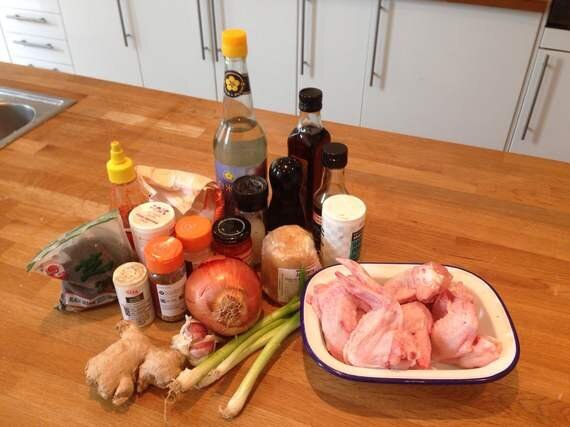 10 chicken wings, with skin on
2 tsp black and white sesame seeds
1 tbsp chicken seasoning, or a broken up chicken stock cube
2 tbsp gochujang Korean chilli paste
2 tbsp sesame seeds, toasted and ground in a pestle and mortar
For the Korean Soy & Garlic sauce:
2 tbsp sesame seeds, toasted and ground in a pestle and mortar
2 tbsp jaggery (palm sugar)
3 tbsp Korean chilli paste
First take your coating ingredients and mix them together in a baking tray. Coat the wings on each side with the mixture, give them a quick shake of the excess then keep on a rack in the fridge for at least an hour. Now you can get on with the sauce.
The sauce is so damn easy. Crush the garlic, grate the ginger and palm sugar and add to a pan with the rest of the wet ingredients. Slowly heat this up, stirring constantly until it is just at a boil. Mix the cornflour with 1 tbsp water, then add to the pan and stir. Your sauce is ready. Leave it to cool until you're ready to serve (avoid temptation to stick your fingers in as you won't be able to stop).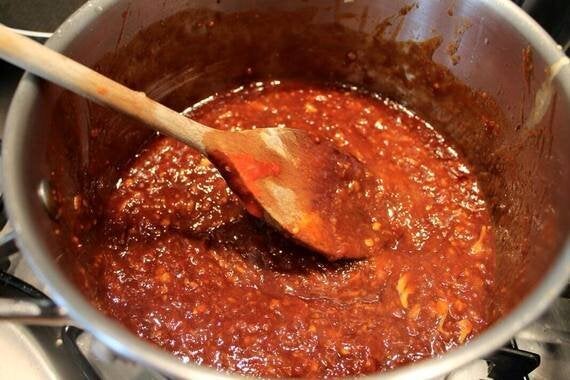 Mix up all your dry batter ingredients in a mixing bowl. Remove thechicken from the fridge and prep the oil for deep frying (groundnut, vegetable and sunflower all work great). You know the oil is ready when a cube of bread sizzles nicely and browns in about 20 seconds.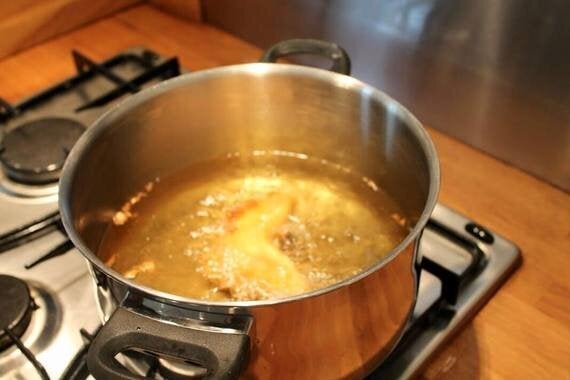 Whisking constantly, slowly trickle the beer into the batter until it is the consistency of single cream (it's important that the batter isn't too thick or the wings will balloon up like battered fish!).
Take a wing one at a time, dip in the batter, let the excess drain off then add to the oil, letting the wing hover in the oil for a while to stop it sticking to the bottom. Deep fry in batches, for about 5 minutes. To check if they are cooked, take one wing and cut through with a knife - the juice should run clear.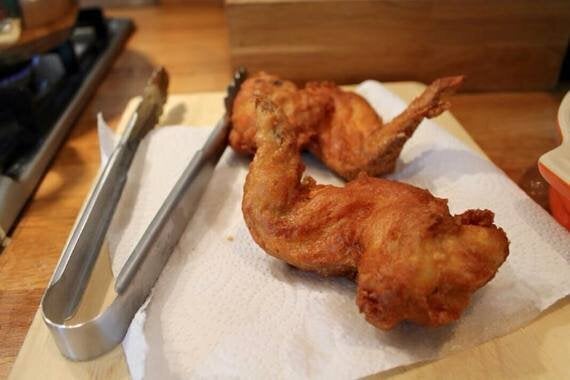 Once your wings have been deep fried, keep on kitchen paper to relax for about 5 minutes. Heat up your sauce and submerge your chicken wings in the hot sauce until they are completely coated. Serve with sliced spring onion, black and white sesame seeds, and plenty of moist wipes!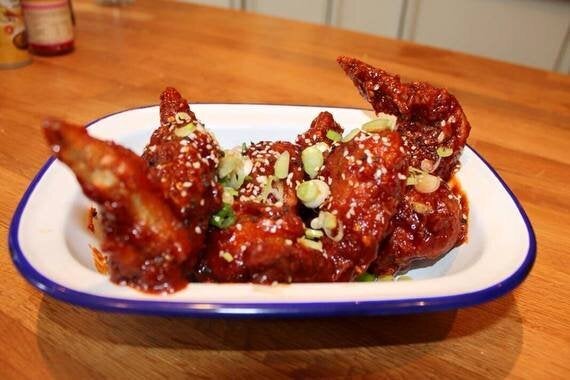 All images blogger's own.