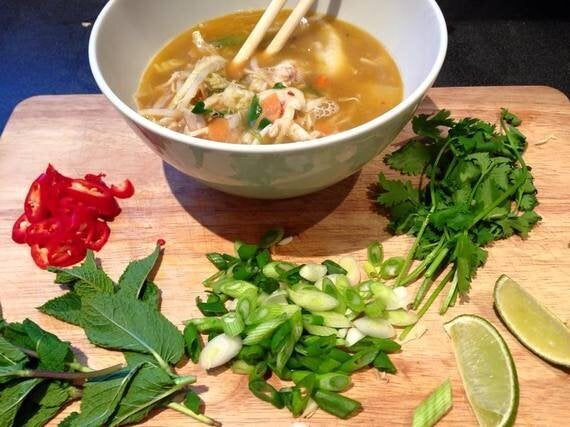 Proper pho (noodle soup) incorporates all the delicious flavours of Vietnamese cuisine: sweet, sour, spicy, bitter and salty. The beauty of this broth is that all of the accompaniments are mixed in once the dish has been served, keeping the flavours fresh and the vegetables crunchy.
Most of the ingredients you can find in any small supermarket but feel free to use those squeezy bottles of ginger and lemongrass puree if you can't get fresh.
a glug of sunflower or vegetable oil, for frying
2 star anise pods, or 1 heaped tsp Chinese five spice
the stalks from a bunch of mint, reserving the leaves for the accompaniments
the stalks from a bunch of coriander, reserving the leaves for the accompaniments
the mint leaves from the bunch
the coriander leaves from the bunch
200g mixed stir fry vegetables, or beansprouts
2 tbsp sesame oil or chilli oil
Heat a glug of oil in a large saucepan on a medium heat. Place the chicken legs into the hot oil and fry for a few minutes on each side until the skin is golden brown (this will add flavour to the broth.) Bash up the lemongrass, ginger and garlic with the flat edge of the knife (if using minced ginger or lemongrass, add straight in with the chicken.) Now add enough cold water to cover the chicken and then pop in the lemongrass, garlic and ginger, the coriander and mint stalks, the star anise (or Chinese five spice), plenty of salt and pepper and the stock cube. Cover with a lid, bring to a boil then turn the heat down and simmer for an hour and a half.
Meanwhile, prepare the accompaniments. Slice the spring onions and red chillies and cut limes into 4 wedges.
Once simmered, use a sieve to strain your broth into other large saucepan, reserving the chicken and aromats in the sieve. Add the star anise back to the broth. Remove the chicken legs and place on a chopping board, and discarge what is left in the sieve. Allow the chicken to cool slightly then pull the skin off each and remove. Pull away as much soft meat as you can from the bones and add back to the soup. Discard the leftover bones. The broth is now ready.
When ready to serve, return the broth to the heat and when boiling, add the noodles, cover with a lid and turn off the heat. After about two minutes the noodles will be cooked. Divide the sliced spring onions and chillies, coriander and mint leaves and the vegetables between four soup bowls. Pour the hot chicken broth and noodles into each bowl, and then add a swirl of sesame oil, chilli oil and soy sauce. Finish the dish with a squeeze of lime and serve with chopsticks and slurp away.