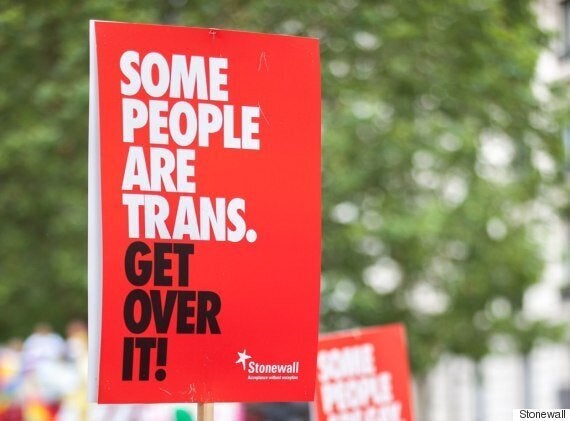 Over recent weeks we have seen a big spike in media coverage of trans issues, and on gender identity more generally.
A lot of it has focused around the upcoming consultation on the Gender Recognition Act - the law that governs what trans people have to do to get their identity officially recognised.
Trans people have become a focal point for frenzied media coverage and vile online abuse that has all the hallmarks of a concerted smear campaign. The aim is to dehumanise, and it is having a serious impact on trans people everywhere in Britain at the moment.
Through this maelstrom, we need to keep focus, as difficult as that is. We have won consensus across all major political parties that the Gender Recognition Act is outdated, and prevents trans people getting the gender recognition they need to be able to get on with their lives.
Opening a consultation - expected this Autumn - on how to make the law work better for trans people is a massive step in the right direction to tackle the inequality faced by so many, in every area of their lives.
But some people are using the proposed reform of the Gender Recognition Act to open a debate about the right of trans people to even exist.
This cannot be up for debate. It adds to the unacceptable levels of prejudice that trans people in Britain already face. We do need to discuss how to reform the law, because It must work for all trans people.
Debating who is entitled to call themselves a woman, though, is not just a distraction from the real issues; it is dangerous.
While headlines may scream about who gets to use what toilet (which is actually nothing to do with the GRA reforms) these debates are having serious real-world impacts on trans people's lives.
A green light to question someone's identity opens the door to real and threatened violence.
Two in five trans people have experienced a hate crime or incident in the last 12 months.
Two in five trans young people try to take their own lives.
These statistics are not separate from the toxic commentary we are seeing unfold from voices in public discussions, in mainstream media and on social media: they are absolutely linked.
It's because we are talking about such high stakes that we can't allow this consultation to be taken over by the voices of those who deny that trans people are real.
Many of those voices call themselves campaigners for equality - but they are not prepared to include trans people in that vision of an equal world. We need to find an equality that includes everyone. Some people can't be more equal than others.
Trans communities, with our allies, need to work together and stay strong. We need to focus on the real and valid conversations about how we improve the law for trans people, and not let them be undermined by those who want to halt progress towards equality.
Stonewall is in the business of building bridges now, across the LGBT community and wider. The changes we are working towards in the Gender Recognition Act will have a hugely positive effect for all trans people, and knock on positive effects for anyone who doesn't conform to a strict gender stereotype.
This is a time for people who genuinely support equality to come together to address the severe discrimination faced by trans people in Britain, not a time for division or distraction.