With the rise of social media more and more people are glued to their phones. You see it everyday, on buses and trains, at work and even across your dining table. People aren't conversational and endearingly forward as they once were. Since public places are quieter than libraries, I tend to ask myself whether social media is killing our social nature.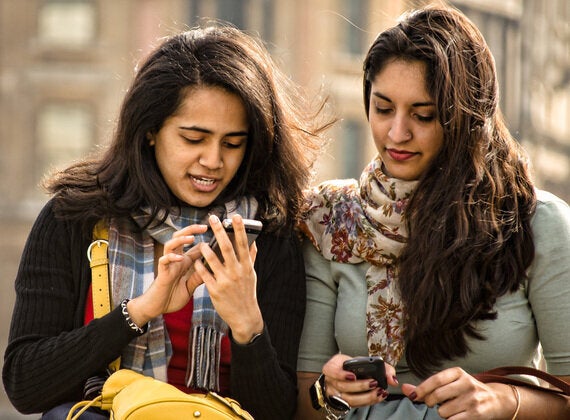 The time people spend on social media sites have soared significantly, especially among students and young adults. Ofcom recorded 66% of adults who said they have a current social networking site profile, with 96% saying they have a Facebook account.
Growing up I didn't have a mobile phone or the Internet. People were more interesting and more interested in what I had to say. When my home telephone rang, my siblings and I would fight to answer the call first, it was our Candy Crush. That was then, now I can't remember the last time I answered the home phone, I know that if it's for me, the caller would ring my mobile and so I sit and let the ringing disturb me.
People have developed a habit of keeping track of their own mobiles at all times to cut the risk of needlessly interacting with anyone else.
Websites like Facebook and Twitter have sprung up in the app stores, disguised as friendly assistants, promising to bring people together and make the world an easier place to communicate in. In a split second a message can be sent to somebody on the other side of the globe, but this convenience comes with a catch, people are becoming dependent on their electronic devices and it's affecting their natural way of communicating.
The average person has five social media accounts and spends around an hour and 40 minutes a day browsing them. When teenagers are on their smart phones, they rarely interact with other people around them. Instead they withdraw from society and see their mobiles become their life partners; a unique relationship, nurtured by passionate eye contact, one that mums and dads don't approve of.
It could be worse, in Japan 90% of mobiles are waterproof because young people use them in the shower. Here in Britain 100,000 mobiles are accidently dropped in the toilet every year. Turns out we're not any better.
It's common to see anti-social activities in the older members of society too. However, teenagers especially have a more self-obsessed and competitive nature, obsessed with scoring more followers on twitter or Instagram than other users who they often don't even know.
Competition doesn't belong in social media. It's making people more hardheaded and bitter as not everybody will have a huge fan group that follows their life through pictures and snaps. Antisocial behavior like low self-esteem is becoming common among social media addicts. The main symptoms are low confidence, eating disorders and depression. If you really want to compete, take up a sport.
The world is moving into a technology era where people will be identified by their scalps because people are always staring down into their phones. It's already happening, as I walk through the train carriage I see an archway of commuters hunched over their phones. It's evidence that people have lost the ability to communicate in the simplest form.
It's not all bad news; social media does save you from enduring the endless conversations with the grandparents or mother-in-law. The solution is to simply pull out the phone and escape from the conversation. It provides an excuse for anti-social behavior, but in these moments nobody notices it. We just sit there and hope the battery doesn't die.
On a comforting note, help out there for the social media addicts does exist, therapy app Talkspace launched in 2012 and offers text-based therapy by over 200 therapists. There are currently 150,000 registered users looking to overcome their nomophobia.
It's clear that people spend a lot of time on social media, and when they know more about the rest of the world than they know about their family, it becomes worrying.
Social media addicts all scroll through their social media feeds and rub their thumbs up and down on the screen as if genie inside is waiting to give them a wish, but really only receive swollen eyes and a brain full of images of cats breaking records on the internet.