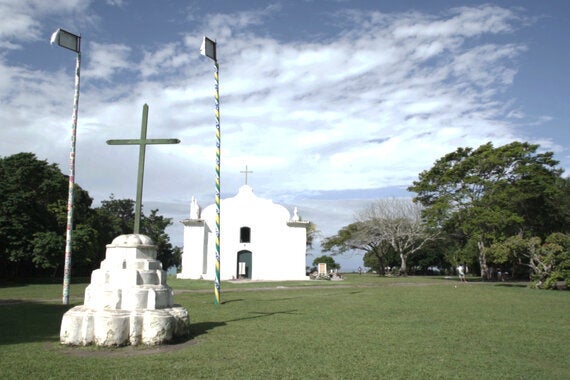 Trancoso. Known to Europeans as the St. Tropez of Brazil and Americans as that place Diane Von Furstenberg sojourns, this historic, deep tropical Bahian village has become an aristocratic hotspot with a graceful balance of old tradition and new wave culture. But the majority of the year is the much less talked about and much more accessible version of Trancoso - the version we came to explore for ourselves.
We peeled ourselves out of the cramped local transport van and caught our first glimpse of our highly anticipated surroundings. In front of us revealed the brochure images we had become so familiar with in our research: a large grass field lined with small colorful cottages, huge tamarind and cashew trees lining the square, and a prominent white colonial church capping the end. It was a good first impression. This is way better than the pictures.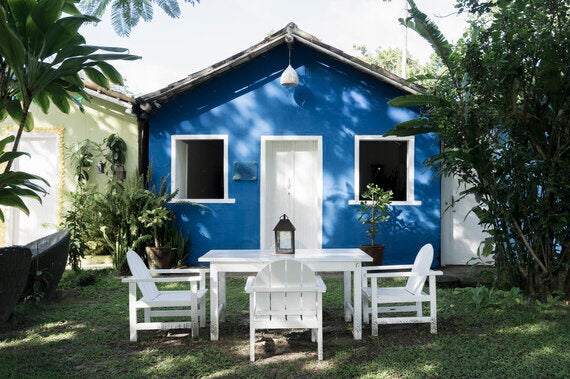 A short walk along the square and Google maps claimed that we were standing right in front of our hotel. Are we in the right place? A friendly man nearby recognized our obvious confusion and confirmed our location. Apparently, the rustic, colorful houses we were loitering in front of were, in fact, part of the UXUA Casa Hotel and Spa, our Trancoso home to be. We had just arrived through the back door. It wasn't the first time.
Within a minute, Carlos, the concierge, greeted us like old friends and casually led us towards our casa as they call them. Sporting a designer t-shirt, shorts, and aviators he wasn't in the typical concierge ensemble, but his genuine demeanor and no-stress vibe immediately revealed the type of experience we were to have at UXUA and Trancoso as a whole. As we followed, Carlos passionately painted the picture of this historic locale and his enthusiasm for the place was infectious. That grass field we had just walked through actually had a name, the Quadrado, the communal town square and heart of Trancoso dating back 500 years to some of the earliest Portuguese missionaries. That simple blue house we had passed also had a name, Seu Ireno, originally a fisherman's home and now a restored and artfully updated house that would be our home for our stay. It was beautiful.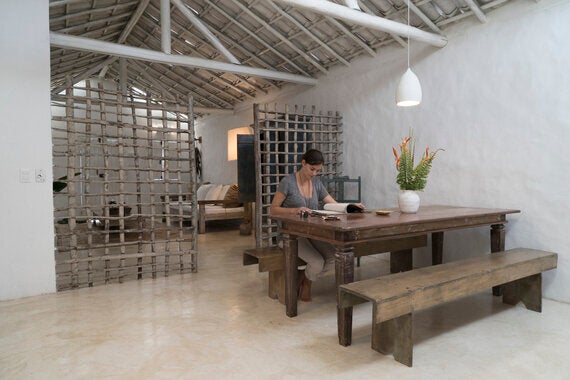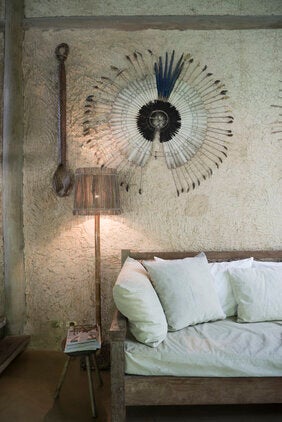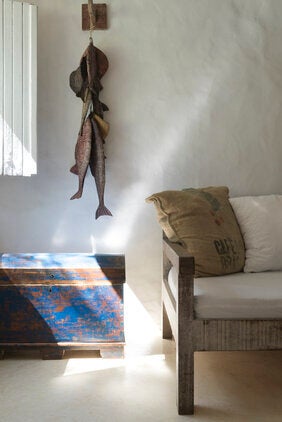 Seu Ireno is one of several classic casas at UXUA facing the Quadrado, gracefully integrating its original details with an understated 'rustic modernism' of a boutique hotel. The devil is in the details of all of UXUA's casas where the confluence of traditional and modern design give birth to a new type of luxury not often found. The spaces feel authentic, yet original; traditional, yet unique; bold, yet comfortable. Everything is meticulously designed and yet nothing stands out as ostentatious or unnecessary. We quickly realized that this wasn't your typical boutique hotel. It was obvious someone had put a lot of energy into this place to preserve it and honor the history Trancoso is famous for. And as we discovered a few days later, we were correct.
That evening we walked around the Quadrado to take in it's historic presence and see what else Trancoso had to offer. We quickly pumped into Carlos and some of his colleagues sitting on stools eating tapioca sandwiches from the local food stand (Delicia da Praca, the best tapioca we had in all Brazil). Here we met the owner and designer of UXUA, Wilbert Das. Das carried a relaxed and approachable manner, but his fairer complexion and distinct Dutch features meant he definitely didn't blend in physically with the locals. But in every other way he did. Just by looking at his posture you could tell he was in his element. He was comfortable and familiar with the place. While we sat there stuffing tapioca sandwiches into our face, not a local passed by without saying hello or he greeting them in fluent Portuguese. He almost seemed like the unofficial mayor.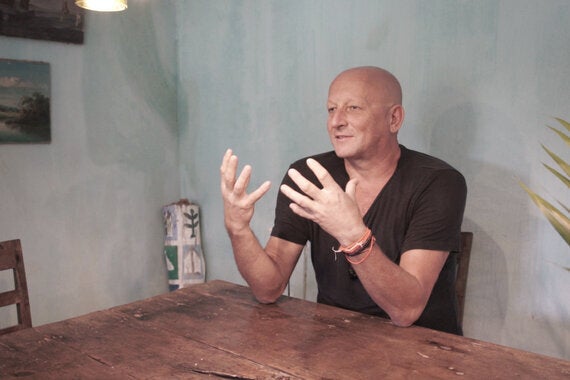 Das' history informs the story behind UXUA. Unsurprisingly, it's all about his passion for the town, it's history, and the people there. What started as a project to design and build his own home, evolved into the beginning phases of what is now UXUA. As the former creative director for Diesel, he leaned on his design background to begin building out and expanding it into a luxury hotel, but it was also his work in fashion that he was reacting against with the hotel.
I had this guilt in me when I was working in the fashion industry. In the end, I felt very guilty asking people to buy things that they absolutely don't need. I wanted to make something...that would last for a long time and absolutely didn't have anything that was trendy.
Without much previous experience in the hospitality industry, Das explained that his process was as organic and intentional as UXUA itself. Sustainability and collaboration with the locals became major themes of his process.
I tried to use as little as possible of new materials. As many antiques and as much dead wood as possible that had already fallen down, and make something that would last for a long time.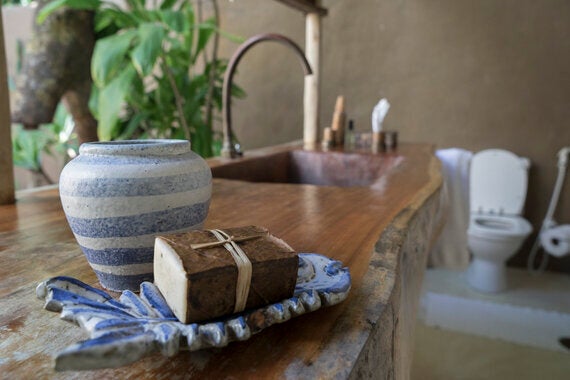 He went on to explain the partnerships he formed with local communities in and around the surrounding areas for fresh produce and speciality items like handmade soap made by the local Pataxó indians. He even created a program to bring in artists from all over the world to create art and furniture for UXUA, making it an ever evolving organism.
The luxury is, in the end, the space you have, the environment, the nature that's completely intertwined with the buildings and a sense of material in the end.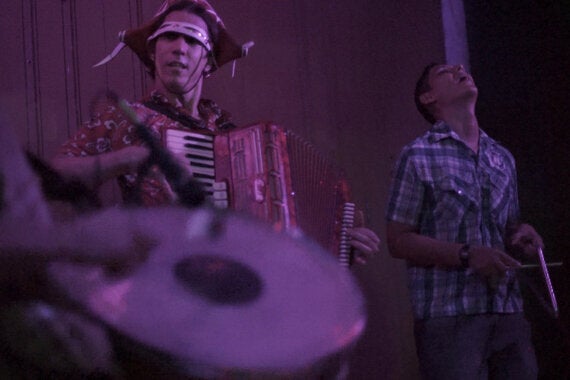 It was Friday night in Trancoso and we found ourselves at a local open air venue off the Quadrado where unfamiliar rhythms were already pumping and the dance floor was crowded with flowing couples. This was forro, the famous Brazilian music and dance. Everyone was there: locals young and old, the UXUA staff, their guests, the local capoeira teacher, and a couple expats. Das explained further about how forro is part of what he loves so much about Trancoso. It's a time where everyone: locals, expats, wanderers... all come together regularly to celebrate life. Even at 1am in the morning. This is the Trancoso that many of it's typical tourists would miss without insider knowledge. Before we knew it, we were swept away by a few Brazilians to learn the traditional dance and we made proper fools of ourselves.
Our week at UXUA was full of these lesser known Trancoso experiences. Sure, we hit the beaches (which were lovely) and tried some of the many other delicious restaurants in town, but it was our time with the friends we made from Uxua and their openness and passion for Trancoso that really made our stay special. Instead of schmoozing with the European fashion world elites at a private villa, we sat in town and learned about it's history , took an excursion to the mud baths several miles down the beach, learned how to cook the traditional Bahian stew of moqueca, and just sat in front of our casa and watched with the locals as children played football while the sun went down. It didn't feel manicured.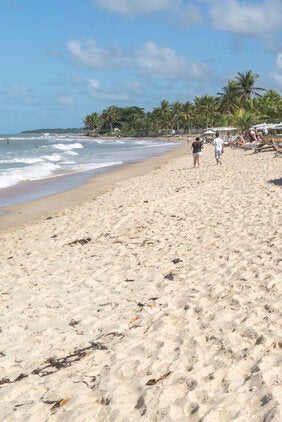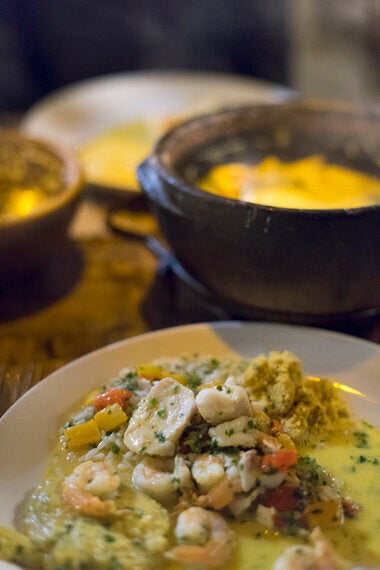 Maybe it was our access, or maybe it was our luck, but this more tranquil, off-season side of Trancoso that has held strong to its Brazilian roots has maintained an independent identity in spite of strong outside influences. This innate beauty and resilience combined with the intimacy and authenticity of UXUA made us fall in love with the other Trancoso. Or maybe it's the real Trancoso.
Story by Abby Morgan and Blake Whitman. Photos and Media by Blake Whitman.