Alexander James has established himself as a renowned exponent of underwater photography. His work has been exhibited across the globe, principally in London, Los Angeles, Tokyo, Sydney and Paris. Yet his prints have nothing to do with fish, there is no SCUBA gear or waterproof cameras involved. Over a period of years he has perfected a method of immersing his subject matter in water in an attempt to make his photographs look more like paintings.
"By fooling around with the water, I can control how the light works the scene," he explains. It's like looking at your feet when you stand in water where you see the light dancing around them. That's the way I work."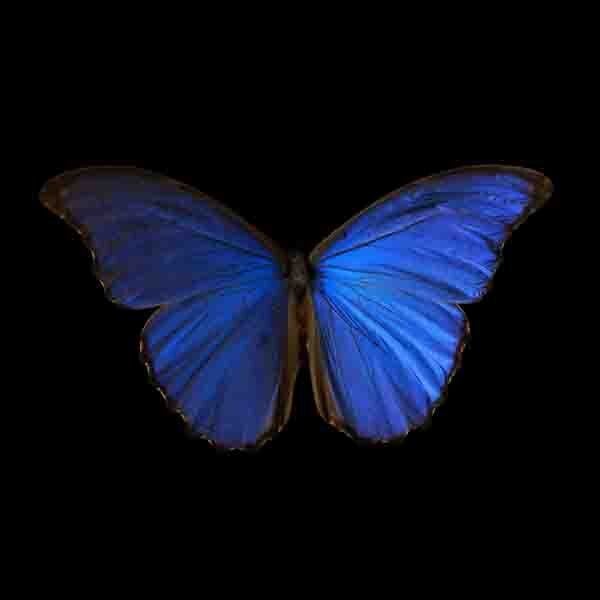 This method of exploring the subtle distortions the water makes on light is painstakingly exact and the results are quite extraordinary. Take one subject, the Morpho Amathonte, a blue butterfly native to South America, for example. Its wings comprise many tiny pieces of prisms that reflect light aggressively so that when lit through, the results are bleached out. Place it in water, however, and the details become vivid as if catching the creature in flight. The elasticity of the water's surface tension becomes James's paintbrush, his paint, "the magic of light". Alex breeds the butterflies himself - he calls them his children.
He feeds them on nectar and fruit juices and come feeding time they follow him around like a Labrador puppy. Water immersion doesn't harm them if performed correctly. By lowering the temperature of his studio, he mimicks their natural propensity to shut their systems down at night. He can then lower the butterfly down on a silk thread weighted down into a large tank filled with temperature-controlled purified water and has 10 minutes in which to photograph them without affecting them.
With subjects such as flowers, he has developed a chemical primer consisting of white spirit, vodka, even urine in order to kick start the process highlighted by high-pressure water immersion. In a recent series entitled Glass he has managed, from certain species of rose and poppies, to induce the pigment to bleed out from the petals and to swell the capillaries in a way that creates a ghost-like vein structure. He then photographs them with his Hasselblad using both film and, with a 60 megapixel lens attached, digital.
The results are spectacular - the rose seems possessed with the power to draw one in like a Venus Flytrap, an effect that can only be enhanced with prints for his next exhibition as high as 3 metres. He eschews any post-production. "I see no point in diluting the shot by perfecting it later. If it's not perfect when I press the shutter, I'm not interested."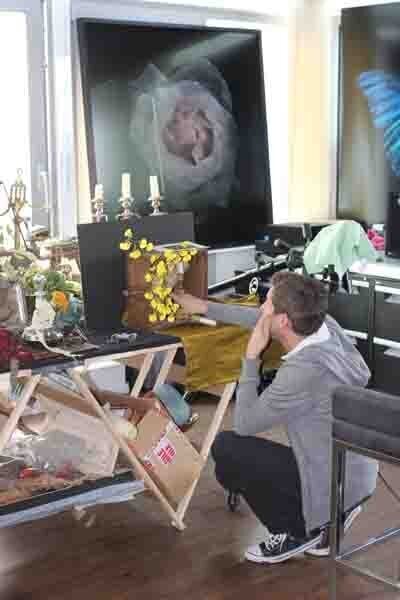 The water has another aspect to it above and beyond the effect on the aesthetics. It symbolises the power it engenders to both nurture and destroy. This is central to James's Vanitas theme. His work harks back to the Flemish artists of the 17th and 18th centuries who used such props as decaying fruit, withering flowers, and bones to emphasise the fragility of life and the ephemeral nature of human existence. James's studio in London's Docklands resembles a cross between a garden centre and an antiques shop with its expensive props of Vanitas era bowls, pots, vases, books, candelabra, as well as fruit and withering flowers.
His assistants are preparing some plants to recreate a forest floor as part of English countryside scenes that will include, separately, a fox and a badger, both recently expired at an animal rescue sanctuary. All will be photographed underwater, and the physical reflections inherent will be accompanied by the spiritual ones that question the meaning of life in a world dominated by materialism.
Next month, at an exhibition entitled Intersection, Alexander James will bring together elements of several of his previous series, Vanitas, Swarm and Glass. It will run at The Studio Building, 21 Evesham Street, Notting Hill, London W11 4AJ from 25 April - 23 May 2013.