Travellers on the Victoria Line on the London tube may notice, as they emerge on one of the escalators, a four-screen video wall showing a film about underground trains.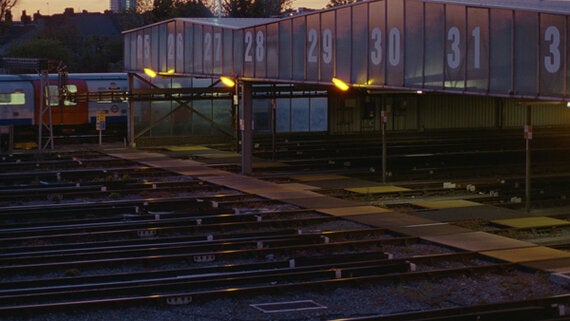 It's the latest in a series of artworks with which Art on the Underground has been enriching the journeys of travellers in London since 2000. The artists the group has commissioned over the years read like a who's who of some of the best in their field.
Most recently, Turner-Prize-winning Mark Wallinger created Labyrinth, a permanent artwork for each of the network's 270 stations, Daniel Buren has refurbished the interior of Tottenham Court Road, Jacqueline Poncelet has created mosaics at Edgware Road and Benedict Drew last year produced a video work for the network.
The aforementioned video screen is part of a new commission by London-based French-Algerian artist Zineb Sedira entitled Collecting Lines.
Sedira's worldwide reputation for for the use of film and photography in conveying themes of movement, migration and oral history made her the ideal person to lend an artistic perspective to travelling on the world's biggest underground system.
The film showing on the four screens gives a behind-the-scenes look at a depot in Northumberland Park where trains go to be cleaned at the end of a working day. As Zineb Sedira told me at its official unveiling, it was like bringing the private into the public.
"At night the trains go back to sleep, so to speak. At the depot, there's a kind of routine, a kind of ritual on the lines that organically look like animals or like snakes going back to their spaces. Shooting it on 35mm gave it a more poetical, aesthetic dimension to it."
Sedira's previous work, coming from a family who migrated to France from Algeria and she from Paris to London, is littered with personal reflections and oral history. She was anxious to find someone who could do the same for the underground.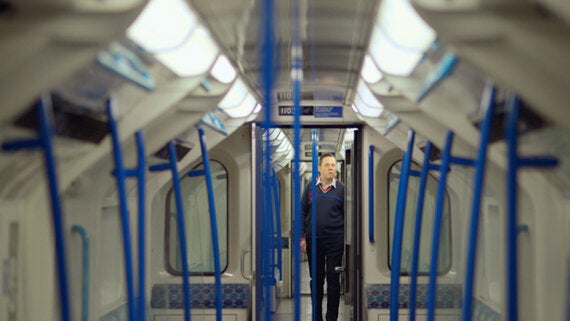 Art on the Underground struck lucky. They found a man, Phil Roe (above) who'd worked on the tube for more than four decades until he retired this year. Roe had not only collected old tube maps from as far back as the 1920s, he drew intricate maps too. Next to the four-screen film, you can watch a fascinating interview Sedira has conducted with him.
"It was important for me to make work around the staff members because we all take the tube all the time and we're never really interested in them", she explains. "So for me to find one who was in some ways an artist too was great for I do believe he's an artist at heart."
I've often been amazed by the extraordinary tangle of coloured wires and cables visible in station ceilings or on the side of the tracks. It's almost like the tube map's assumed a life of its own and gone haywire. I've often wondered whether a couple of snips might bring the whole network to a shuddering halt! Sedira has been fascinated by the cabling too. Photos she has taken of it now adorn Brixton, and Highbury and Islington stations.
"I was intrigued by that - all these networks of electricity and all these networks connecting each other. Everywhere I looked there was some form of cable, tracks, or lines on maps, even the yellow line on the platforms. Suddenly, that's all I saw and I became obsessed by that and that's why I called it Collecting Lines."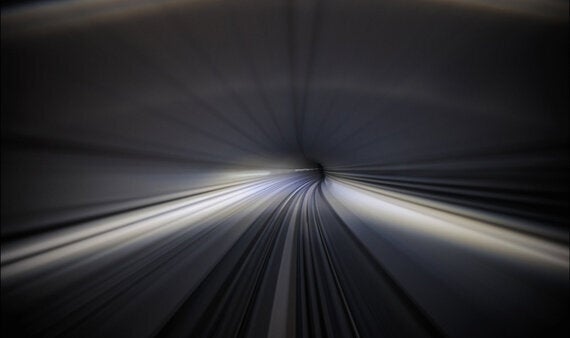 A spectacular video work in the series is to be installed at Euston underground station. Entitled South to North - North to South, it follows the full subterranean distance of the Victoria Line filmed from the driver's cab using time-lapse photography.
The result, as a still from it above shows, is that you feel like you're being sucked at high-speed through a liquid vortex. And as you approach each station, you're hit by a kind of mesmerising flash of light. It's another example of how artists can bring new perspectives to a service, the London Underground, that we take for granted yet know so little about.
The various works of Collecting Lines will be displayed until the end of the year.
All images are used with the permission of Zineb Sedira and Art on the Underground.