Diners arriving at Claridges hotel on their way to the new Fera restaurant there may notice that the main entrance is crowned inside with a jousting tent design. It was the invention of Basil Ionides, one of Britain's foremost interior designers of the 1920s.
It's a very English feature in what is an Art Deco delight in central London. The hotel's interior is all sweeping curves and bold lines with fluted, engraved mirrors and architraves. The hand rails, light fittings, black and white floor tiles and carpet designs are redolent of the period. Many of the features that he and his assistant and successor Oswald Milne installed in the early 20th century remain.
That character and atmosphere has been retained over the following decades despite many refurbishments. In the 1990s, for example, photographs of Ionides' work inspired New York- designer Thierry Despont to give the Foyer a modern update centred upon the spectacular Dale Chihuly chandelier. David Collins designed a new Claridges bar and Despont did the same for the Gordon Ramsay restaurant.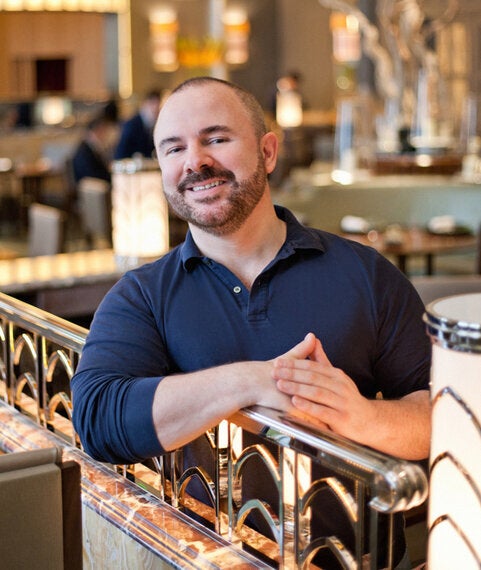 That restaurant has now received its own makeover thanks to interior designer, Guy Oliver (above). Oliver has forged a reputation from projects ranging from the design of embassies, hotels, country estates and palaces. He has worked at Claridges for over 15 years, making detailed alterations to the Royal Suite, the Penthouse, the Ballroom and Drawing Room.
His vision has been to retain the Art Deco character but in contemporary style. The culmination of his work here is the new Fera restaurant. "The restaurant had been missing elements that give the rest of the hotel its chutzpah," he tells me. "So, I've created some that could be perceived as authentic and original yet give it more glamour."
Oliver began by creating a dramatic entrance, almost literally. You enter Fera via an arched veneer door into an area that was until recently an old electricity cupboard. A red curtain greets you as if you're backstage at the theatre. A swoosh and there is the Maitre D to welcome you.
The name Fera is Latin for "wild" and reflects the influence of the seasons in the ingredients used by its master chef, Simon Rogan. The monochrome tiles have been continued and what was once a niche in which the Queen Mother enjoyed sitting, doubtless with a gin and tonic, is now a rotunda. The bulky columns that Milne introduced in the '30s have been softened by installing fluted mirrors on them, and the gothic chevrons removed, the motifs being transferred to the new glazed ceiling lighting. This sophisticated LED system now illuminates each separate table, giving the impression that you're sitting by the window by day and becoming atmospheric at night.
Rogan didn't want tablecloths - unusual in a top restaurant - so Oliver designed walnut furniture with modern but period influenced metalwork. No detail has been spared. If you drop your food or your fork, it can't roll underneath. New walls are adorned with nickel-plated bronze railings. Fluted, lit architraves have been introduced. Solid alabaster on the side gives a sense of quality and authenticity as if it's always been there. A central banquette anchors the seating. And speaking of anchors, a set of lights in one of the private rooms adjacent to the main dining area is fastened by anchor chains. Designing yachts is another Oliver speciality.
As with many modern kitchens, it is open to view from the dining area. Oliver spotted a particular motif on a 1930s fire door panel there which he has transposed to the restaurant ceiling. All the walls carry the fluting elements that so characterise the Art Deco period. Yet the swirling abstracts and the day and nightscape paintings by American artist Linn Meyers lend a contemporary feel. The green sateen wool curtains reference the cuisine. So too does the lighter green shade of the carpets.
Their design Oliver discovered from an end paper in a book. Marble has been retained but matched on new walls. The restaurant has been painted in garrison grey "to calm it all down". "Oswald Milne was ill-disciplined," claims Oliver. "I found references to Egypt, China, neo-classicism. What I've tried to do is to create a consistent language."
Dining at Claridges has throughout its history been practised by the rich, the famous and the powerful. The royal families of Greece, Norway and Jugoslavia were ensconced at Claridges during World War II, General de Gaulle held cabinet-in-exile meetings here. Churchill was a regular diner. Today's celebrities and movers and shakers will sate their appetites here. With all things culinary now a national obsession,
Fera's opening offers another high-class option to the capital. As diners linger over their pea flour wafers and marinated sturgeon, they may look around to see that there is more than just food on the menu. Guy Oliver's keen sense of art history and tradition, has created a period design that feels modern, traditional yet friendly. "I hope that if a refurbishment takes place in 20 years time, the new interior architectural additions will feel authentic enough to leave."