Beth Cullen has lived a double life, at least professionally. She gained a first class honours degree in sculpture at John Moores University in Liverpool in 1994, and a subsequent post-graduate degree in sculpture and bronze casting at The Royal College of Art.
It was while at the RCA that she was the first artist to be awarded the prestigious commission for the Napoleon Garden Sculpture exhibition in London's Holland Park. The past decades have seen her work displayed in both solo and group exhibitions throughout the country. She returns to the capital in September, at Hoxton Arches, where she will exhibit mostly new work in a show called Empty Suits.
The title was inspired by events surrounding her other "life", that of business manager of The Hand and Flowers pub in which her husband, the celebrity Tom Kerridge, is head chef. When the couple first set about establishing the gastropub, they encountered resistance, scorn and incompetence from the serried ranks of bureaucrats and financiers.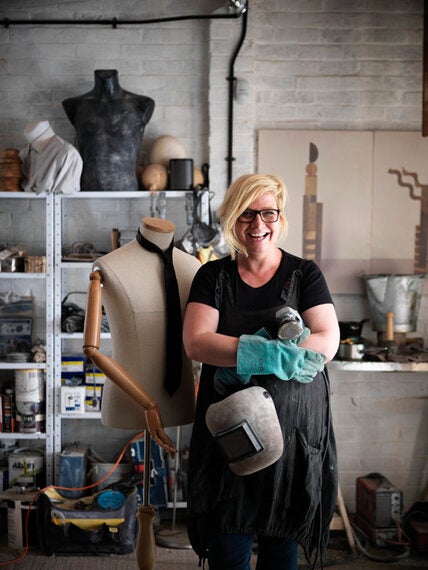 "Empty Suits represents the lack of passion, the lack of humanity, people who think they are good at what they do but they're not," Cullen (above) tells me as we wander around her sculptures in her studio and her garden at her Buckinghamshire home. "It's about people not bothering or caring or wanting to help you out."
She had the last laugh. The Hand and Flowers became the first pub to be awarded two Michelin stars. It's booked up for a year.
Her bronze sculptures are representational - suits of various sizes, shapes and colours displayed as if on headless mannequins. Perhaps the most striking is the bronze depiction of a crumpled shirt high on a pole in the form of a crucifixion. "He's been hung out to dry by all his colleagues. He's dead, hanging, nothing there. It leads you to think about how he got there, to inspire discussion about what it's there for."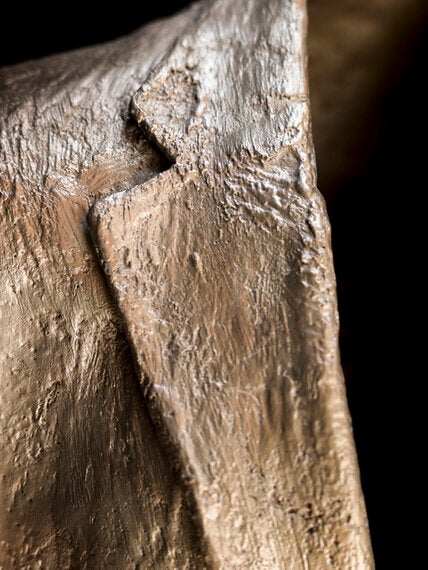 There is no deep, underlying political or religious point being made here, though the metallic sculptures (as above) are suggestive of armour that Cullen believes suits can often represent to the wearer. Empty Suits, rather, is a reaction to the soulless attitudes so prevalent in everyday working life.
Cullen has seen the effects of financial misfortune in her formative years. She grew up in Stoke and saw the once mighty ceramics industry decimated by recession. Hundreds of workers lost their jobs as pottery firms went under or relocated to the Far East. Her father, a sculptor, potter and entrepreneur was one of those who experienced business failure during the 1970s' energy crisis.
"Working class people were struggling like hell to keep up with the world. Dad had put thousands of pounds worth of pots in a kiln and the electricity would go off because of the three-day week. He'd lose the lot."
There's a confidence in Cullen's bronze work borne out of her many years experience as a foundry assistant producing works for such luminaries as Paolozzi, Frink and Giacometti. The biggest influence on her, however, was her many years as studio assistant to the renowned sculptor Sir Anthony Caro.
"I think having worked with Tony for so long, I don't have to worry about how things are made. While you're in the studio you just do it. That making experience is very freeing, to have all that physical knowledge of how those materials work. Having that understanding means I can build anything."
Cullen admits that it took her some time to cast off that influence and rediscover her own aesthetic. She has made a significant development in her work by learning to learn how to carve in marble. Husband Tom sent her to in Italy for her 40th birthday present to work with the world famous Carrara stone. "It feels like an angelic quality to be there, everything's white and I think it's the medium that has that in it."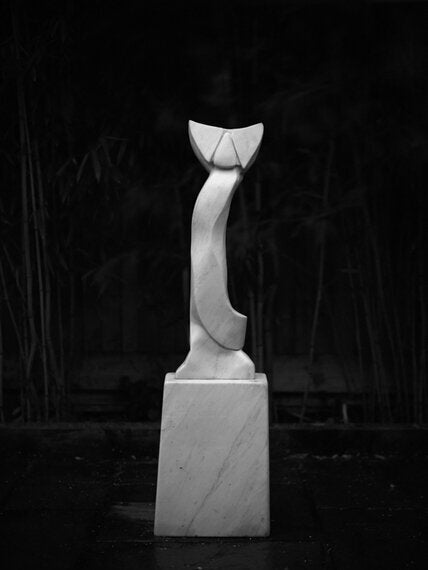 The quality might be angelic, and the several Empty Suits exhibits sculptured in marble (as above) are more figurative, elegant and graceful. Yet this is deceptive. Cut into them are subtle depictions of horns, devils' tails and shark fins. "So it's beautiful but it could come and strike you," she warns with a mischievous twinkle in the eye.
The Empty Suits exhibition will not be entirely negative. Cullen is still working on some "super suits", a nod to those few that supported her during the hard times. Those times are in the past, hopefully, and one can't but be struck by Cullen's cheeriness and optimism despite the anger inherent in her pieces. She sees this as another Caro influence.
"He has influenced me by his verve for life...he had a childlike quality which I think I grabbed on to. ..it's great fun, I love it. I can't help it. I can run the Hand and Flowers standing on my head, but this is something you just can't help. You have to do it. It's in your soul."
Empty Suits is to be staged at Hoxton Arches, Arch 402, Cremer Street, London E2 8HD from 27 September - 11 October 2014.
The images are used with the permission of the artist.