When I first heard that the Courtauld's Summer Showcase was going to comprise unfinished works from its collection, I wondered if this might be, like its subjects, a half-baked idea.
Not so. It becomes clear that not only is "unfinished" a concept often open to interpretation, but accompanying the paintings' aesthetic appeal are interesting stories behind them. These are either by way of the creative process they lay bare or simply for the reason why they've been tagged with the "unfinished" label.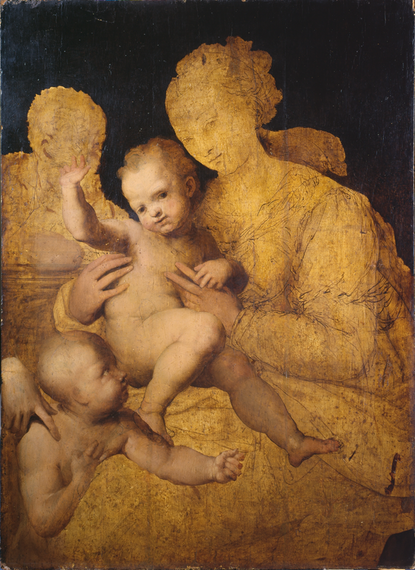 The centrepiece of the exhibition, and the impetus behind curator Dr Karen Serres's idea of unfinished as a theme, is Italian renaissance artist Perino del Vaga's Holy Family with Saint John the Baptist (above).
The painting was given by the Art Fund to the gallery at its founding, as the first place to study art history in the UK. Indeed, the reason the gallery has so many unfinished works is because it is a university arts museum.
"The work shows you the the ground layers, the drawing, and the slight modelling in paint in other areas," says Serres. "You can also see how the flesh was built up layer by layer and how he added the final touches which show how the light and shadow fall on the elbow and knee of the child. It's a perfect teaching tool for students of the renaissance painting method."
We don't know why del Vaga never completed this work. Some on show were left unfinished because the author died, others abandoned through dissatisfaction with their progress. Yet others make us question the whole concept of "unfinished".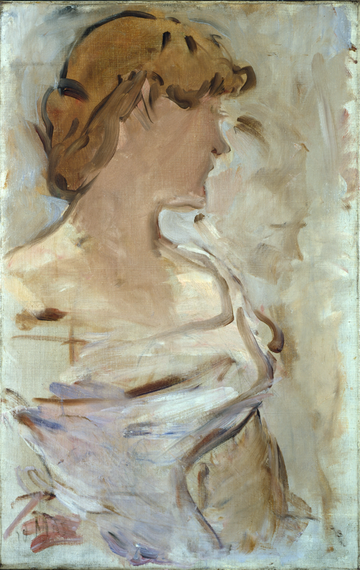 A fine case in point is Edouard Manet's Au Bal (above), in which the artist, with a few deft strokes of his brush, suggests the subtle turn of an elegantly dressed woman's body towards the minimalist depiction of a man's face. It's a beautiful work of art. In fact, Manet kept it in his studio for himself because he was so proud of it. Yet, at the time, it was considered a preparatory sketch though no later work bears this out.
"One of strengths of our collection is impressionism and so much of the criticism directed at the impressionists was about how sketchy they were, and critics were telling them to go away and finish their work, and I thought this was an interesting angle with which to approach our permanent holdings," says Serres.
There are other works in the exhibition by Cezanne and Matisse which again question the nature of being unfinished, by abandoning conventional standards of finish altogether to create new forms of expressive painting that helped usher in such movements as cubism in the twentieth century.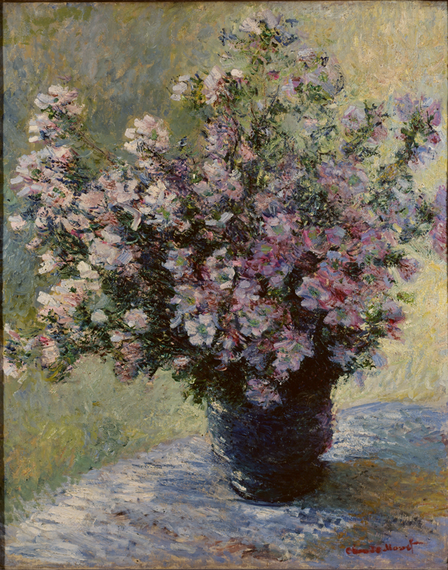 In contrast to the Manet, and perhaps one of the more surprising elements of the exhibition, Claude Monet's Vase of Flowers (above) is an example of a painting being complete but, in the artist's mind, not finished.
Monet began the work in the 1880s after he'd turned his attention towards still life. Yet he struggled in this work with rendering the exact effect he wanted of light on the petals and leaves. We know that he kept it in his studio for 40 years, picking at it, re-working it, overworking it actually. Eventually, he signed it, thereby signing it off as ready to go, probably at the instigation of his dealer. Whether he was finally satisfied with it, though, is open to doubt, but the concept of not being satisfied that a work is finished or not is a familiar one to artists in all fields, including journalists!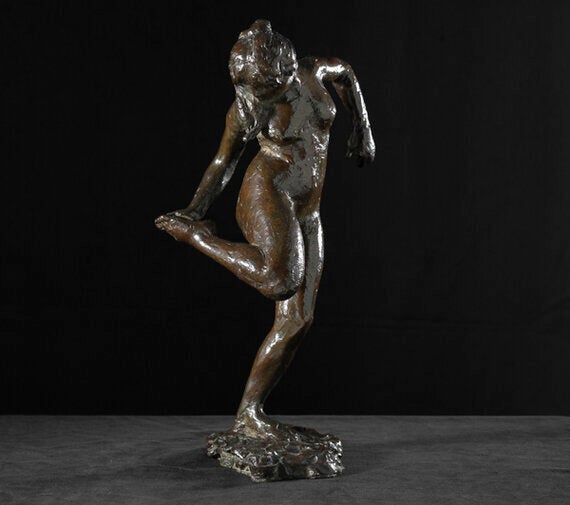 Karen Serres believes Edgar Degas would be turning in his grave at the sight of his statue, Dancer Looking at the Sole of her Foot (above). The reason is because he only ever saw it in wax or clay and used it to experiment with. It was cast in bronze a couple of years after his death either because people wanted to preserve it or to make money from it.
"You can really tell that it was the poses that he was interested in much more than any individualisation so that the features aren't details, even the hands are just blobs of material. The fact that he could move these around was important to him. I think for Degas, the whole point of them was that they were forever unfinished, that they could be changed."
It's worth mentioning that the theme of works of art being completed or reinterpreted by others is continued in an adjoining show which some of the gallery's MA students have curated. They include a Gainsborough finished (badly) by an artist relative after the former's death, a hideous defacing of an unknown Victorian portrait by Jake and Dinos Chapman, and an amusing re-working of Rubens' Samson and Delilah by Johannes Phokela in which Samson is black, Delilah is naked and an old woman smokes a joint.
Unfinished...Works from the Courtauld Gallery, at Somerset House in London, runs until 20 September 2015.
All images are used with the permission of the gallery.
Popular in the Community