There are two particular discoveries that combined to inspire this latest exhibition from sculptor David Worthington at the William Benington Gallery, a few doors down from London's Sadler's Wells theatre.
The first is his discovery that stone sculpture, from the ancient Greeks to the medieval period, often had coloured paint applied to them. The Venus de Milo, for example, would have been completely painted apart from the face.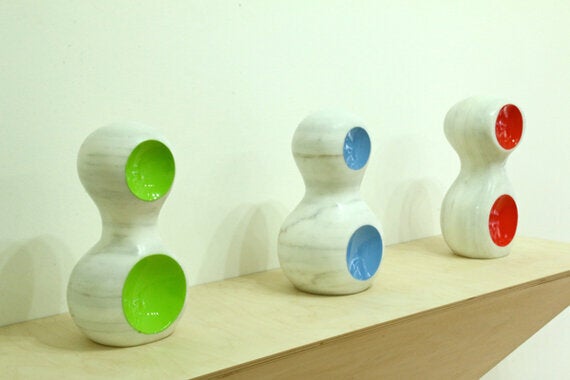 And so, his Experiments in Colour is a developmental series of curvaceous sculptures in Blanco de Macael marble on which he has experimented in various different colours - including those seen in Experiments in Colour 1, 6 and 5 above.
"I came up with a theory of design that had to be sharp-edged for the paint to stay on," he tells me. "So I came up with two circles using a protractor which you could paint around and spraying car paint on it. Then I had to work out how to evolve the shape - really the whole exhibition is me exploring series of designs to come up with shapes."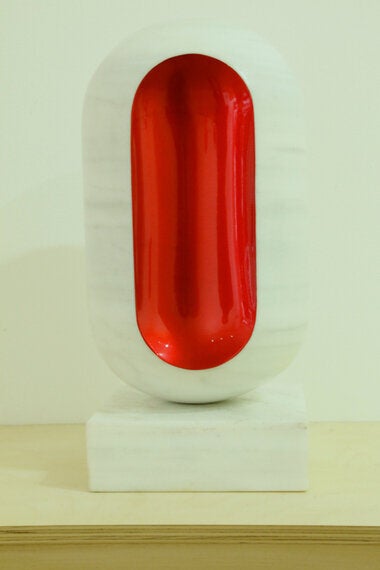 It's a curious case of using marble as a kind of canvas in order to explore colour, and different qualities within the same colour. For example, Experiment in Colour 10 above, uses a translucent paint called Red Candy generally used in high-spec custom cars. It resembles one of those giant tail lights on a classic American car.
"What I wanted to do with the colour was to de-stabilise the stone so that it is no longer purely a marble stone object - there is something else going on."
The use of paint more often associated with the industrial process brings us to the second discovery that governs the theme of Worthington's show and one which examines the relationship between art and design.
Some years ago, he made a domed, spherical sculpture, and while visiting a hi-fi store, discovered an Apple wi-fi dock that had the exact same shape. This fired his interest in the reciprocal relationship between art and design. The exhibition is in part an exploration of how modernist design has influenced industrial designers in the 20th century but also how artists such as himself have been inspired by the products and materials of those 21st century designers.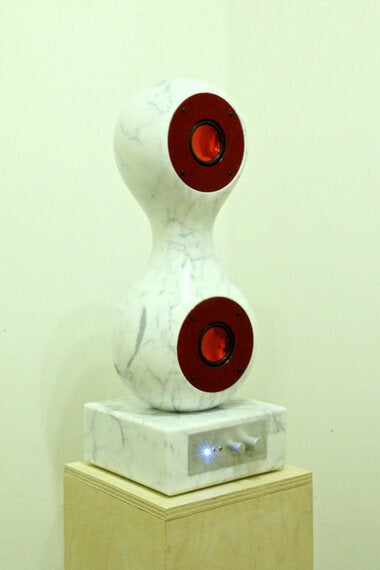 The recurring themes converge in Experiment in Colour 11 (Sculpture Speaks) above, in which Worthington has created a speaker "cabinet" of Carrara marble into which he has housed a speaker, bought off the shelf but sprayed with lacquer paint, and an amplifier. It's a working model.
So, I wondered, if this speaker is art, could you describe a beautifully designed product such as an ipod, a Maserati or a Bang and Olufsen hi-fi system, art?
"Where I'm coming from, is not design. I'm an artist and primarily a sculptor working in stone who is responding to objects in the design world....I think in the end my objects ultimately make a comment both on themselves as art objects, but also to people. You don't just use a sculpture, you live with a sculpture, you have a relationship, and sculpture communicates with you something ambiguous and something different to purely the hi-fi or industrial objects. And that is what I'm trying to explore with these pieces."
But, I wondered again, if you create a sculpture and then put the practical element of a speaker inside it, does that not take away this ambiguity?
"When we first installed this, and I looked at it in my studio, I found it quite disturbing because I wasn't sure what I was looking at. Am I looking at a speaker or am I looking at a work of art? That ambiguity interested me. And for that reason I think the piece is successful because I think it stays very clearly in the fault line between the two, whereas an iPod remains a practical object - beautiful, and gorgeous but it remains an object. Does it have any self-critical status? Does it question itself? I don't think it does. I think this speaker does question itself and it makes us question what it is."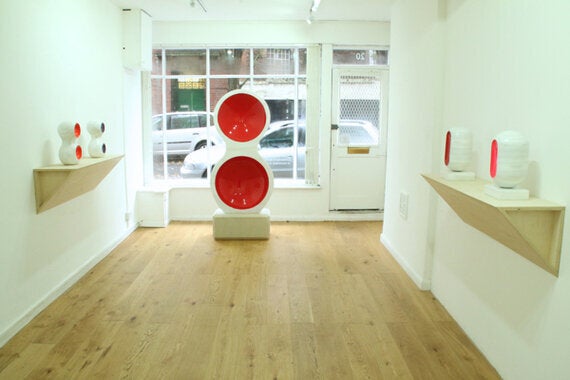 Though the Sculpture Speaks exhibit is the most thought-provoking, Experiment in Colour 7 above, is the most eye-catching by way of its sheer size. Once again, it features reflective paint and points in the direction Worthington wants to go next, in making even more three-dimensional works, perhaps with more of the marble painted but leaving enough to show its nature.
"That's another interesting dialogue - because there's a very good reason to use marble because it's a solid material that doesn't move, it's robust, you can leave it outside. But then to transform it with the paint, then you're taking on another narrative."
David Worthington, Experiments in Colour is showing at William Benington Gallery, 20 Arlington Way, London EC1R 1UY until 10 January.
All images are used with the permission of William Benington Gallery and photographer Will Marsh.
Popular in the Community