Egon Schiele was the enfant terrible of the Austrian art scene in the early 1900s. His career lasted barely a decade but in that short time he threw a metaphorical grenade into the Viennese art establishment.
He produced some of the most radical depictions of the human figure of the 20th century. Some of their explicit nature still shocks today. Egon Schiele: The Radical Nude at London's Courtauld Gallery, a collection of drawings and watercolours, is the first solo exhibition of his work to be seen in the UK for 25 years. It covers a decade in which he developed the art of the nude in a new, provocative and often disturbing way.
A precocious talent, Egon Schiele was still 16 when he was enrolled at the Vienna Academy of Fine Art. Yet he soon found the strictures there too stifling. Rather he was attracted to the avant-garde, in particular to Oskar Kokoschka and Gustav Klimt who became his mentor. When Schiele dropped out without graduating, his drawing teacher reputedly said to him, "Don't tell anyone I taught you."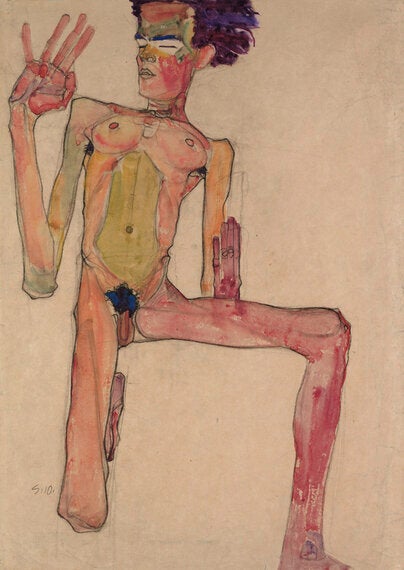 The self-portrait, Kneeling Nude with Raised Hands (above) from his breakthrough year of 1910 is an early example of how he confronted the life-room tradition and the ideal male body image. The torso and the pose is contorted and exaggerated. Colour is used to enhance muscles and body tissue. This was radical stuff. He was pushing conventions through direct expression of experience, fears and desires. It was just the start.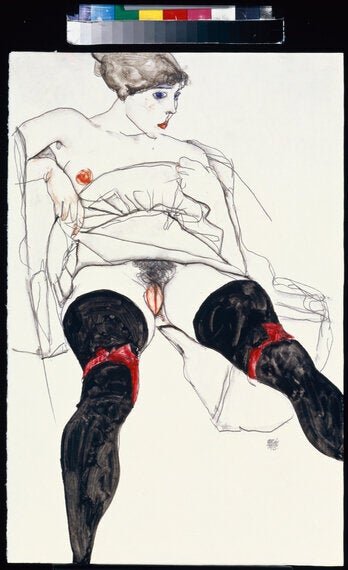 Schiele, the young rebel, attacked Vienna's image of imperial bourgeois splendour. He saw it as a thick veneer masking the poverty, deprivation and vice that lay at its underbelly. His 1913 drawing, Woman with Black Stockings (above) with its engorged vulva and reference to prostitution embodied this view and was a slap in the face to the classical depiction of the female nude form. Inevitably, many in Vienna's establishment viewed his work as pornography.
The model for this and several other of his drawings at this time was Walburga (Wally) Neuzil, his lover since the age of 17. The explicit sexual nature of much of his work was partly influenced by the ideas of Sigmund Freud, that innate sexuality was the drive for our creativity and was being repressed by social conventions.
The young couple attracted a following amongst the rebellious young including prostitutes. When they left Vienna for a small town in Bohemia, they were eventually driven out by angry town residents who saw them as a bad influence on the young. They were living in sin and Schiele had used teenage girls as models.
He got into trouble when the teenage daughter of a retired military officer knocked on his door and asked them to introduce her to the alternative lifestyle, away from her overbearing father. Schiele was arrested for kidnapping and rape - charges that were eventually dropped at trial. But he spent a month in prison for exhibiting erotic drawings where minors were present.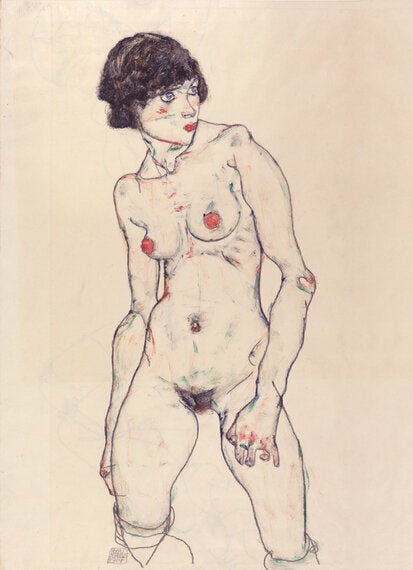 Shocked by this experience, his work gradually became more complex and nuanced. Standing Nude with Stockings (above) from 1914 showed a more realistic style. Its colour and line exude a confidence combining assertiveness with a certain vulnerability.
Deathliness and rebirth became recurring themes in his nudes. His subjects were varied - himself, his sister, male and female friends, pregnant women, babies as well as lovers and prostitutes.
He began to achieve respectability and to assemble a coterie of collectors of his work, enhancing his public reputation. His drawings and paintings were now being shown in commercial galleries, museums, in journals and on postcards.
In 1915 he split with Wally and married the socially acceptable Edith Harms. She also modelled for him.
Unlike may artists whose work was influenced profoundly by the First World War, Schiele, though drafted into the army, never experienced the horrors of trench warfare. Inevitably though, his prolific output was curbed.
His later work saw his talent as a draughtsman develop and flourish. His approach had become more stylised with a cool artfulness. His work has been heavily influential on contemporary artists.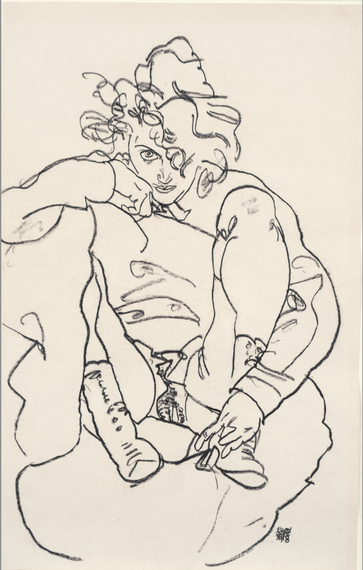 One of his last drawings was of Edith in Woman in Boots with Raised Skirt (above) from 1918. According to the exhibition's curator, Dr Barnaby Wright of the Courtauld Gallery, the picture "epitomises Schiele's ability to combine provocation, eroticism, technical virtuosity and aesthetic beauty in a single image. The difficulty of capturing the woman's complex pose is achieved with such effortless deftness."
Shortly after he made this drawing, his wife Edith, who was six months pregnant, died from Spanish flu. Three days later, at the age of 28 and just as he was achieving prominence, he also succumbed to the illness. His life had been short but he had burned bright, taking the nude into territory others had not ventured.
Egon Schiele: The Radical Nude is at the Courtauld Gallery, Somerset House, until 18 January 2015.
All images are used with the permission of the gallery.
Related