If anyone can pull off the trick of breathing life into an inanimate object, it is sculptor Hamish Mackie. His latest exhibition, Life in Bronze 2016, at London's Mall Galleries contains some 80 works that confirm his reputation as one of the finest sculptors of animals in the country.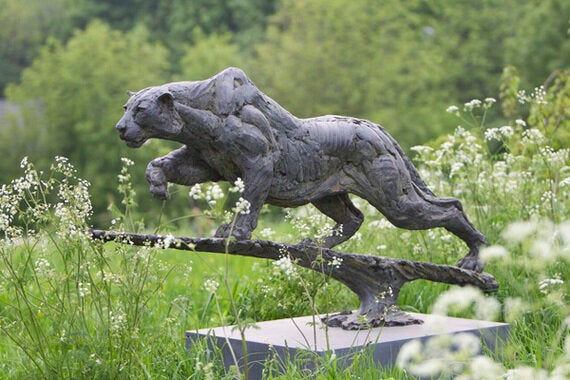 On show are wild and domestic creatures that range from a life-size camel to a tiny mole. Mackie has not only captured their outward appearance but has somehow managed to evoke an innate sense of dynamism and movement. You can almost smell the killer instinct of a stalking leopard, or taste the anxiety of a hare turning to check for a predator. A tuna fish leaps, an Arctic tern glides, roebucks jump, kangaroos bound while a giant owl with vicious claws perches ominously on a tree stump ready to pounce.
Like those corny horror films set in museums, such is the tension inherent in many of his pieces, you feel that once the lights are turned off at the end of the day, the sculptures will burst into life and cause mayhem in the Mall.
For Mackie's works are no mere representations of the animal form. With his signature "loose" method of sculpting in clay, he can highlight different muscular formations within the animal's anatomy to an extraordinarily accurate level. Then he creates a silicon rubber mould negative to cover the clay, followed by a positive wax mould, a negative ceramic and, finally, the positive bronze casting in which even his fingerprints are often visible.
In this way, he can invest in each sculpture a personality. He is aided in the task by the 20-year relationship with Simon Allison and other employees of the Rockbound Foundry near his Oxfordshire home.
The importance of witnessing animals in the wild is vital to this process. "What I like doing is seeing an animal in its own habitat to actually feel what it's about and why it's like what it is because of its own environment," he tells me. "That's a really important part of understanding what's going on in the animal's head."

The works on show in Life in Bronze 2016 are the fruits of the last 4-5 years' work. Most recently he has travelled to Africa, Asia and Australia. The elephants above were spotted at the Lewa Wildlife Conservancy in northern Kenya.
"What I wanted to do was to capture the family hierarchy, so you've got an old mother who's very chilled and docile and calm with a four-year-old calf in the front who is wild and boisterous and quite often they go out in the front act as an ascari (guard) and then a rather delicate and fragile youngster at the back."
Mackie would normally carry what he calls his studio box with him in the field. This comprises a plastic explorer case in which he can hang an armature, the framework on which he can build his sculpture, that he can bring out when studying an animal. Occasionally, he gets caught out.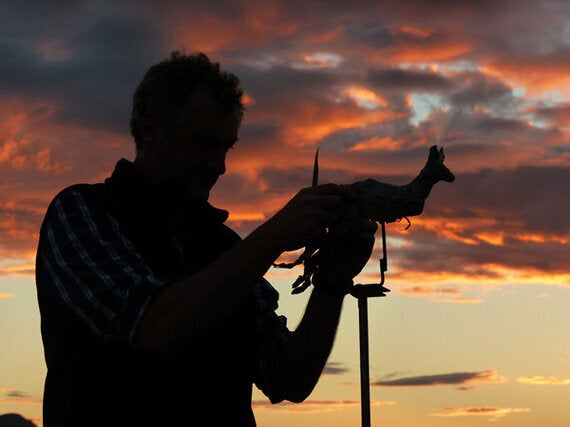 "They had a hand-reared Serval cat and I hadn't made an armature. I wasn't prepared for it so I actually made one out of an old gutter bracket and I had enough plasticine with me to make an impromptu study."
Once he has acquired the basic proportions, shape and understanding of the animal's behavioural characteristics, Mackie will then finish the final 20% of the composition through photographs and memory. On average, it takes him 10 days to make the original and around three months to cast it into bronze.
It took him a year to create perhaps his most publicly well-known and prize-winning sculptures, the six horses that seemingly gallop through the fountains of the piazza at Goodman's Fields in London, a commission by the Berkeley Group developers.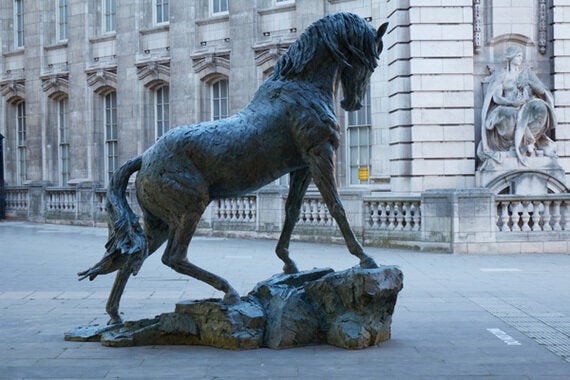 It's a nice touch that a scale model of one of these over life-size horses, the Goodman's Andalusian Stallion 2014 (above) now stands outside the British Council building adjacent to the Mall Galleries and greets visitors approaching from the Trafalgar Square end of the Mall. It will remain there for the duration of the exhibition and, unless sold, may return to the grounds of Blenheim Palace where it has graced one of the lawns for the past two years.
Life in Bronze 2016 is showing at the Mall Galleries, the Mall, London SW1 until 22 October.
All images are used with the permission of the artist.
Related