Deep in the Oxfordshire countryside, wild animals lurk, among them cheetahs, leopards, camels and polar bears. They belong not to a safari park but are, in fact, sculptures from the internationally acclaimed artist, Hamish Mackie. Inviting me into his studios at his home, a converted barn near Banbury, is an enlightening experience. Worktops are filled with animals from small guinea fowl to a lifesize camel, almost all cast in bronze, and awaiting delivery next month to Cork Street Gallery in London where they will be exhibited at Mackie's Fourth Triennial Show. It's a big deal - some 20,000 catalogues have been sent out and prices for his larger works run into six figures.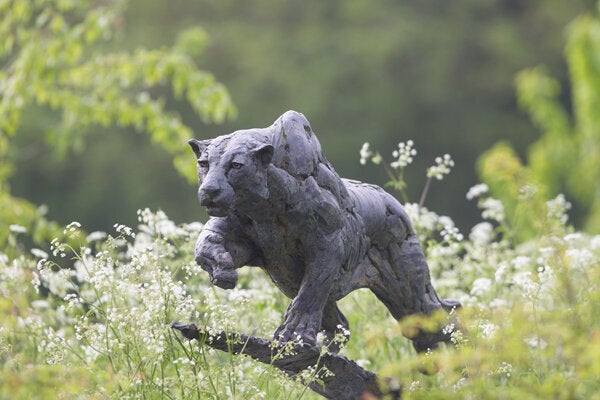 Mackie's works are distinctive in that they are sculpted in a "loose" way - none of his animals' forms are smooth. "Whereas so many sculptures are smooth which can be done by machine, mine are uncopyable and I like that," he says. A main stylistic feature is the sense of movement that so many of them convey - bulls charge, deers leap, elephants fight, cheetahs sprint. The loose way he manipulates the clay with which he initially models highlights the variety of muscular formations within the animal's anatomy, which he works hard to get right. Tight muscles are smoother than looser ones. Mackie's sculptures are interpretation rather than mere representations. He shows extraordinary skill, for example, in the way he treats the eyes. In the same way as an Impressionist painter can convey expressions with a few swirls of the brush, so Mackie sculpts life into his works through a minimalistic technique that lends each piece a character of its own.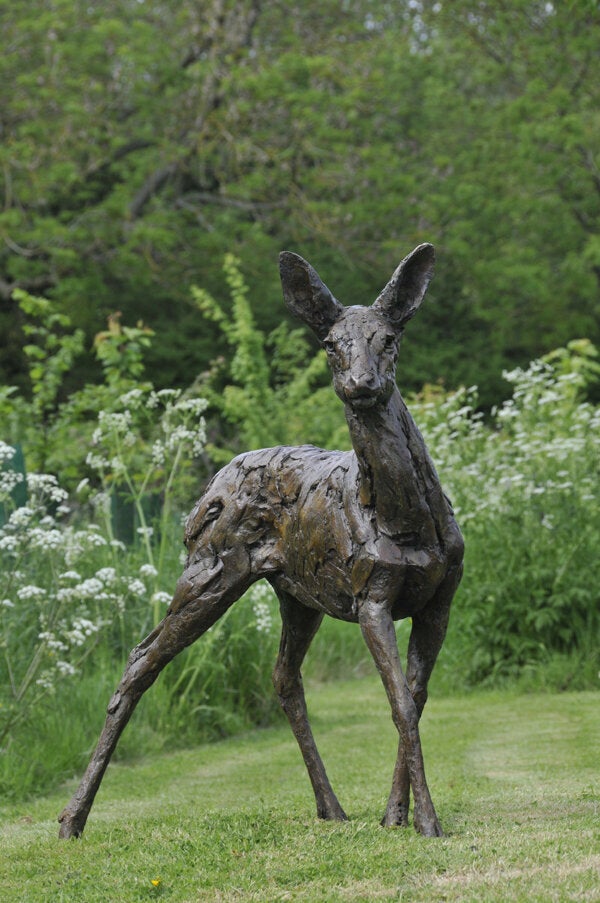 To achieve both knowledge of and empathy with his subjects, Hamish Mackie travels to see them in the wild. As he says, "Seeing a cheetah chasing an impala at full throttle is different from watching one in an enclosure, so you gain a much better idea of how they move and why they move in the way they do." He has been several times to East and southern Africa, to the desert of Dubai and to Antarctica where he was privileged to view so much wildlife in such unforgiving environments. On occasions, he sculpts smaller versions - maquettes - in situ as a way of committing to memory his subjects' form, disposition and attitude. The experience of viewing animals within their natural habitat has not always been without risk. A bull elephant in Namibia once charged at him until he realised he was being warned off rather than attacked. One of his favourite locations for studying subjects has been closer to home. He once stalked a group of three stags to within six metres in the Scottish highlands during the rutting season.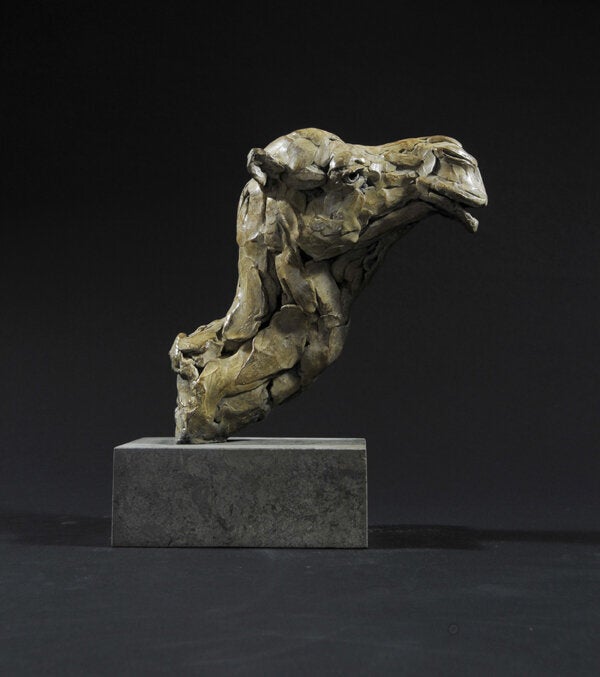 Mackie's affinity with animals stems from his upbringing on a livestock farm in Cornwall. Born in 1973, he went to art school in Falmouth before studying design at Kingston University. He began sculpting full time in 1996 after moving to Oxfordshire. His brother, Alastair, is also a renowned sculptor though of abstract pieces. The personal nature of Hamish Mackie's sculpting is aided by the skill of his nearby foundry. Despite a complex process involving the creation of a silicon rubber mould negative to cover the clay, followed by a positive wax mould, a negative ceramic and, finally, the positive bronze casting, small details such as Mackie's fingerprints are retained that lends the works vitality.
At the centre of his studio stands the basic structure of aluminium wire and steel bolts - an armature - providing the framework for one of a series of six horses, each a life and a quarter size, that he is sculpting for a project in the City of London. The Berkeley Group Holdings plc has commissioned the work to be placed in Goodman's Field where, back in the 17th century, a Mr Goodman leased out the fields for livery for London's horses. The works, which will be placed in a pedestrianized plaza, are due for delivery next year. The Cork Street exhibition in London begins on October 7 and runs until October 19. A percentage of money raised will go to the charity, Tusk Trust.