London welcomed the opening of a new commercial art gallery this month. The Amar Gallery, situated round the corner from Islington's Chapel Market, aims to be not only a place to view art but also to act as a community hub in which a range of local business events can take place. There is also a studio upstairs in which artists from around the world can take up residencies.
Owner Amar Singh, an Indian prince educated here and in the United States, has devoted several years to raising money to promote women's and gay rights in India. For the past eight years he has dealt in renaissance drawings, contemporary prints and artworks. Part of his own art collection has been loaned to a number of museums, notably the Aspen Art Museum and The Fogg at Harvard University of which he is an alumnus.
The Amar Gallery marks the latest development and he deliberately chose 20 January as its opening date to coincide with the inauguration of President Trump, a day on which many galleries in the United States closed in protest.
"I think rather we should be celebrating the arts, not necessarily the election, but closing your creative outlets in protest is not the route I wanted to go down."
Amar Singh chose the London-based Australian born artist Howard Tangye to inaugurate his gallery. A former London fashion illustrator and inspiration to many fashion icons like John Galliano, Stella McCartney and Richard Nicoll, Tangye has given up teaching to concentrate fully on his art.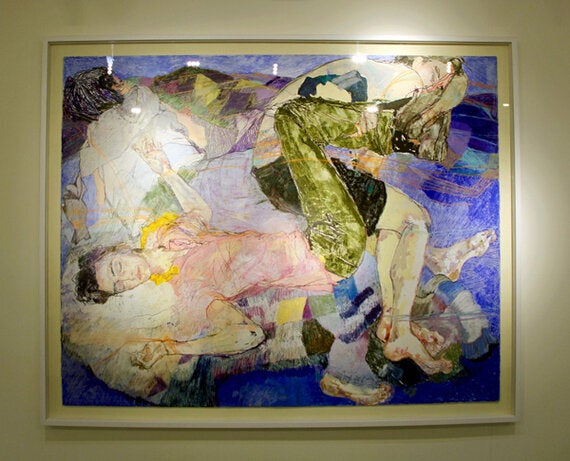 His concentration on form and line is his work's signature. Using oils, graphite and pastel chalks, he manages with great elegance to capture the essence of the models he works with. There's a resemblance in style to Egon Schiele though without the sexual expressionism. Rather, as in Evergreen (above) Tangye's mood is that of an idyllic childhood, reminiscent of his days as a youngster growing up in north-west Queensland, free from responsibility and where the imagination could run free.
"I started to realise that the line is a bit like when you have the pedals on the piano that create different sounds to the tone and I hope that's what I've got in my line."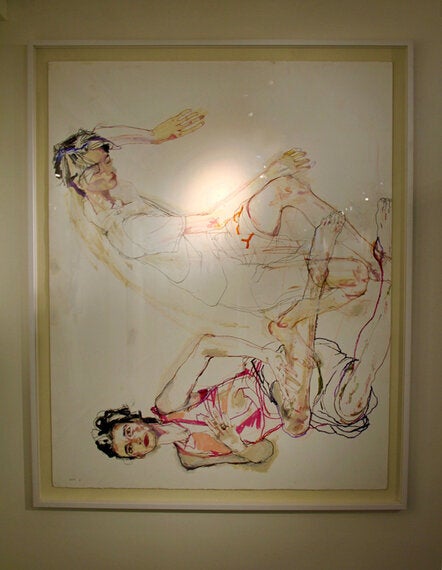 Tangye succeeds in creating a feeling that his subjects are floating in a way a camera can seldom capture. Rob and Nobu (above), has that same effect though more minimalistic. Tangye's mentor, Elizabeth Suter, always advised him to look first for the bones and use form as a sculptural premise to start with. Here he evokes a sense of freedom, of playing with space.
Tangye's work has become more experimental than when I last saw his work, using multiple portraits , sometimes turning the paper to see what might happen.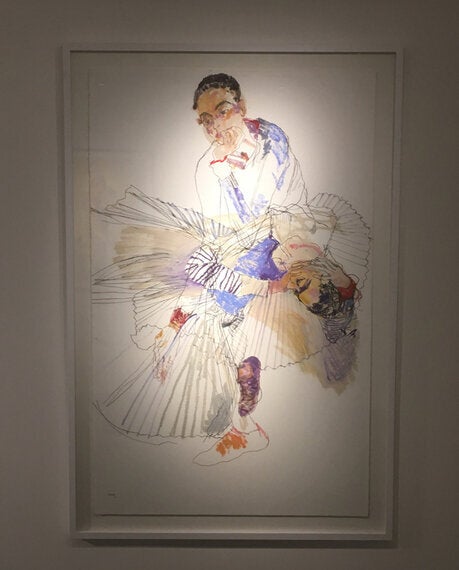 Another aspect of his work, and indeed one of the reasons Amar Singh finds him so enthralling is his use of what the Italians term pentimenti, or repentance, in which traces of a change of mind by the artist is left in the finished piece. It's evident in a number of his drawings, as with Pamela (above) and it's unusual to see the technique in contemporary art. So, bodies coalesce and limbs appear detached. The pleated skirt the model wears, with its linear quality, lends itself to that sense of movement and floating.
"I sometimes change my mind about things and then I think well why do I need to change that, I think I'll just leave those mistakes in the drawing to recall part of the journey. Then I discovered that there actually was a name for it and that gave me confidence that it was legitimate."
The exhibition entitled Links incorporates 25 of Tangye's drawings. It is showing at the Amar Gallery, 48 Penton Street, London N1 9QA until 3 March 2017.
All images are used with the permission of the artist and gallery.
Related